Advertisement

President of Botswana Dr. Mokgweetsi Eric Keabetswe Masisi leads country's National Day celebration at Expo 2020 Dubai
Dr. Mokgweetsi Eric Keabetswe Masisi, President of the Republic of Botswana, led his country's Expo 2020 Dubai National Day celebrations on Sunday, which included speeches, riveting dance and musical performances.
Dr. Masisi was welcomed by Sheikh Nahyan bin Mubarak Al Nahyan, Minister of Tolerance and Coexistence and Commissioner-General of Expo 2020 Dubai.
Dr. Masisi said, "This Expo has really set the bar extremely high on how countries' businesses and organisations should collaborate in their diversity, and exchange knowledge, as well as solutions to build a better world for all. Botswana has benefited immensely from the cultural experience, social and economic exchanges with other countries through cultural displays, music, arts, presentations, and collaborations inspired by none other than the Expo 2020 Dubai theme.
"I am confident that Botswana's participation at Expo 2020 Dubai will cement and expand the scope of our bilateral relations with the United Arab Emirates, as we continue to explore new ways of cooperation for the mutual benefit of our countries and peoples. We also recognise the accomplished investment deals that were secured during this Expo."
Sheikh Nahayan said, "Botswana's participation invites visitors to discover its natural resources, intellectual capital and booming industries. Its pavilion also shows how the country explores new frontiers through forging smart partnerships.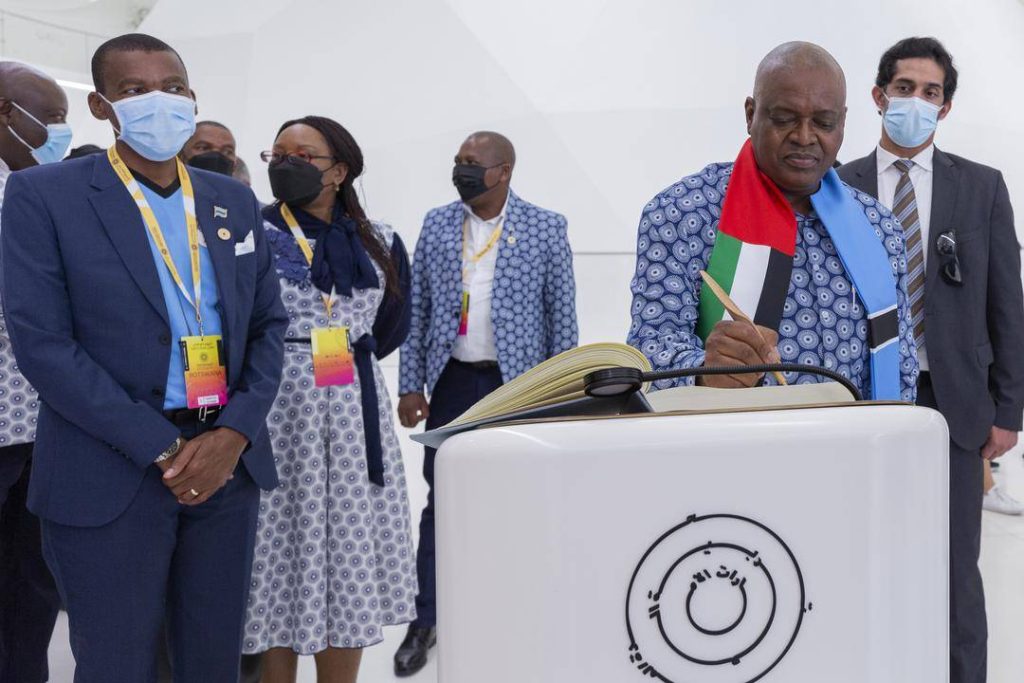 "The UAE is proud to share strong bilateral ties with Botswana, and we hope to expand the framework of our relations by exploring areas for further cooperation in fields of shared interest, such as agribusiness, health, and education, among others."
A cultural performance by the Botswana Musical Ensemble followed the National Day ceremony in Al Wasl. Focusing on four themes – mining, tourism, innovation and the food of Botswana – the exhilarating celebration provided a powerful show through traditional dance, theatre and contemporary song.
ALSO READ: Cameroon celebrate National Day at Expo 2020
Discussing Botswana's plans to diversify its economy and transform it into an industrialised country in an interview later today, Dr. Masisi said, "We want to diversify our economy by getting into other sectors… So, we are looking for foreign direct investors to bring in their unique skills and talents, including technology, to harness the opportunities that present themselves in the agricultural sector and tourism. We present wonderful opportunities in the education sector too. We are young, we are stable, we have got good infrastructure coming in and out and well-educated people."
WAM/Amjad Saleh/Hatem Mohamed