Advertisement

Sunak, with 101 votes, maintained his lead over Trade Secretary Penny Mordaunt, who got 83 votes. In the first round on Wednesday, he had got 88 votes, with Mordaunt in second place with 67 votes…reports Asian Lite News
Former Chancellor of the Exchequer Rishi Sunak still remained on top in the race to succeed Prime Minister Boris Johnson in the second round of voting among Conservative Party MPs on Thursday, but Indian-origin Attorney General Suella Braverman was knocked out.
Sunak, with 101 votes, maintained his lead over Trade Secretary Penny Mordaunt, who got 83 votes. In the first round on Wednesday, he had got 88 votes, with Mordaunt in second place with 67 votes.
In Thursday's vote, Foreign Secretary Liz Truss still remained third with 64 votes, Equalities and Levelling Up Secretary Kemi Badenoch got 49 votes, and backbench MP Tom Tugendhat got 32 votes.
In an era of social media and hashtags, three-word political messaging is the order of the day. Brevity not gravity is the mode of communication.
In Britain, Boris Johnson, now ousted as Prime Minister, achieved runaway success with a simple slogan of 'GET BREXIT DONE'.
This helped him sweep the 2019 general elections. He judged the public frustration about the delay in implementing the 2016 referendum verdict of British voters to leave the European Union correctly. And he kept his promise simple.
The candidates vying to succeed him have replicated his concept. Most of them have a three-word campaign message.
All the six who remained in the field prior to Thursday's second round of balloting have crisp and concise outreaches.
Rishi Sunak, who won the highest number of votes in Wednesday's first round of balloting, signalled 'readyforrishi'.
Penny Mordaunt, who came second, is all acronyms — 'PM4PM'. Liz Truss, who came third, has 'LIZ FOR LEADER' as her pitch, while 'Kemi for Prime Minister' is Kemi Badenoch's appeal.
Tom Tugendhat has coined 'TOM A CLEAN START', while Suella Braverman says 'Suella4Leader'.
Clearly, none of conjuring possesses substance. But the marketing ploy is meant to be a magnet to generate interest and thereby draw people towards the details of what a contender stands for.
Tory MPs are aiming to whittle down the field to two by the end of next week, when it will be thrown over to a postal ballot of Tory members to choose the winner, who will become prime minister.
The result will be announced on 5 September, when Boris Johnson will leave office.
Sunak has now topped the first two ballots of MPs, with the contest increasingly looking like a scrap to see who will join him in the final run-off.
His decision to quit as chancellor last week was one of the first in a wave of ministerial resignations that forced Johnson to stand down as Tory leader.
Allies of Johnson have accused Sunak of orchestrating the prime minister's downfall and have been fiercely critical of tax hikes he introduced as chancellor.
A member of Sunak's team said the former chancellor would "keep going with solid messaging on the economic agenda", claiming other candidates had backed away from their pledges.
Following Thursday's vote, Welsh Secretary Robert Buckland became the latest senior Tory MP to back Sunak, telling Talk TV he was the best person to deal with the economic challenges facing the country.
The poker faces of MPs from various camps were tested as the result was read out.
Sunak's supporters were careful not to smile too broadly but looked satisfied. "We're happy with that," one of the ex-chancellor's campaign team said.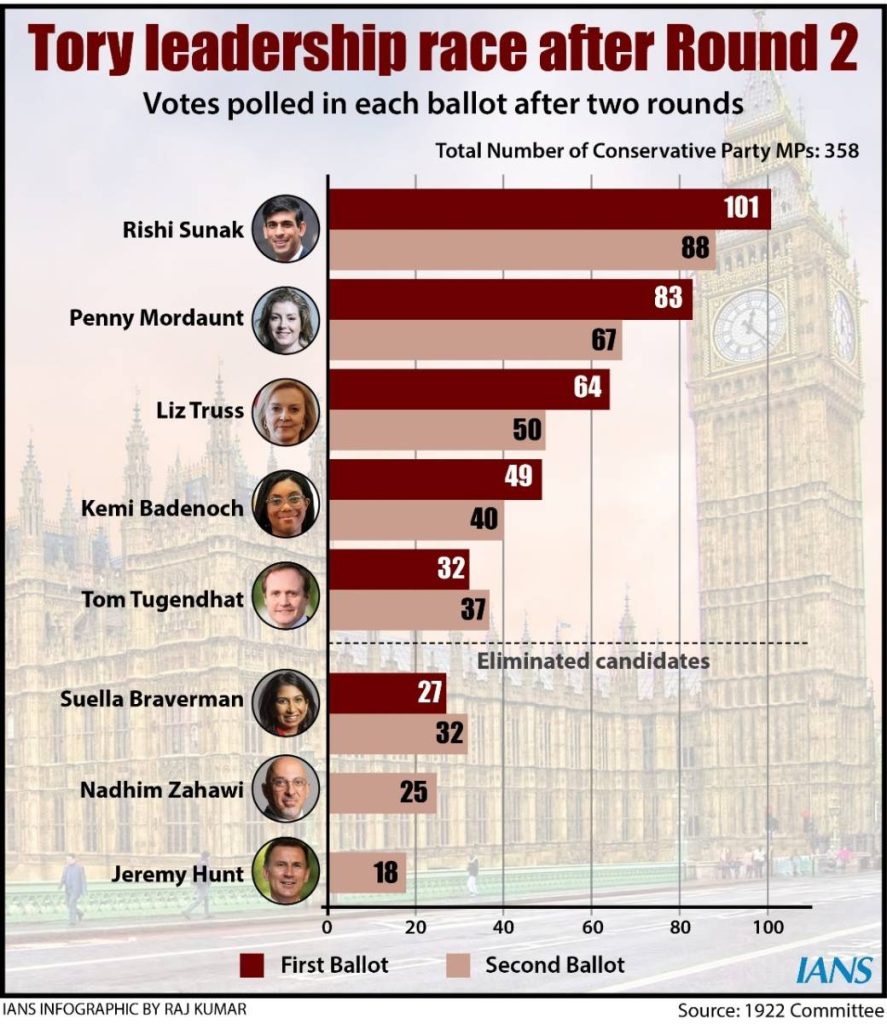 Truss's camp weren't giving much away, looking ahead to the next "critical" round when they'll hope to hoover up votes from Ms Braverman's supporters now she's out.
With that the remaining candidates will be off to prepare for the first TV debate, hit the phones and hone their tactics before another round of votes next week.
The leadership contest became increasingly fractious on Thursday, as allies of the candidates launched personal attacks on their rivals.
Mordaunt batted away criticism from former Brexit negotiator David Frost, who questioned her competence to be prime minister.
He said Mordaunt – a supporter of Brexit – "wouldn't always deliver tough messages to the European Union" when he worked with her during negotiations last year.
Allies of Mordaunt said she had "nothing but respect" for Lord Frost and would "always fight for Brexit".