Advertisement

With the vision to promote Odia culture and ethos among people interested in Odisha, the Odisha Society of UK (OSUK) has organised its 43 Annual Convention on Saturday and Sunday, Aug 27th & 28th, 2022 between 09:00 Am t0 11:30 Pm at the Poynton High School Yewtree Lane, Poynton, Stockport, SK12 1PU, Greater Manchester, UK, reports Akshita Brahma
The OSUK 43 year annual convention is an important landmark event every year. It provides a source of joy and connection for the families who are part of a bicultural lifestyle based in the United Kingdom. Governed by an Executive Committee made up of different branches and sponsored by a plethora of different sources every year such as ICICI Bank, Bindaas, Xpertnest, Potli and so on, the organising committee and executive committee collaborate to create a fusion of ideas to offer to the attendees every year.
OSUK's origin story begins in the Maharana's family home in Leeds, where food and memories  were shared frequently, and from there over the past nearly five decades, OSUK has grown into an August bank holiday weekend of performance, community, talent and energy.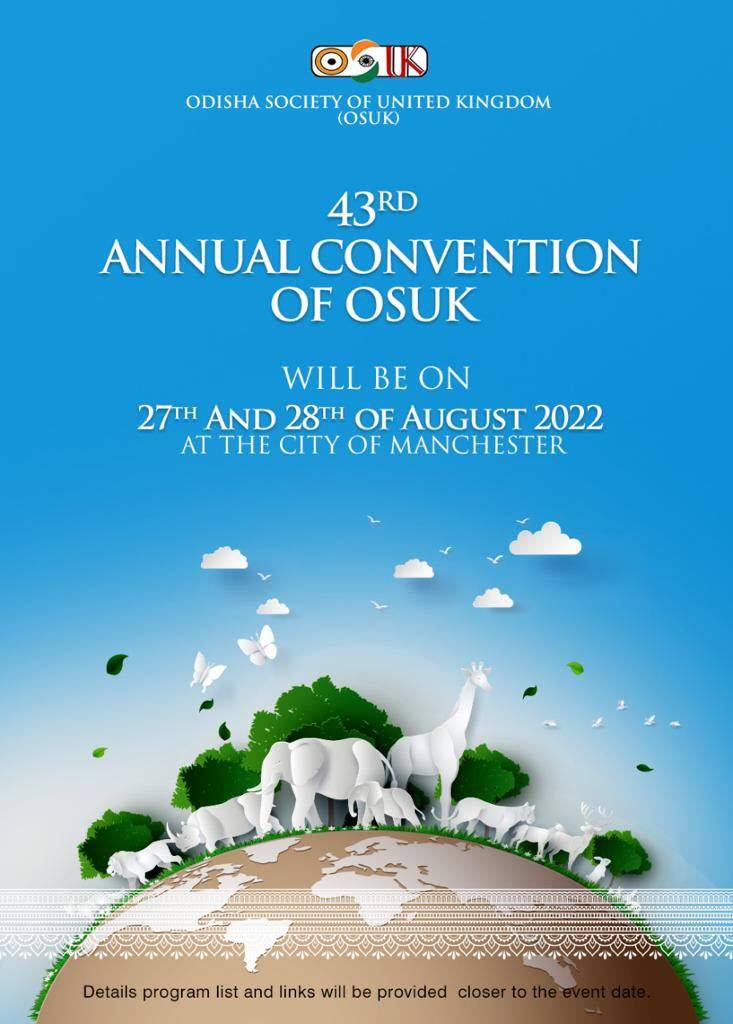 Perhaps the most special aspect of this amalgamation of hundreds of people, is the uniqueness that each family, each person brings to fuse together at the annual convention. As well as nuanced career paths, hobbies and individual magic, the different geographical locations of the United Kingdom have their own smaller community of Odias that are strongly interconnected.
When the bank  holiday weekend buzz begins, all of the different areas are able to come together as one, to meet  and glow with love and laughter together, which makes OSUK's August convention one not to  miss.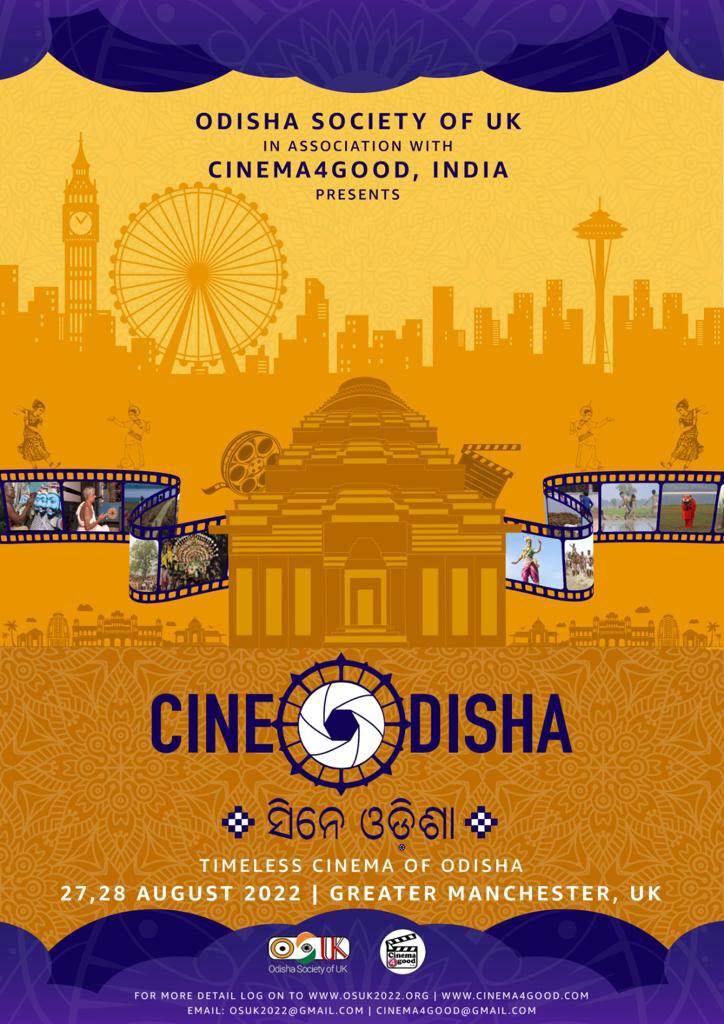 The 27 August Saturday begins with a beautiful inauguration, blessed by Lord Jagannath, rolling into the opening ceremony, complete with Bande Utkal Janani, to then having the rest of the day filled up with live art performances of song, dance, music, poetry and more in the main stage spaces, with smaller arts and crafts workshops, sports games of cricket, basketball, badminton and so on in the other indoor and outdoor spaces.
Mehndi and face painting artists at the OSUK events, are popular  amongst youth members! Annually, OSUK quickly becomes an intense taste of home, which satisfies the cravings not only through the wonderful caterers, but through the soul food that the community is able to engage in through the rigorous planning of the months gone by, and  celebrated raucously each night with a live-band disco. And that's only Saturday! Sunday morning, still electric from the night before, sports and arts competitions of all ages are hosted for  medals, trophies and recognition in the community.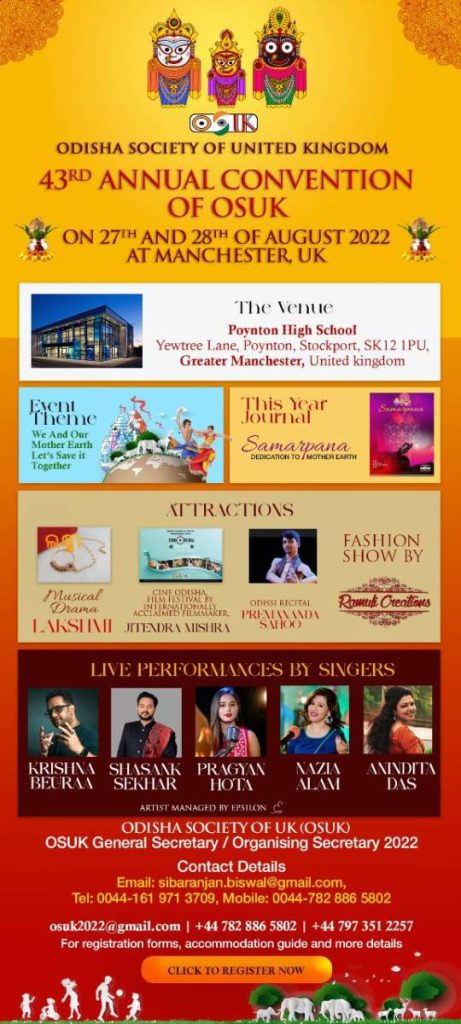 The afternoon sun blending all the excitement  together, brings us Antakshari, performers of all ages and talents, panel talks on a huge variety of  topics.The  programme continues with Kabita Patha, prize ceremonies, more food and recent additions  include an internationally acclaimed designer's fashion shows (Ramoli Creations, Reemly  Mohanty), film festivals (Cine4Good, CineOdisha), to bring us up to the evening, where live music  by popular singers (Asit Tripathy, Rosalin Sahu) sends us off into the night, bittersweet with how  incredible the weekend has been with the knowledge the next party is a year away. 
A recollection of the unfaltering convention through the pandemic complete with the OSUK  Journal, annually produced and distributed with submissions of all themes, the Gurukul website  kept the community connected globally through pandemic.

Several dignitaries in the past have been part of our annual  conventions Dr Swaroop Ranjan Mishra, Achyuta Samanta, Ranjib Biswal, Assembly Speaker Dr.  Surjya Narayan Patro and many other dignitaries including Rajya Sabha MPs Dr. Amar Patnaik, Dr.  Sasmit Patra, Sujeet Kumar, Odisha Culture Minister Jyoti Prakash Panigrahi, Padma Shri  Haladhar Nag, Spiritual Guru Chandrabhanu Satpathy, Transgender Leader Meera Parida and  Actor Kuna Tripathy. 
This year the lineup of Jitendra Mishra, Dylan Theodore, Ramoli Creations,  Anandita Das, Krishna Behura, Nazia Alam, Sashank Shekhar and Pragyan Hota among others have added the necessary elegance , charm ,glamour and dignity to the convention.
ALSO READ: The guardian angels of Odisha's Gundalba forests
Advertisement