Advertisement

Members of the UK's biggest rail union the RMT will walk out from midnight for 48 hours until the end of Saturday, hitting services throughout England, Scotland and Wales…reports Asian Lite News
Rail passengers have felt the brunt of transport disruption so far this week – but on Friday they'll be joined by travellers on roads and buses.
Just one in five trains will run so the advice is once again only travel if you have to. Other workers – including traffic officers who work in the aftermath of road accidents – are walking out for the first time.
However, those planning a pre-Christmas getaway from Heathrow Airport, will be pleased to know that a planned strike by baggage handlers has just been cancelled.
Members of the UK's biggest rail union the RMT will walk out from midnight for 48 hours until the end of Saturday, hitting services throughout England, Scotland and Wales.
Meanwhile, National Highways traffic officers in the Public and Commercial Services Union (PCS) working in north-west England, north-east England, and Yorkshire and the Humber will stop work for 48 hours.
National Highways says no roads will be closed and it has "well-rehearsed resilience plans in place". About 125 out of 1,500 operational staff will take part – 10-25 people per region.
The strike will involve members of control centre staff who monitor the road network's CCTV and do a number of jobs including programming the electronic warning signs we see on major roads. Traffic officers who work in the aftermath of accidents will also stop work.
However, there's good news for travellers using Heathrow. A 72-hour strike by baggage handlers from staff working for Menzies Aviation has been called off after talks between the private contractor and the Unite union.
Unite said the decision was a "gesture of goodwill" after a revised pay offer, which it will now ballot members on.
Civil servants in the Public and Commercial Services Union (PCS) – including driving examiners – are striking most days now until early January.
But the industrial action is regional – with different areas affected each week. This week, until Sunday 18 December, the walk out is in north-east England and Scotland. The government said the union's demands were "unaffordable".
Drivers in south and west London who are in the Unite union and work for operator Abellio will walk out for 48 hours in a dispute over pay. Areas affected include Battersea, Beddington, Hayes, Southall, Twickenham and Walworth.
Unite said it had invited Abellio to pay talks in September but had no response, and accused the company of paying among the lowest rates for bus drivers in London, causing a severe "retention crisis".
Chief nurse calls for strike resolution
England's chief nurse says she would like to see a resolution to nurses' strikes as soon as possible, as tens of thousands of nurses took action across England, Wales and Northern Ireland. Staff expressed anger that they felt forced to strike for more pay.
The UK government says the Royal College of Nursing's pay demands are unaffordable. No 10 said there were "no plans" to look again at the pay deal for nurses, despite calls from some senior Tories.
Nurses got an extra 3% last year after the pandemic and another rise recommended by a pay review body.
Former Conservative health minister Steve Brine said, "I think the way out is to protect the integrity of the process, go back and ask them to look again. Everyone needs to cool it and I think sending it back to the pay review body to have a look would be a sensible answer."
Sir Jake Berry, former Conservative Party chairman, urged the Government to "improve its offer" on pay.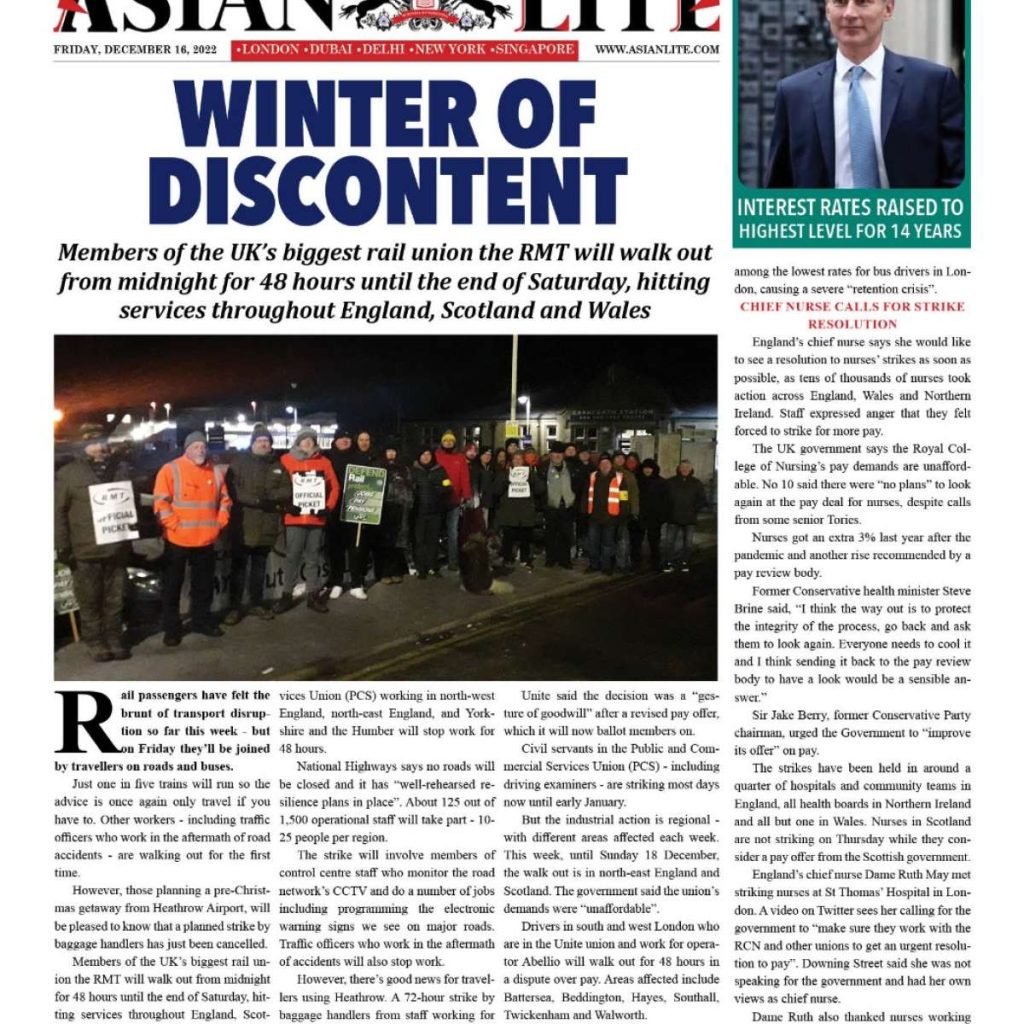 The strikes have been held in around a quarter of hospitals and community teams in England, all health boards in Northern Ireland and all but one in Wales. Nurses in Scotland are not striking on Thursday while they consider a pay offer from the Scottish government.
England's chief nurse Dame Ruth May met striking nurses at St Thomas' Hospital in London. A video on Twitter sees her calling for the government to "make sure they work with the RCN and other unions to get an urgent resolution to pay".
Downing Street said she was not speaking for the government and had her own views as chief nurse.
Dame Ruth also thanked nurses working on wards around the country "this day and every day", adding that they would continue to "ensure minimal risk to patient safety".
ALSO READ-EU approves ninth sanctions package against Russia