Advertisement

More than 500 students from the Al-Ameen Mission's 70 branches in West Bengal have passed the National Eligibility-cum-Entrance Test this year (NEET). Most of these students come from economically weak backgrounds. Many of them have studied in Madrassas and some of them are also hafiz (those who learn the Quran by heart) … A special report by Mohammad Modassir Ashrafi
As much-awaited results for the NEET exams were declared last week, the success of Muslim candidates, including those from Madarssa backgrounds, has exhilaratingly astounded everyone. Around 1200 Muslim candidates have passed the coveted test to pursue an MBBS degree. Out of them, more than 500 are from Al-Ameen Mission's 70 branches scattered in West Bengal, 250 plus candidates from Ajmal Foundation-run coaching institutes and around 450 from Shaheen Group of institutions.
Most of these students come from economically weak backgrounds. Many of them have studied in Madrassas and some of them are also hafiz (those who learn the Quran by heart).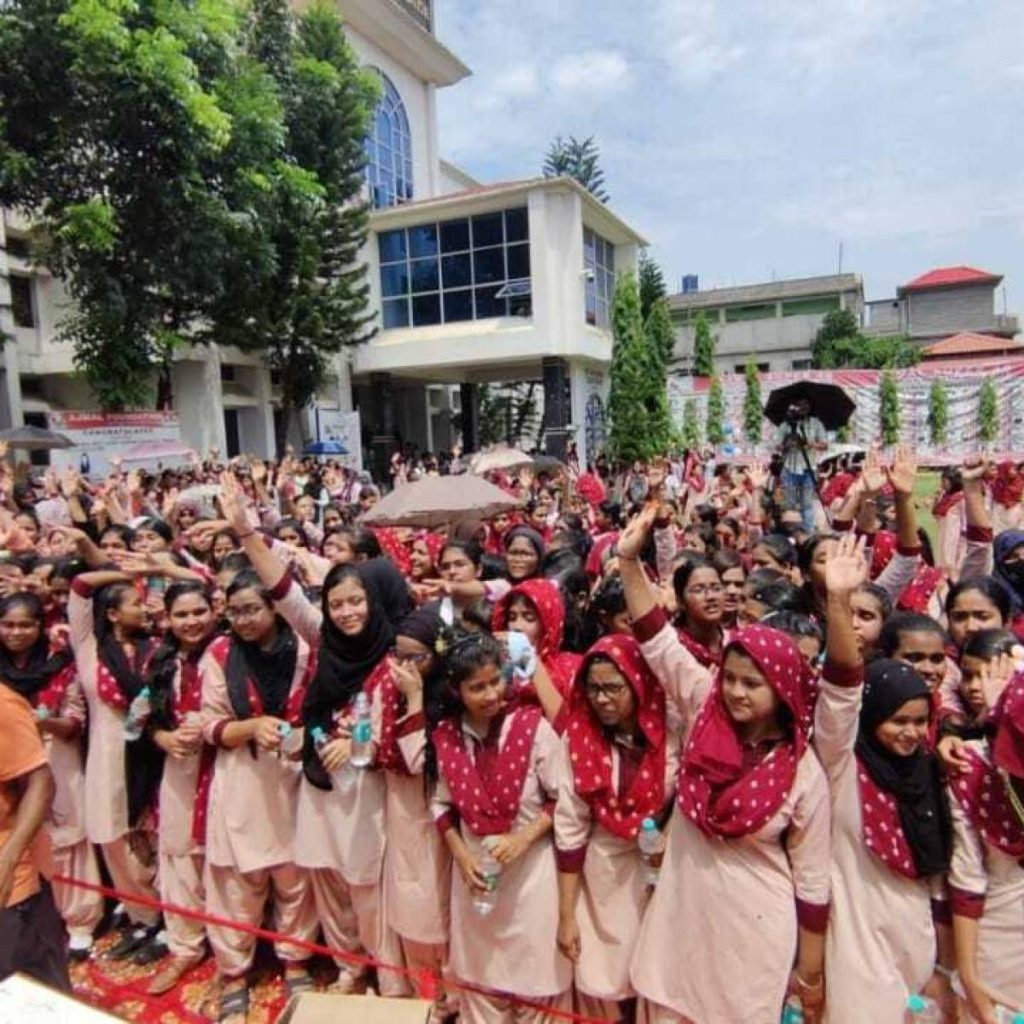 More than 500 students from the Al-Ameen Mission's 70 branches in West Bengal have passed the National Eligibility-cum-Entrance Test this year (NEET). Touhid Murshid, a student from the Malda district of the state, came up on top with 690 points (All India Ranking 472). Nearly 1,800 students took the NEET exam this year. According to Al-Ameen Mission, at least 500 to 550 students would have the option to study medicine among them. The majority of them are from the state's most impoverished districts. Murshidabad has 139 candidates, while Malda has 89.
Apart from them, 50 students come from the South 24 Parganas, 50 from Birbhum, 33 from the North 24 Parganas, 25 from Budwan, 24 from Nadia, 16 from Uttar Dinajpur, 15 from Dakshin Dinajpur, 13 from Howrah, 12 from Hooghly, 11 from Bankura, 10 from East Midnapore, 8 from Coochbehar, 7 from West Midnapore, 3 from Kolkata, 2 from Purulia, 3.

Al-Ameen Mission, based in Howrah, is recognized with graduating around 3500 doctors (MBBS and BDS) and 3000 engineers, as well as a large number of researchers, administrative officers, instructors, and professors. Nurul Islam created the organization, which now operates 70 coaching institutes in 20 West Bengal districts.

The organization includes around 3000 professors and non-teaching employees who teach 17,000 residential students. The Al-Ameen Mission's main campus is in Khalatpur (Udaynarayanpur), in the Howrah district of West Bengal.
Currently, the Mission provides half-free studentships to 6838 students (40 percent) and full-free studentships to 4257 students (25 percent). "The majority of Al Ameen Mission NEET students come from very impoverished families and come from the lower portions of society. Nurul Islam told a Muslim-oriented website, "We foster their talent, enhance their intelligence, and offer them with a decent environment so that they can come out with their best".
"To attain our goal and perform our part in nation-building, we use Zakat and Sadaqah funds". "We implore community people to join us in our efforts", Islam said.
Shaheen's success
Around 10 plus Madrassa pass-out hafiz students of Shaheen College in Bidar, Karnataka, are expected to attain MBBS seats in government-run medical colleges. Unlike other students, the hafiz students have achieved something truly remarkable in the Shaheen Group of institutions. Despite never having attended school or studied subjects such as science, mathematics, or languages other than Arabic and Urdu prior to that. The Shaheen Institute's Academic Intensive Care Unit' assisted them in achieving excellence and obtaining free government seats in prestigious medical colleges. The institution prepares Hafiz students for competitive examinations in medical and other professions in a unique but successful Model.
Like every year in NEET, the college has got the best results this year as well, 450 plus students are expected to secure government MBBS seats, said Dr Abdul Qadeer, chairman of Shaheen Group of Institutions.
Twelve students, who have completed the hafiz course in Madrassa, studied a basic course in our institution and completed PUC have performed well in NEET. Among the overall achievers, a large number of students have studied in government schools, Kannada medium, and rural areas, he added.
Ajmal Foundation's success
All India United Democratic Front (AIUDF) President Badruddin Ajmal's integrated educational program with a special focus on students from underprivileged backgrounds has fought against all odds to deliver great results in competitive exams such as NEET/ JEE(Main)/(Advance).

Around 240+ students from various institutes run by Ajmal Foundation have cracked the NEET exam this year. Last year, the number of successful students was around 100.

The Ajmal Foundation is a registered public charitable trust, established in the year 2005 at Hojai, Assam, India. It has 25 educational institutions all over the state of Assam. "The organization has been working in the fields of modern education, skill development and employment generation, women empowerment, poverty alleviation, relief and rehabilitation, and environmental awareness and health aid programs", states its official website.
(Mohammad Modassir Ashrafi is Research Scholar at Jamia Millia Islamia)