Advertisement

Justice Manik came under attack in the Nayapaltan area of the capital on November 2…reports Asian Lite News
A total of 13 activists of the Bangladesh Nationalist Party have been arrested for the attack on retired Supreme Court appellate division judge, Justice A.H.M. Shamsuddin Choudhury Manik, police said on Tuesday.

While a Dhaka Metropolitan Police (DMP) official put the number of arrested at 12, officials of the elite RAB told IANS that they had arrested the 13th BNP accused on Tuesday.

Justice Manik had delivered the judgment against war criminal, Jamat leader Delwar Hossain Sayeedee, and he was targetted by the BNP for terming its founder and former military ruler BNP founder Ziaur Rahman the killer of the Father of the Nation Bangabandhu Sheikh Mujibar Rahman.

"We've so far arrested 12 people over the attack on the Justice and vandalism of his private car. We've interrogated them and scrutinised CCTV footage. We've got confirmation that the attack was carried out from the BNP rally," DMP's Detective Branch chief Harun-ur-Rashid had said on Monday at a briefing on the arrest of six members of an hacking gang.

He said Harun that said some of the arrestees were still being interrogated in their custody. "We'll be able to extract information about whether other people were involved in the attack."

Justice Manik came under attack in the Nayapaltan area of the capital on November 2. A group of people from a procession swooped on his car while passing near the Central Police Hospital, vandalised it, and assaulted him, and his driver and gunman.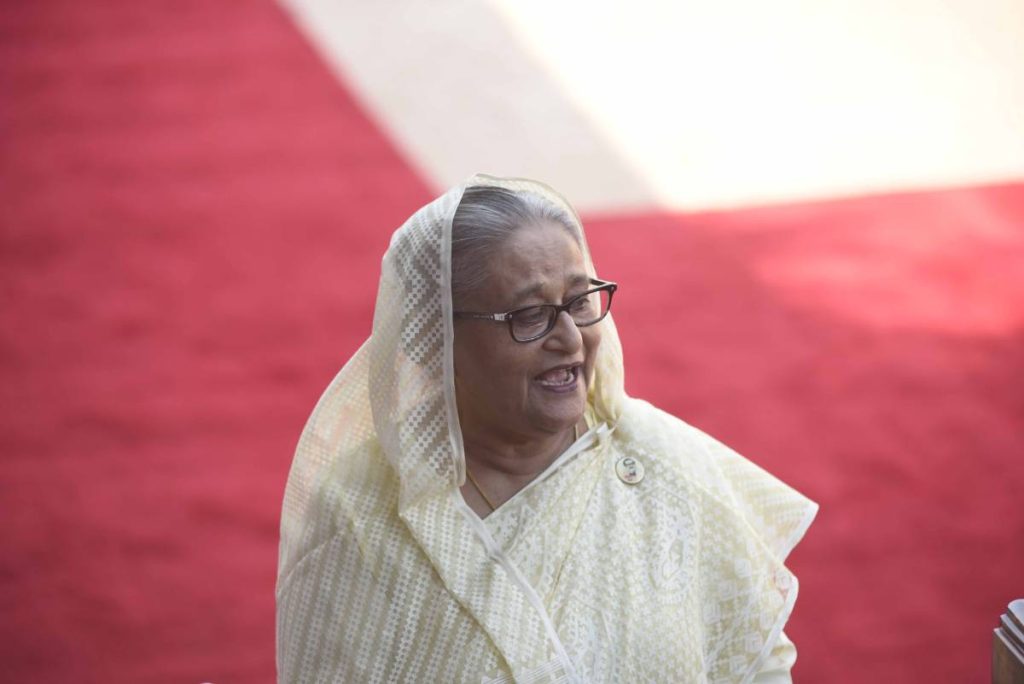 Oppn parties target Hasina
India must up its ante as Bangladesh's opposition parties including the Bangladesh Nationalist Party (BNP) are now gearing up to hold rallies and processions and even blockade the country in a bid to oust the current Sheikh Hasina-led Awami League government.

Bangladesh Prime Minister Hasina on Thursday said in Parliament that the opposition parties are trying to stir up political instability in her country. "When the country is in a transition period (crisis), I've not seen such concern among those who are in our opposition. Rather I've seen that they are trying how to create a political instability, taking its advantage. Is it fair to do that?" she said.

Amanullah Aman, senior member of the BNP said on October 8 that his party is planning to launch a new programme across the country targeting the government.

"If necessary, we will be martyrs but no election under (Prime Minister) Sheikh Hasina will be allowed. We will return home after ensuring the removal of this government," Aman said.

Earlier, a report by the European Foundation for South Asian Studies (EFSAS) noted that the "behind-the-scenes role" of the Pakistani agency the Inter-Services Intelligence (ISI), has hugely boosted the BNP and other radical outfits.

The Awami League has been in power in Bangladesh since January 2009.

"Bangladesh has witnessed unprecedented growth in the last 10 years. This is due because Hasina in a pragmatic way prioritised economy over ideology. Simply put, she has delivered," geopolitical and security analyst Navita Srikant told India Narrative.

Now it is slated to exit UN's Least Developed Countries (LDC) list in 2026,

Bangladesh, which was considered a basket case at its birth in 1971, reached lower-middle income status in 2015, driven by Hasina's economic policies.

But the recent economic crisis in the country has provided it with a solid issue around which to mobilize people, the Diplomat said. (with inputs from Mahua Venkatesh)