Advertisement

The results announced by SCAD at constant prices indicate that Abu Dhabi's GDP at constant prices grew 1.9% in 2021 compared with 2020…reports Asian Lite News
Statistics Centre-Abu Dhabi (SCAD) has announced statistical data that reflects rapid growth in most of Abu Dhabi's oil and non-oil activities at constant prices in 2021, underscoring the effectiveness of economic policies, the robustness of Abu Dhabi's local economy and the recovery from the Covid-19 crisis.
The results announced by SCAD at constant prices indicate that Abu Dhabi's GDP at constant prices grew 1.9% in 2021 compared with 2020. Meanwhile, the non-oil GDP at constant prices grew by 4.1%.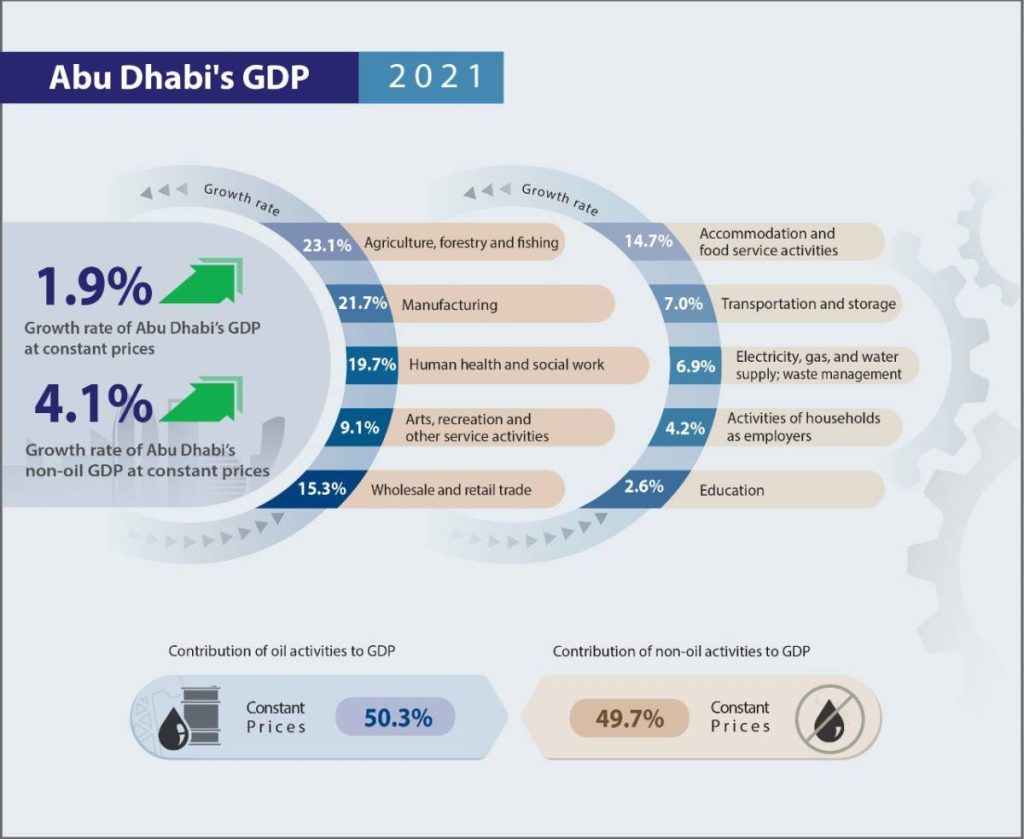 During the this year, several non-oil economic activities showed positive growth rates at constant prices, most notably the agriculture, forestry, and fishing activity, which expanded by 23.1% while the manufacturing activity expanded by 21.7%, health and social service activities by 19.7%, arts, entertainment and recreation by 17.3%, wholesale and retail trade by 15.3%, accommodation and food service activities by 14.7%, transportation and storage by 7%, and electricity, gas, water supply and waste management activities by 6.9%.
"The Emirate of Abu Dhabi has managed to overcome the consequences of this extraordinary global situation, thanks to the prudent economic and investment policies set by our wise leadership, including several stimulus initiatives for business and household sectors," said Mohamed Ali Al Shorafa, the Chairman of Abu Dhabi Department of Economic Development (ADDED).
"The initiatives helped the coronavirus-hit sectors to recover and expand while laying the groundwork for a robust economy that can overcome various challenges as well as formulating policies and legislation which keep pace with global changes and support ease of doing business. These initiatives promoted a stimulating investment environment that can attract talent and innovative entrepreneurs, which is clearly reflected in the 2021 GDP results released by Statistics Centre – Abu Dhabi."
ALSO READ: 'Visit Abu Dhabi Roadshow' in Israel
According to the data released by SCAD, the mining and quarrying activity (includes crude oil and natural gas) contributes approximately 50.3% of Abu Dhabi's real GDP in 2021. On the other hand, the non-oil activities contribute 49.7% of the GDP at constant prices in 2021, despite the remarkable rise of world prices during the same period. The growth proves the remarkable progress Abu Dhabi has made to diversify its economic base and sources of income in line with its ambitious strategic plans.
Like other regional and global economies, Abu Dhabi's economy was adversely impacted by the repercussions of the Covid-19 pandemic and the accompanying lockdowns in 2020. Coupled with significant decline in oil prices in world markets, the emirate's real GDP declined by 7.7%, oil-GDP by 3.9%, and non-oil GDP by 11.5%. These declines are comparable to other global economies as a result of the challenges and conditions the world experienced during this unprecedented period.