Advertisement

The move comes as the government officials have raised concerns about Russia's use of cryptocurrency to evade the impact of crushing sanctions in response to its invasion of Ukraine…reports Asian Lite News
President Joe Biden is expected to an executive order this week in a bid to regulate how digital currency is traded.
According to reports, the executive order will direct the Justice Department, Treasury and other agencies to study the legal and economic ramifications of creating a US central bank digital currency, media reported.
The move comes as the government officials have raised concerns about Russia's use of cryptocurrency to evade the impact of crushing sanctions in response to its invasion of Ukraine.
Two people familiar with the process told Associated Press that the executive order on cryptocurrency was expected to be issued this week and it had been in the works long before the war.
The sanctions have sent the ruble to historic lows and have closed the country's stock market, it was reported.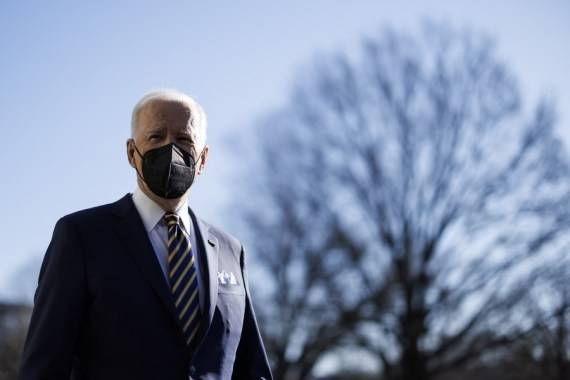 As Russia intensified its battle to take control of Ukraine, Bitcoin last week soared to $44,000, pushing the total cryptocurrency market cap to cross $2 trillion.

With the recent gains, Bitcoin now has a higher market cap than the rapidly-declining Russian currency ruble.

Bitcoin has a market cap of approximately $835 billion while the ruble has a market cap of around $626 billion.

The crypto market was last at $2 trillion in August 2021.

In the last week since the Russia-Ukraine war started, Bitcoin has jumped nearly 14 per cent and ethereum 12 per cent, according to CoinGecko data.

Terra's LUNA token had a stratospheric rise, climbing nearly 70 per cent during the last week, and is now trading at approximately $94.

Solana's SOL and other layer 1 tokens like Avalanche's AVAX and Polkadot's DOT also responded well, reports CoinDesk.

Similar to volatility, Bitcoin's trading volume across major exchanges reached the highest level since the December 5 price crash, according to CoinDesk data.

Earlier, the global crypto market lost nearly 10 per cent of its value as Russia invaded Ukraine on Thursday. Over $200 billion worth of its global market value was wiped out.

The most-hit cryptocurrencies were Ethereum, Cardano, Avalanche, and Polkadot, along with Dogecoin and Shiba Inu.

Some traders, however, expected the price bounce to be short-lived amid geopolitical uncertainty.