Advertisement

During her 70 years on the throne, Queen Elizabeth II devoted herself to promoting national development and friendly exchanges between Britain and other countries, Mao stressed…reports Asian Lite News
Chinese Foreign Ministry spokesperson Mao Ning said Friday that China expresses deep condolences over the death of Britain's Queen Elizabeth II, adding the Queen made important contributions to expanding friendly exchanges between the two countries.
Queen Elizabeth II, Britain's longest-reigning monarch in history, has died aged 96, according to Buckingham Palace on Thursday.
Mao said that Chinese President Xi Jinping had sent condolences to British King Charles III over the death of Queen Elizabeth II, and Chinese Premier Li Keqiang sent condolences to British Prime Minister Liz Truss.
During her 70 years on the throne, Queen Elizabeth II devoted herself to promoting national development and friendly exchanges between Britain and other countries, Mao stressed.
Noting that Queen Elizabeth II was the first British monarch to visit China and had also received a number of Chinese leaders to visit Britain, Mao said that the Queen made significant contributions to enhancing understanding between the Chinese and British people and expanding friendly exchanges between the two countries.
"China stands ready to continue to work with the British royal family and all sectors to promote the continuous development of bilateral relations," Mao noted.
After Buckingham Palace announced the queen's death, Chinese social media users shared photos from her China trip. On microblogging platform Weibo, 20 of the 50 top topics list were dedicated to Queen Elizabeth II on Friday morning, with many calling her a "legend."
"She has probably witnessed the most striking parts of history in modern times, and now she has completed her mission," one user commented.
As the world's oldest and longest-serving head of state, Queen Elizabeth II ascended the throne after her father King George VI died in 1952. She has witnessed a myriad of social changes and political upheavals both at home and abroad during her 70-year reign, from the collapse of the Soviet Union in 1991 to Brexit in 2020.
While Elizabeth II was a much revered figure, the institution has been censured for its colonial legacy, including in Hong Kong up until 1997. On Weibo, some comments criticized the British royal family for defending its colonial rule in other countries, arguing that the Chinese people should instead commemorate the nation's founder Mao Zedong, as Friday marks the 46th anniversary of his death.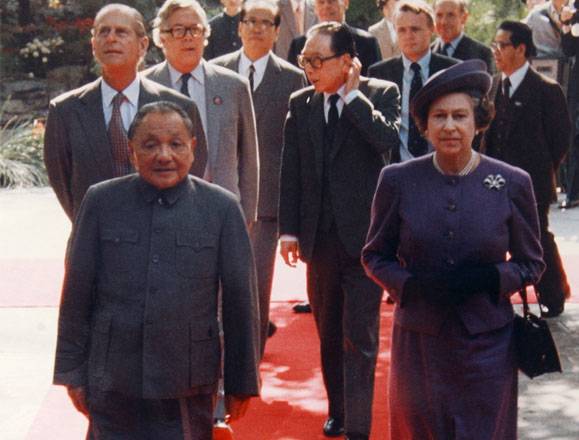 The British monarch's death also made headlines in China's domestic media. Many outlets highlighted Queen Elizabeth's key role in stabilizing and unifying the country, while expressing concerns about the struggles Britain currently faces.
"The passing of Queen Elizabeth is another blow to the confidence of British people in the wake of inflation and the energy crisis," Zhao Chen, a researcher focusing on European studies at China Academy of Social Sciences, told domestic outlet Time News, adding that her death could leave question marks for the monarchy and trigger a reputation crisis for the royal family in the future.