Advertisement

The update also said that 115 people were also injured in the same time period, which increased the cumulative number to 12,703…reports Asian Lite News
The death toll in Pakistan's catastrophic flooding has increased to 1,314, with the weather office forecasting more rain to lash the country over the next few days that may trigger landslides in the northern areas.

According to the latest National Disaster Management Authority (NDMA) update, 24 people were killed in the last 24 hours, which increased the overall toll in the deadly deluge triggered by the incessant rain since mid-June, reports Xinhua news agency.

The update also said that 115 people were also injured in the same time period, which increased the cumulative number to 12,703.

The NDMA said that a total of 1,682,726 houses have been destroyed so far, while an estimated 750,405 livestock has perished.

At least 633,091 flood-affected people were currently living in camps.

Meanwhile, the Pakistan Meteorological Department that rain and thundershower with isolated heavy falls may occur in Pakistan-occupied Kashmir, Gilgit Baltistan region and parts of Punjab province till Tuesday.

It added that rainfall is also expected in parts of Khyber Pakhtunkhwa until Monday.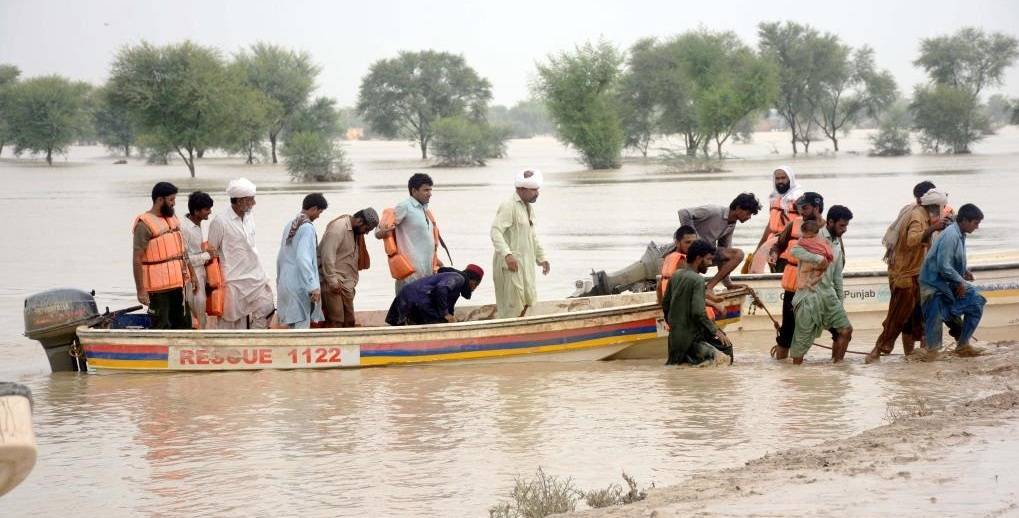 Drowning threat
Floodwater in Main Nara Valley (MNV) drain in Pakistan has surged to pose threat to Dadu and other cities and towns in the district, ARY News reported on Monday.
The people of the town have been advised to evacuate their families to a safer place as an upsurge in the floodwater is posing a serious threat of flooding in Dadu, Mehar and Juhi, sources said.
The water exerts pressure over the ring dykes of Mehar and Johi with the serious threat of drowning Johi town, according to ARY News.
In view of the serious situation, SHO Johi police has appealed the people to come out of the hotels immediately to join hands to save the city from flooding. "I will be forced to close hotels if you people do not reach the city's ring embankment," he warned to people.
Meanwhile, the officials are mulling over two more cuts in the lake to release the pressure of water and save major urban centres in the area from drowning. Floodwater still exerting pressure at the ring dykes of Johi, Mehar and Dadu cities.
Meanwhile, Pakistan government agencies and private NGOs continue with their relief operations described as a "humanitarian disaster of epic proportions". Large parts of the country remain submerged – particularly the provinces of Balochistan, Khyber Pakhtunkhwa and Sindh in the south. At least 180 people have died in Sindh followed by Khyber Pakhtunkhwa (138) and Balochistan (125).
At least, 1,468,019 houses have been partially or totally damaged, while 7,36,459 livestock have been killed due to the floods. (IANS/ANI)