Advertisement

LAYLA MORAN MP: It should not have taken years to reach this day – nearly six years in the case of Nazanin. We should never have been in the situation where UK nationals are being used as political bargaining chips
Liberal Democrat Foreign Affairs Spokesperson Layla Moran MP questions the British government's inability to get freedom for a civilian who was held captive in Iran over a 'legitimate debt.'
"At a dark time, this is joyful news for us all to celebrate," Moran in a statement. "Members of the public, NGOs, Parliamentarians and, of course, Nazanin and Anoosheh's families have campaigned tirelessly for their release – it now looks like they are finally coming home.
"But it should not have taken years to reach this day – nearly six years in the case of Nazanin. We should never have been in the situation where UK nationals are being used as political bargaining chips. The UK Government has questions to answer for whether their actions, including those of the current Prime Minister, have prolonged this ordeal. I hope the Foreign Secretary will commit to an independent inquiry.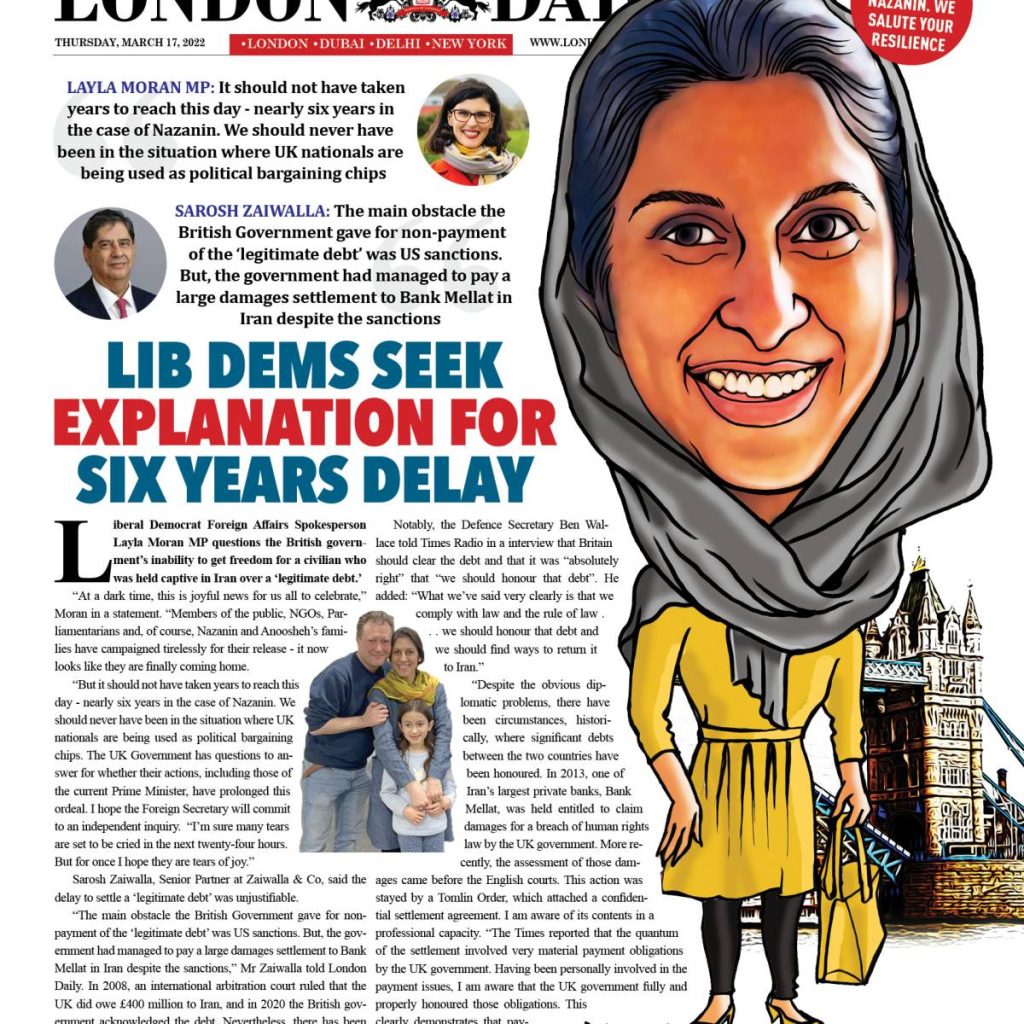 "I'm sure many tears are set to be cried in the next twenty-four hours. But for once I hope they are tears of joy."
Sarosh Zaiwalla, Senior Partner at Zaiwalla & Co, said the delay to settle a 'legitimate debt' was unjustifiable.
"The main obstacle the British Government gave for non-payment of the 'legitimate debt' was US sanctions. But, the government had managed to pay a large damages settlement to Bank Mellat in Iran despite the sanctions," Mr Zaiwalla told London Daily.
In 2008, an international arbitration court ruled that the UK did owe £400 million to Iran, and in 2020 the British government acknowledged the debt. Nevertheless, there has been an extended dispute over the exact amount that will be paid and what interest is due. In light of current sanctions that are applied against Iran, achieving repayment may still prove difficult.
Notably, the Defence Secretary Ben Wallace told Times Radio in a interview that Britain should clear the debt and that it was "absolutely right" that "we should honour that debt". He added: "What we've said very clearly is that we comply with law and the rule of law . . . we should honour that debt and we should find ways to return it to Iran."
"Despite the obvious diplomatic problems, there have been circumstances, historically, where significant debts between the two countries have been honoured. In 2013, one of Iran's largest private banks, Bank Mellat, was held entitled to claim damages for a breach of human rights law by the UK government. More recently, the assessment of those damages came before the English courts. This action was stayed by a Tomlin Order, which attached a confidential settlement agreement. I am aware of its contents in a professional capacity.
"The Times reported that the quantum of the settlement involved very material payment obligations by the UK government. Having been personally involved in the payment issues, I am aware that the UK government fully and properly honoured those obligations. This clearly demonstrates that payment to Iranian interests can be made when it proves convenient to do so."
Follow us: @londondailydig1