Advertisement

The activists will hold a conference to address issues like the right to self determination for "historical nations", terrorism promoted by Pakistan's spy agencies, persecution of minorities, and the expanding footprint of China..reports Rahul Kumar
Sindhi organisations are galvanising themselves into action over Pakistani Prime Minister Shehbaz Sharif's visit to New York for the UN General Assembly session (UNGA) which is in session currently after a Covid-induced gap of two years.

The Jeay Sindh Freedom Movement (JSFM) is organising the Indus Freedom Conclave, on September 23-24 with a day-long protest in front of the UN headquarters in New York. Besides the Sindhis, the organisation has claimed support from Baloch, Afghan and Pashtoon groups for seeking freedom from Pakistan.

Speaking with India Narrative, Zafar Sahito of the JSFM said: "We are continuously reaching out against Pakistan before international organisations and advanced countries to prove that it is a failed terror state. We also want to highlight that the money Pakistan is collecting for flood relief will go into the accounts of military generals and Jihadi outfits. Why I say this is because the government, I mean military establishment and their selected elite class representatives, do not care for people".

"To give you an example, a few years back the money which was collected for the earthquake victims of Pakistan Occupied Kashmir (POK) was never given to them", Sahito added. He added that Pakistan has nurtured Islamist Jihadi outfits to suppress religious minorities.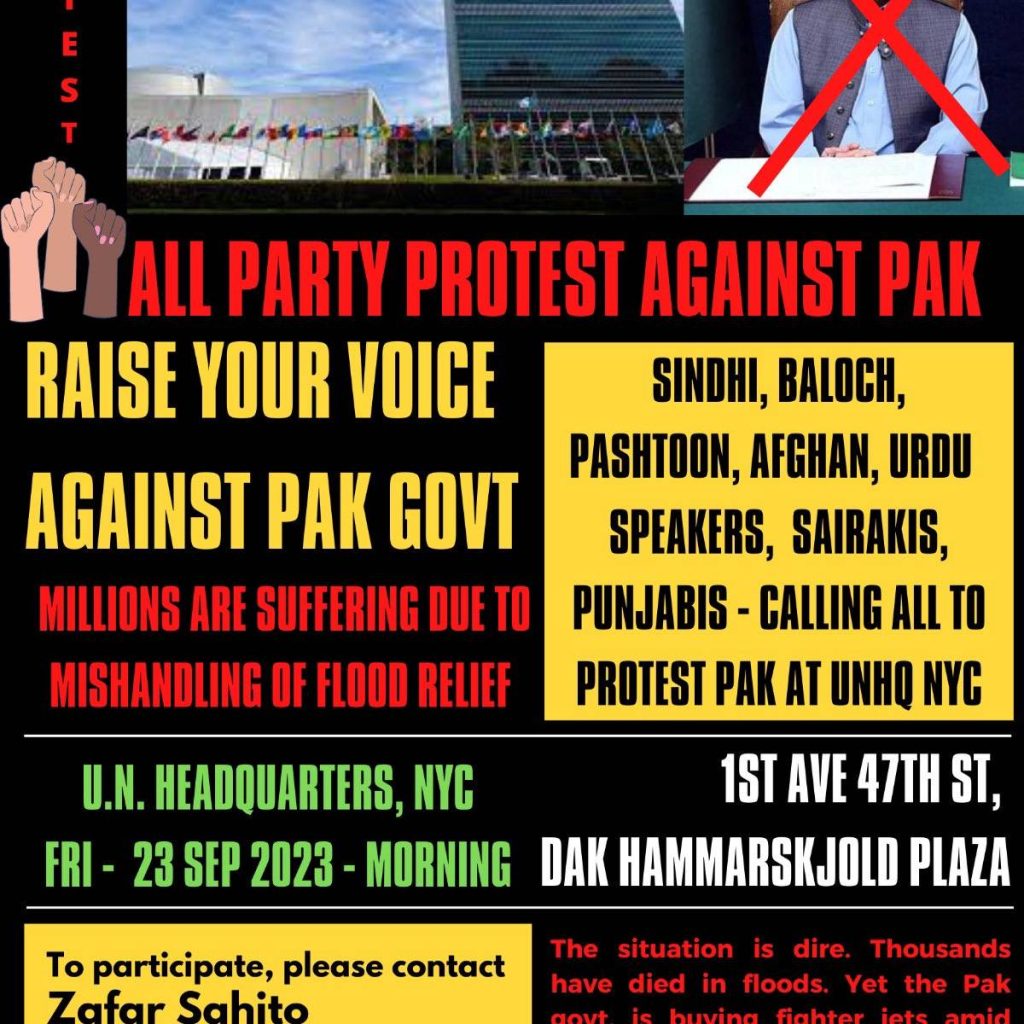 The activists will hold a conference to address issues like the right to self determination for "historical nations", terrorism promoted by Pakistan's spy agencies, persecution of minorities, and the expanding footprint of China through the China Pakistan Economic Corridor (CPEC).

The lobbying by various Sindhi groups in the US has had its positive effects. Congresswoman Carolyn B. Maloney has been raising the issue of forced conversions of Hindu girls in the Sindh province. In 2021, Congressman Brad Sherman, in his capacity as the Chair of the Sindh Caucus, wrote a letter to US Secretary of State Antony Blinken, "urging the Administration to pay attention to the human rights abuses in Sindh, and to take immediate action to combat climate change".

This year the Voice of America (VoA) started a Sindhi language website to cater to nearly 14 per cent Pakistanis, nearly 30 million people, who speak the language. The website was initiated after much lobbying by Sindhi groups advocating for a separate Sindh.

Earlier this week, another Sindhi group launched a one-week hunger strike against Pakistan's human rights violations in Sindh-Pakistan's economic powerhouse.

Sindh is witnessing a sporadic insurgency by the Sindhi rebels as well as Baloch separatist groups. This year has seen many attacks in Sindh capital Karachi with the coming together of the two ethnic groups.

Sahito alleged that the floods have presented the military establishment to draw more funds from international organisations, an allegation that has been levelled against the Pakistani army by many.

(The content is being carried under an arrangement with indianarrative.com)