Advertisement

The cards would not be an official form of federal identification, and would state they are to be used by the Department of Homeland Security…reports Asian Lite News
Immigrants awaiting deportation proceedings in US might be issued photo ID cards in a bid to slash paper use and help people stay up-to-date on required meetings and court hearings, media reported citing immigration officials.
The proposal from Immigration and Customs Enforcement is still being developed as a pilot program, and it was not immediately clear how many the agency would issue, according to an Associated Press report.
The cards would not be an official form of federal identification, and would state they are to be used by the Department of Homeland Security, it was reported.
The idea is for immigrants to be able to access information about their cases online by using a card rather than paper documents that are cumbersome and can fade over time, officials said. They said ICE officers could also run checks on the cards in the field.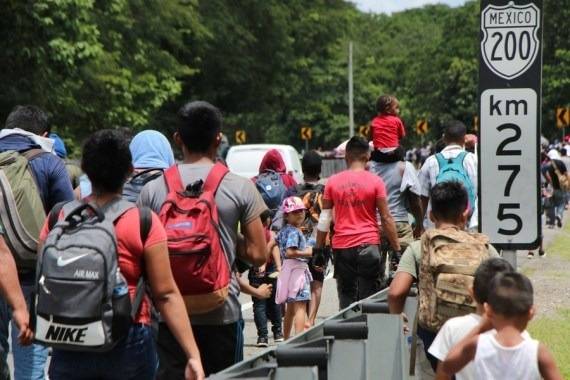 Meanwhile, the proposal has sparked criticisms and also questions about what the card might be used for and how secure it would be.
Some fear the program could lead to tracking of immigrants awaiting their day in immigration court, while others suggest the cards could advertised by migrant smugglers to try to induce others to make the dangerous trip north.
Recently, the International Rescue Committee (IRC) said that harmful border policies put in place by the US are damaging to Mexico and undermine the human rights of millions of migrants.

Due to "inhumane border policies such as Title 42 and the Migrant Protection Protocols MPP program," migrants at the US-Mexico border "require humanitarian assistance in five critical aspects," including medical attention, food and safety, the IRC added in a press release.

"The implementation of harmful border policies … has resulted in Mexico being forced to fulfill growing humanitarian needs," said Rafael Velasquez, the IRC's Director for Mexico, as quoted by Xinhua news agency report.

Title 42 allows border agents to expel migrants and asylum-seekers without a court hearing over concerns of Covid-19 spread, reported US media.

When expelled or deported, "people can encounter dangers similar or worse than those they tried to flee from in the first place," said Velasquez, citing an IRC investigation of migrants in Mexican border cities.

"International cooperation and funding are critical to support and strengthen existing protection and asylum systems and policies in Mexico to guarantee people's integrity, regardless of their nationality or status," he added.

Founded at the call of Albert Einstein in 1933, the IRC helps people affected by humanitarian crises — including the climate crisis — to survive, recover and rebuild their lives.