Advertisement

The measure, agreed by senators of both parties, includes $3 billion for arms, supplies and salaries for Ukraine's military, and authorizes President Joe Biden to direct the Defense Department to take $3.7 billion worth of its own weapons and materiel to provide Ukraine…reports Asian Lite news
The Senate approved $12 billion in new economic and military aid for Ukraine Thursday as part of a stopgap extension of the federal budget into December.
The measure, agreed by senators of both parties, includes $3 billion for arms, supplies and salaries for Ukraine's military, and authorizes President Joe Biden to direct the Defense Department to take $3.7 billion worth of its own weapons and materiel to provide Ukraine.
It also provides $4.5 billion for Kyiv to keep the country's finances stable and keep the government running, providing services to the Ukrainian people.
It comes as Russian President Vladimir Putin plans to declare the annexation of parts of Ukraine occupied by Russian troops on Friday.
"Seven months since the conflict began, it's crystal clear that American assistance has gone a long way to helping the Ukrainian people resist Putin's evil, vicious aggression," said Senate Majority Leader Chuck Schumer.
"But the fight is far from over, and we must, we must, continue helping the brave, valiant Ukrainian people."
The Ukraine aid is part of a short-term extension of the federal budget, which is to expire at the end of the fiscal year on September 30 without the parties in Congress having agreed to a full-year allocation for fiscal 2022-23.
The extension, or continuing resolution, will keep the government running into December, but it has to first be approved by the House of Representatives to avoid shutting down parts of the government on Monday.
Republican Senator Lindsey Graham said he wanted "to send a very clear signal" that more economic and military assistance would be sent to Ukraine when Congress returns to Washington after the Nov. 8 mid-term elections.
"This is a defining moment for the world when it comes to territorial integrity," Graham told a news conference where he and Democrat Richard Blumenthal introduced a bill to cut off US assistance to any country that recognizes Russia's annexation of Ukrainian territory.
"We're dealing with Hurricane Putin," Graham said, after expressing best wishes for US citizens affected by powerful Hurricane Ian.
Graham and Blumenthal also called on Biden to designate Russia a state sponsor of terrorism, which the administration says is not the most effective way to hold Russia accountable.
Blumenthal and Graham's bill was one of several seeking to boost Ukraine that was recently introduced in Congress.
Some proposals could become law as part of the National Defense Authorization Act (NDAA), a massive bill setting policy for the Pentagon expected to pass by year-end.
On Thursday, Democratic Senator Chris Van Hollen and Republican Pat Toomey filed an amendment to the NDAA proposing the Biden administration use secondary sanctions to strengthen a price cap G7 countries plan to impose on Russian oil.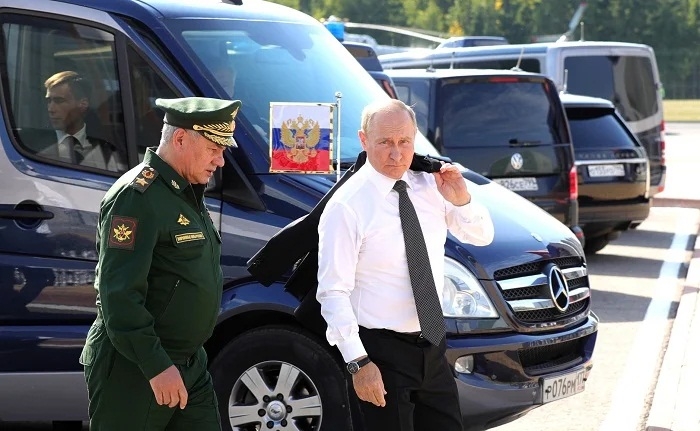 'We will never recognise Russia's claims on Ukrainian territory'
President Joe Biden pledged on Thursday the United States will never recognize Russia's claims on Ukraine's sovereign territory as the United States prepared new sanctions to impose once Moscow annexes new areas of Ukraine.
Speaking to Pacific island leaders, Biden denounced referendums that pro-Russian forces conducted in areas of Ukraine as an "absolute sham," saying the results were "manufactured in Moscow."
The United States is working with allies on sanctions to impose once Russia annexes new areas of Ukraine. Russian President Vladimir Putin will begin annexing four Ukrainian regions to Russia on Friday, and the US response is expected to follow quickly.
"The United States, I want to be very clear about this, United States will never, never, never recognize Russia's claims on Ukraine sovereign territory," Biden said.
The sanctions are expected to target "individuals and entities inside and outside Russia that provide support to this action," the White House said on Wednesday.
"Russia's assault on Ukraine in pursuit of imperial ambitions is a flagrant, flagrant violation of the UN Charter, and the basic principles of sovereignty and territorial integrity," said Biden.