Advertisement

She is not only an endearing actress, but also a great inspiration for her dedication and commitment to fitness. Read on to know her fitness secrets and how with consistency half the fitness battle is won!…reports Asian Lite News
We've all heard the term 'work-life balance', but have you heard of the term 'work-fitness balance'? Whether a woman is a homemaker or working, it can be challenging to maintain a good lifestyle when work almost always takes priority over everything else in our lives.

Let's learn about Janhvi Kapoor's work-fitness harmony! The gorgeous B-town diva is known for her outstanding roles in blockbuster films like Roohi, Dhadak, and Gunjan Saxena: The Kargil Girl.

She is not only an endearing actress, but also a great inspiration for her dedication and commitment to fitness. Read on to know her fitness secrets and how with consistency half the fitness battle is won!
"It has been a long journey and a constant conscious effort to prioritise what's important! Waking up and getting on our feet to work long hours is something that we all relate to, but through all this, staying fit makes you feel much better. Consume meals that are protein-packed and consume them more often. Take your breaks well and indulge in nutritious snacking habits -this way you will achieve half of it and the other half is with a good and functional exercise routine and a good sleep schedule," said Janhvi, who firmly believes in – You Feel Better When You Are Fitter!

"For me, before starting my workday, I make sure I have a protein-packed breakfast, like brown bread, oats, and my favourite Saffola FITTIFY Peanut Butter. I love that it comes in variants ranging from Omega 3, whey protein, unsweetened, and dark chocolate to vegan options both in extra crunchy as well as super creamy forms. For lunch, I eat only home-cooked meals or consume fruits and vegetable juice if I am outdoors for shoots. I keep my dinner very light, consuming lots of boiled vegetables and soup."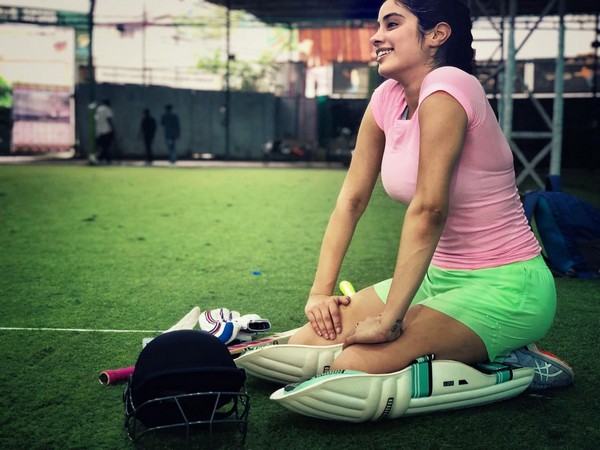 "I never miss out on my nutritional supplements on the go and during my breaks. I personally love the Saffola FITTIFY – The Perfekt Gummies that make supplements a tasty option. These super ingredients, which are high in Biotin as well as vitamins A, C, E and Zinc, are ideal supplements to get your daily dose of nutrients. It has helped me refuel my energy during hectic work schedules."

Janhvi likes to – Master One Task at One Time! She said: "When I work out, shoot, or go on vacation with my family, I ensure I'm all in, in that very moment. I feel it's important to be 100 per cent present in whatever you're doing, and to be content and happy with yourself and your life. Don't compromise on your present for your past or future worries, just breathe and soak in whatever that moment has for you."
ALSO READ-'Wherever I go in the world, I am an Indian first'