Advertisement

Little did she realise then that Bomman and Raghu's story she had stumbled upon on the road to Ooty, would slowly yet steadily take over her life. Also intertwined in this heart-warming story was that of Ballie, Bomman's helpmate whom he went on to marry…reports Asian Lite News
It was on a visit back home in Ooty five years ago that Kartiki Gonsalves first met Bomman and his baby elephant, Raghu, who had been orphaned after his herd abandoned him following his mother's death by electrocution.

Bomman and Raghu were on their way to the Thepepakadu Elephant Camp, deep inside the Mudumalai National Park in Tamil Nadu, home to hapless jumbos like the one happily waddling behind his caregiver. An indigenous man, Bomman, had taken charge of the upkeep of Raghu, who was living off stealing food from nearby villages, being chased away by dogs, one of whom even bit off a part of his tail.

Kartiki, a wildlife photographer, was travelling to meet her parents — Timothy Gonsalves, founder-director of IIT-Mandi, computer scientist and incubator of startups, and Priscilla Tapley, an American-born specialist in East European and Russian History, who's now a social entrepreneur based in the Nilgiris.

Little did she realise then that Bomman and Raghu's story she had stumbled upon on the road to Ooty, would slowly yet steadily take over her life. Also intertwined in this heart-warming story was that of Ballie, Bomman's helpmate whom he went on to marry.

Working on her phone camera, a GoPro, and also a DSLR, Kartiki made a 10-minute reel that she shared with Netflix. Once she got Netflix interested, her only request was that she got to work with a producer named Guneet Monga, a successful young producer who had been associated with Anurag Kashyap and all his celebrated films, notably 'Gangs of Wasseypur – Part 1', 'Gangs of Wasseypur – Part 2', 'Peddlers', 'The Lunchbox', 'Masaan', 'Zubaan' and 'Pagglait'.

Back in 2019, Monga had won an Oscar for showrunning Iranian American filmmaker Rayka Zehtabch's 'Period: End of Sentence'. It followed, in the same way as Kartiki wished to document the lives of Bomman, Ballie and Raghu, a group of local women at Kathikera village in Hapur, Uttar Pradesh, as they learnt how to operate a machine that made low-cost, biodegradable sanitary pads, which they started selling to other women at affordable prices.

It was not only empowering for the women who produced the sanitary pads, but also helped them, and in turn, the women they helped, shed taboos regarding menstruation. In the same narrative style, Kartiki wished to convey how climate change exacerbated human-animal conflicts and impacted the everyday lives of simple people such as Bomman and Ballie.

Born and raised in Delhi (she studied at Bluebells School and then pursued a Mass Communications degree at the Madhubala Institute of Mass Communications and Electronic Media affiliated with the Guru Gobind Singh Indraprastha University), Monga was drawn to the idea because "who can resist a film on baby elephants".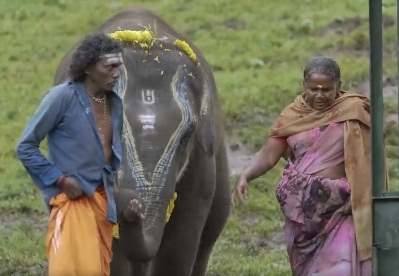 That didn't mean that she at once signed up for the project. Being a follower of Delhi's Chhattarpur Guruji, she believed that two people have to vibe personally in order to be able to work together professionally. She invited Kartiki over to her home in Mumbai to spend time together with her.

It turned out to be a month and a half, but Monga was now convinced that here was a project that was waiting to be shown to the world. To immerse herself into the world of Bomman and Ballie, Guneet went to Mudumalai and attended the marriage of Bomman and Ballie, which is documented in the film.

The film shoot turned out to be more than an immersive project. It consumed their lives for three years and half, as Kartiki followed Bomman and Ballie, and let them narrate what Monga calls their "pure and surreal" stories themselves in their unscripted words, with nature providing the sounds, seasonal colours and vibrant textures. She ended up shooting 400 hours of film for what was to be a 41-minute film.

After putting the film to bed, the two have moved on with new projects. In her own words, Kartiki is involved in three long-term projects: one on wild cats that inhabit the mountainous higher altitudes of the Western Ghats; another on a remote village in central India, photographing and documenting the lives, stories and art of local traditional artists of the Adivasi and Bhil communities; and the third, a photo feature documenting life in the forbidding high deserts of the Indo-Chinese border in the Greater Himalayas.

Monga, meanwhile, got married to entrepreneur Sunny Kapoor in Mumbai and is busy with her next production, also for Netflix, 'Kathal' (Jackfruit), a comedy starring 'Dangal' actress Sanya Malhotra as a police officer.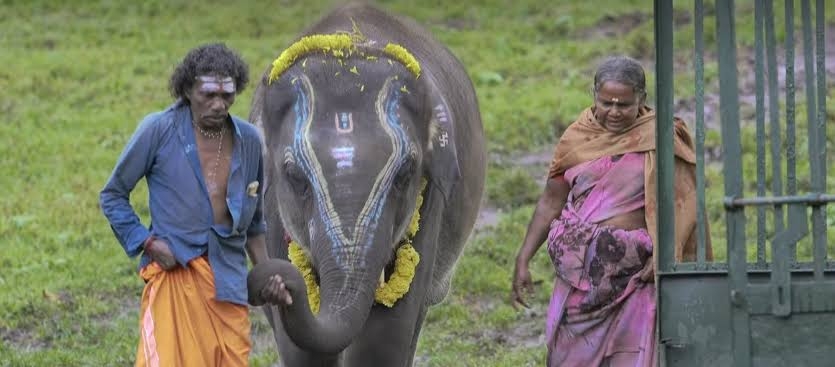 Then came the big news that 'The Elephant Whisperers' was in the race for an Oscar in the Documentary Short Film category — the first for an Indian production made in India — and finally the big moment came when Guneet and Kartiki were called on the stage to take back home those coveted statuettes.

Reflecting on 'The Elephant Whisperers', Monga had taken to Instagram, after the film earned its nomination, to note: "The Elephant Whisperers is an ode to devotion and love … an ode to unconditional selfless love for the beautiful baby ellie Raghu who felt all the emotions like us humans but only two could hear his whispers — Bomman and Bellie."

Monga had then said that the nomination "strengthens my faith in stories with heart and people who tirelessly submit themselves to a larger vision. It is truly for them! It is the innocence and honesty that transcended these boundaries and made 'The Elephant Whisperers' travel from a small quaint town of Ooty to the biggest stage of Cinema!"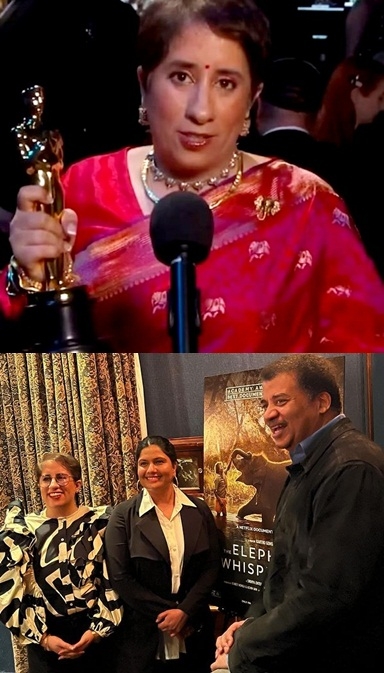 In her Oscar acceptance speech, Monga said: "My heart is full of joy, love and excitement, most of it imbibed from everyone in India cheering for our win."

And she concluded by declaring: "To women who want to tell stories, the future of cinema is audacious, the future is here. This is for my beautiful, diverse country, India."
ALSO READ-India's moment at Oscars