Advertisement

With her brisk movements and scintillating poses, ace Indian dancer Sankari Mridha wowed the audience. Her flexibility and Balance portrayed through several sculptures like momentary freezes, was received with round after round of applause from the audience
The United Kingdom Telugu Association organised 'SANKRANTI 2023', an Indian festival to celebrate the transition of deity Surya (Sun) at Boothroyd Hall, London. With over 600 people in the audience and several traditional activities, Sankari Mridha's performance was an unforgettable one.
After the ceremonial light of the lamp, Sankari began with a 'Natesha Kauthuvam' in Ragam Nattai set to Adhi Thalam. This Kauthuvam is a 'Nritya' piece (consisting of both footwork and facial expressions) in praise of the Cosmic dancer, Shiva, in the form of Lord Nataraja.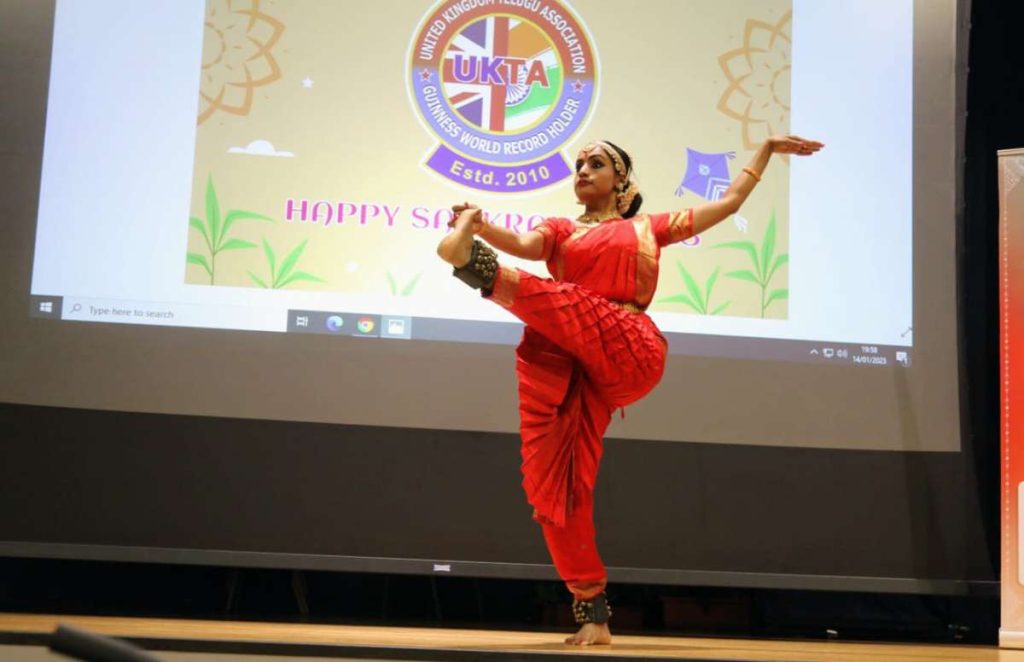 With her brisk movements and scintillating poses, Sankari wowed the audience. Her flexibility and Balance portrayed through several sculptures like momentary freezes were received with round after round of applause from the audience. Sankari's facial expressions and powerful 'jathis' (footwork sequence) revived Shiva's dancing bells tied to his feet, as described by the song.
The highlight of the evening was a unique Keerthanam, 'Yathi', in Ragamalika and Talamalika. A Yathi is an arrangement of rhythmic percussive syllables to match a pattern that pictorially represents an object. Key to the Yathi is several time cycles of creative chronology. As Shiva dances his Cosmic dance represented by this Yathi, the 'Ananda Tandava', the whole universe yearns to witness this delightful moment. Sankari's electrifying jathis, and apt sense of 'Thala' (Musical measure) portray her technical and aesthetic knowledge of Bharatanatyam. Her artistic movements varied in arithmetic combinations and grace in this Yathi brings to life the objects described by the song such as the Nandi Cow, the triangle estuary formed by the river opening into the sea, the musical instruments, Damaru and Mridanga. Sankari's footwork was clean and sharp. Her facial expressions brought out the essence of her devotion to Shiva. This 'one of a kind' performance moved the audience.                                                                                                                                                                                        "I have known Sankari Mridha since 2016 when I met her for the first time at the Nehru Centre," said Prabhakar Kaza, Director of KBC Arts and former CEO of State Bank of India –London.  "I have seen many of her performances such as Shades of India organised by the High Commission of India in London. Her performance today was portraying the story of Lord Shiva. Her dance clearly explained the story, with the help of her sharp and clean Nritya or dance steps and beautiful expressions."