Advertisement

Rohit Gandhi and Rahul Khanna's collection Equinox at the ongoing India Couture Week, is inspired by the celestial geometry of Autumn Equinox. Drawing from the phenomena Equinox it marries faith and fable, with architecture and craft to birth a collection that is equally balanced…reports Tanya Banon
We live in a world where everything happens a million frames a second, and our connection with time-honoured traditions ebbs and flows, but it is often lost. That connection beckons time and again yet something beautiful happens when we lean into the voice of tradition—it anchors us in meaning," says Tarun Tahiliani who unveiled "For Eternity" at the ongoing India Couture Week 2023.
The collection is an ode to timeless craft and artistry of couture' with traditional craftsmanship in the spotlight. Weaving a tapestry of innovative interpretations featuring Chikankari, Kasheedakari, Byzantine art, Egyptian Jaalis, and Persian motifs. The creator of the concept Indian sari, Tahiliani seamlessly blends Indian style with modern reflections. True to his legacy the collection featured impeccable tailoring, sculptured fits, refreshed draping styles, in a pale spectrum of colours, "like the patina of a dust storm or the palest colours of the first bloom." "It's time to return to the only star that should be on the ramp, and that is the clothes," stated the designer.
Bridalwear draws inspiration from the rich heritage of India, Egypt, and Persia, where ancient Mughal and Egyptian jaali motifs converge with Mumbai's Art Deco trellises. Bespoke Couture, presents a harmonious fusion of time-honored traditions and the India Modern narrative. The canvas becomes a playground for fusion-inspired silhouettes, ranging from lehengas and heavily embellished shararas to stylish gilets, statement jackets, flowy concept saris, structured drapes, and fusion-style jumpsuits. The Menswear line features a liberating sense of ease, sexiness, and flair through garments tailored to fit individual style and body. Inspired by the dramatic flair of the '90s, this menswear line redefines time-honored craftsmanship with an avant-garde twist, infusing innovative Chikankari, Persian motifs, artful Kashidakaari, and Egyptian Door influences.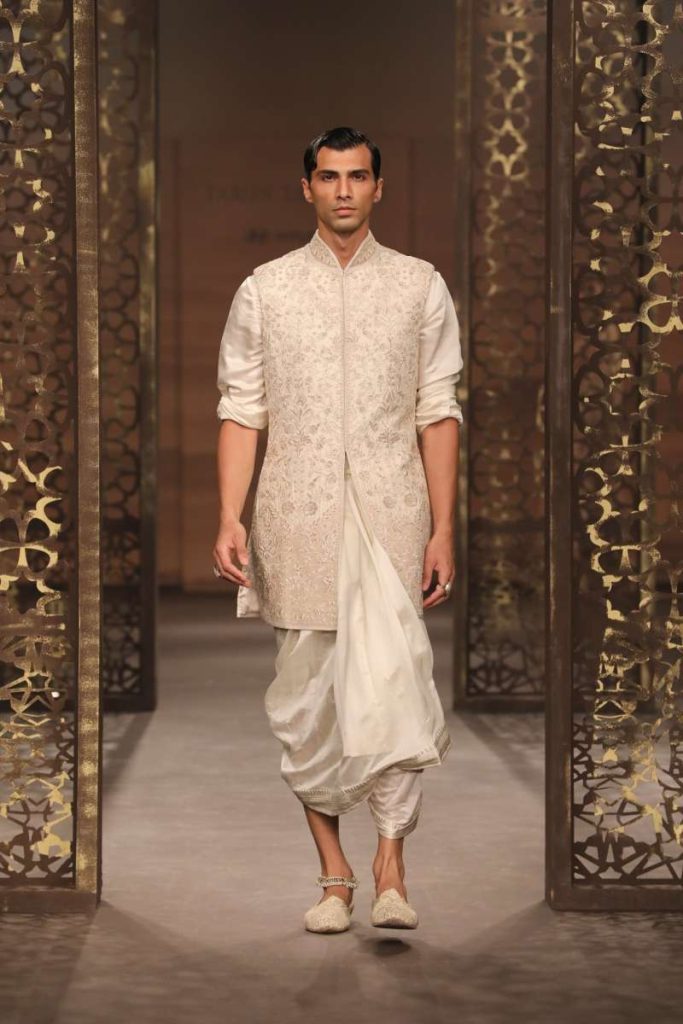 Rohit Gandhi and Rahul Khanna's collection Equinox at the ongoing India Couture Week, is inspired by the celestial geometry of Autumn Equinox. Drawing from the phenomena Equinox it marries faith and fable, with architecture and craft to birth a collection that is equally balanced. It featured mesmerizing patterns and brings them to life in rich, unlined fabrics, and hypnotic 3D embroidery techniques. The collection echoes the Autumn Equinox's annual change in season where Summer and Spring fall away to a season where the seeds of fresh life are sown.
Actors Ishaan Khatter and Sobhita Dhulipala walked the runway as showstoppers for the designers.
The collection has a strong representation of vintage kaleidoscopic windows found across the world from Bombay to Manhattan. Much of the collection draws from long wintery walks where ancient metal fences with trellis designs were the only spot of floral hope. Every garment comes to life in colors that span the sky- shades of blue from milky way to vivid, and highlights in garnet, rosewood, and twilight lavender.
The craft in this collection however is in its representation of body art, or tattoos, on gossamer fabric. Through precision design principles the designer duo created a line of winning gowns, luxe tuxedos, and contemporary Indian formals.
ALSO READ-FDCI partners with Reliance brands for fashion extravaganza
Advertisement