Advertisement

Known for her impeccable sense of style, Katrina has once again wowed her fans with a stunning summer look that is perfect for any beach day. In this particular photo, Katrina is seen wearing a cute purple floral dress that is both feminine and playful…reports Asian Lite News
The hot summer months are already here and it's time to start thinking about updating your wardrobe with the latest trends. And what better way to get inspired than by taking a cue from your favourite celebrities? From bold colours to playful prints, A-listers are constantly setting the bar high when it comes to fashion, rocking the latest trends in the most effortless way possible.
Whether you're planning a beach vacation or a weekend brunch, there's a celebrity-inspired summer look that suits every occasion. With a few key pieces and some styling tips, you can easily create a wardrobe that's both fashionable and functional for the warmer months ahead.
So, get ready to take some notes and prepare to look like a star this summer with these celeb-inspired summer looks.
Kriti Sanon
Summer is the best time to embrace light and refreshing looks, and Kriti Sanon's latest outfit is the perfect inspiration for anyone looking to add some elegance and charm to their summer wardrobe. The Bollywood actress was seen donning a beautiful white floral dress that excellently captures the essence of summer. The dress features a vibrant pattern of white flowers against a pastel backdrop, creating a refreshing and breezy appearance. The light and airy fabric of the dress is ideal for the summer season and ensures that you stay cool and comfortable on hot days.
Kriti's hair and dress are in motion, adding to the breezy atmosphere of the look. The flowy silhouette of the dress adds a touch of romance to the outfit and makes it a superb choice for any summer occasion. To complete the outfit, Kriti paired the dress with pastel stilettos that complement the pastel backdrop of the dress. The stilettos add a touch of sophistication to the outfit, making it suitable even for a summer wedding or a formal event.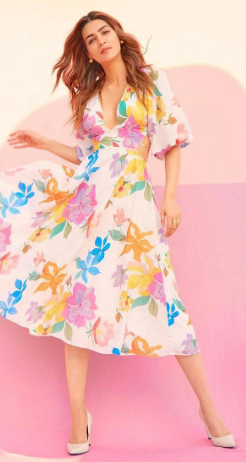 Devita Saraf
Devita Saraf's latest summer look is a true fashion statement. Known for her stunning outfits, Devita recently stepped out at St. Regis wearing a multicolored Bobo Calcutta gown for a summer brunch. The dress is an embodiment of lively season with its vibrant colors and lightweight fabric that promises comfort on a hot day. Its flowy silhouette adds to the dress's relaxed and laid-back feel, making it perfect for summer.
Devita completed her look with a bright yellow Valentino belt that cinched her waist and gave the outfit a distinct touch of playfulness. The lime green knitted handbag she carried was a marvellous match for the dress's colors and theme. Its lightweight and textured appearance makes it an excellent choice for summer, and it's spacious enough to carry all your summer essentials.
To complete her look, Devita donned Christian Louboutin shoes and a statement necklace from Bimba Y Lola. Her summer outfit is an exquisite choice for anyone looking to add vibrant colors to their wardrobe this season. The tasteful ensemble creates a cohesive and chic look that is both playful and stylish. Take a cue from Devita and embrace the colors of summer in your wardrobe this season!
Katrina Kaif
Known for her impeccable sense of style, Katrina has once again wowed her fans with a stunning summer look that is perfect for any beach day. In this particular photo, Katrina is seen wearing a cute purple floral dress that is both feminine and playful. The floral design of the dress brings in a fresh and cheerful vibe, making it a good fit for the summer season. The lightweight fabric of the dress ensures that it's easy to move around in and comfortable to wear on a hot summer day.
The greenery in the background and the reflection of the blue sky subtly contribute to the beauty of the scene, making Katrina's look even more captivating. The dress is exquisitely complemented by the natural surroundings, creating a serene and idyllic summer setting. Katrina's dress is versatile and can be dressed up or down, making it perfect for any occasion. Paired with sandals or sneakers, it's perfect for a casual day out, while paired with heels and statement jewelry, it's perfect for a more formal event.
Priyanka Chopra
Priyanka Chopra nails every look that she experiments with, and her recent summer look is a testament to it. The actress recently attended an event in Mumbai wearing a beautiful printed teal dress with a long trail and a bold thigh-high slit. The dress is perfect for the summer months as it's light and flowy, making it easy to move around in the hot weather. The print on the dress is also perfect for the season, inducing a sense of calmness.
Priyanka paired the dress with black high heels, which add a touch of elegance and sophistication to the ensemble. The black heels also help to elongate the legs, giving the actress a statuesque look. To complete the outfit, Priyanka Chopra wore a statement bracelet that added a touch of sparkle without being too overpowering. She also opted for dark makeup, which is perfect for summer evenings as it adds a touch of drama and sexiness to the look.
Isha Ambani Piramal
Summer is all about effortless style and staying cool in the heat, and IshaAmbaniPiramal has just given us the perfect inspiration with her stunning summer look. The businesswoman and fashion icon was recently spotted in a gorgeous white cocoon-sleeved Alexander McQueen dress, valued at Rs. 3 Lakhs. The dress is a perfect choice for summer, with its lightweight fabric and breezy silhouette. The delicate accordion pleats add texture and movement to the dress, while the cocoon sleeves make a bold fashion statement. The white color is also perfect for the season, evoking feelings of freshness and serenity.
To add some edge to the softness of the dress, Isha expertly paired it with a black belt. The belt not only cinches in the waist but also adds a touch of contrast and interest to the overall look. It's a simple yet effective way to make a statement without overpowering the dress. Finally, Isha finished the look with classic black heels. The black color complements the belt, and the heels add a touch of sophistication and elegance to the ensemble. The shoes also help elongate the legs, creating a flattering silhouette.
These summer looks are effortless yet chic, and a perfect choice for any occasion. Whether you're attending a summer wedding or a casual brunch, these celeb-approved looks are sure to turn heads and make you feel like a fashion icon.
ALSO READ-