Advertisement

Ranveer Singh is well known for his unconventional sense of style. He combines various trends to produce one-of-a-kind outfits every time. Check out this ensemble, which will make you the centre of attention at the event…reports Asian Lite News
Check out some chic ethnic outfit inspiration from Indian celebs, ranging from the Indo-Western styles to the more traditional versions.
When it comes to accessories, hairstyles, and clothing patterns, Indian celebrities frequently set the pace. Whether you decide to wear yours traditionally or in a way that incorporates all facets of western styles, check out these options to motivate you to do so in your own special way.
Varun Dhawan
Varun Dhawan, one of the most adored actors in Bollywood, appears incredible when dressed in traditional Indian garb. He prefers to be relaxed in a kurta, so he wears one the majority of the time.
Riteish Deshmukh
Riteish Deshmukh is dressed in a stunning pink Bundi outfit. The elegant yet dapper ensemble consists of a Moonga silk Bundi jacket that has been exquisitely embellished with appliques and stitching lines. It is combined with a pure cotton kurta and trousers, making it ideal for a night out.
Ranveer Singh
Ranveer Singh is well known for his unconventional sense of style. He combines various trends to produce one-of-a-kind outfits every time. Check out this ensemble, which will make you the centre of attention at the event.
Vikram Chiyaan
The PSI actor Vikram Chiyaan was dressed in a chic tie-dye kurti. The actor's rugged looks are complemented by the modern outfit, which also has a traditional component. The monotone cigar trousers are worn with the black tie-die kurta to create a laid-back look.
Saif Ali Khan
The true prince, Nawab Saif Ali Khan, picks traditional outfits for formal weddings and even for a casual day in Mumbai.  Saif Ali Khan appears his best in a crisp kurta-pyjamas, which he wears a majority of the time.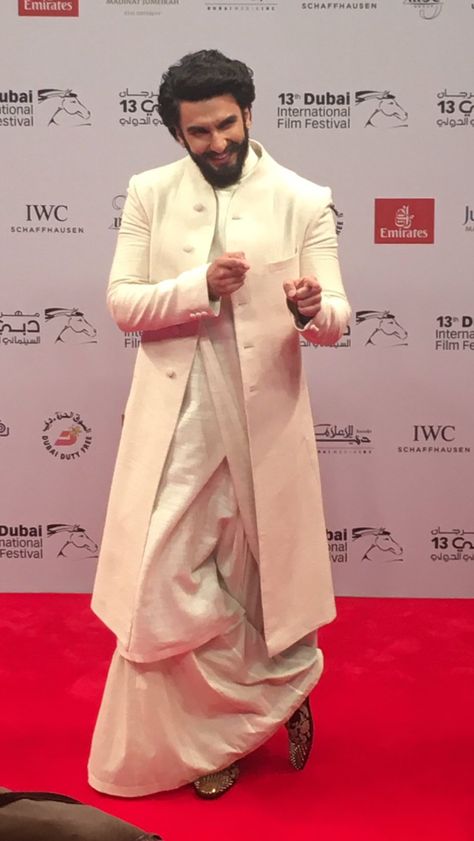 Jayam Ravi
The well-known south Indian actor Jayam Ravi wore a white Bundi jacket. The borders of the all-ivory Bandhgala jacket are machine-embroidered with golden work. The general aesthetic demonstrated how Indian fashion can be both traditional and cutting-edge.
Ranveer Singh
Ranveer Singh passed the vibe test when he abandoned the traditional for an ornate bandhgala sherwani with embellishments. Perfect if you are the star of the show.