Advertisement

By Anjali Kochchar
Halloween is a time to let your creativity shine in the kitchen and turn your home into a haven of haunting culinary delights. This year, we've handpicked recipes that have been tried, tested, and guaranteed to send shivers down your spine. So, don your apron, embrace the supernatural, and let's conjure up a Halloween feast that will make your home the spookiest place to be.
As a special treat, our first bewitching recipe is brought to you by Chef Deepak from The Tigress Resort and Spa Ranthambore.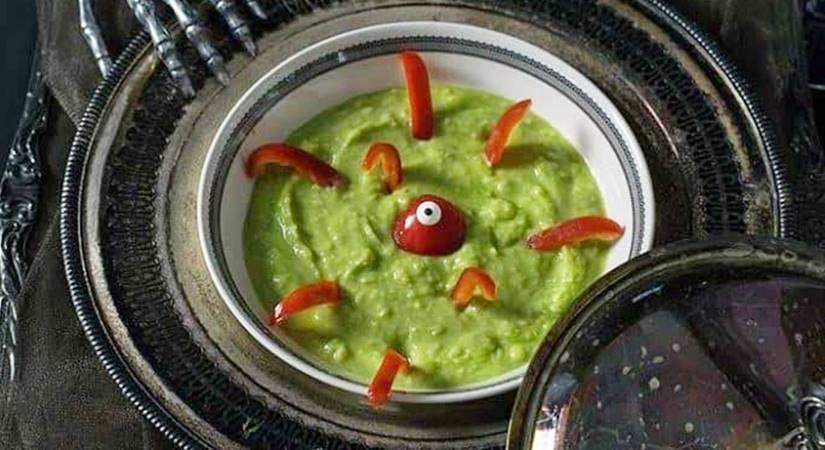 Spooky Samosas
Let's kick off this culinary journey with a recipe that sets the tone for the night. Behold the 'Spooky Samosas.' These aren't your ordinary samosas. The filling, a blend of mashed pumpkin, black lentils, and a magical mix of smoked paprika and cumin, will awaken your taste buds to the supernatural. But what adds to the eerie delight? These samosas are crafted into witch hat and ghost shapes using Halloween-themed pastry cutters, ensuring your guests are in for a spook-tacular treat.
Creepy Chutney
To complement your ghoulish snacks, whip up the 'Creepy Chutney.' Crafted from fresh mint leaves, coriander, green chilies, and a zesty dash of lime juice, this vibrant green chutney isn't your run-of-the-mill dip. A touch of black food coloring gives it a sinister twist, ready to elevate your favorite snacks like bhajis or potato cutlets into Halloween-appropriate delights.
Wicked Witch Curry
As the centerpiece of your eerie feast, the 'Wicked Witch Curry' takes the stage. This hearty vegetable curry unites a spectrum of colorful ingredients, from sweet potatoes to butternut squash and green beans. Infused with spices like turmeric, ginger, and garam masala, it's a wickedly delicious concoction. The twist? It's served in a carved pumpkin bowl, resembling a witch's cauldron, creating a whimsically eerie yet delightful dining experience.
Mummy Masala Dosa
Prepare classic dosa batter and create thin crepes on a hot griddle. Take a piping bag filled with mint chutney and create a crisscross pattern over the surface of each dosa to resemble the wrappings of a mummy. Place a filling of spiced potatoes, onions, and paneer in the center and roll up the dosas loosely to maintain the mummy effect. Serve with tomato chutney for dipping.
Vampy Vermicelli Kheer
Prepare a traditional kheer (Indian rice pudding) using vermicelli instead of rice. Add a few drops of red food coloring to give it a deep vampy color. Garnish with edible eyeballs or miniature vampire teeth made from white and red fondant. Serve chilled in spooky glasses for a Halloween dessert that delights.
Spooky Stuffed Bell Peppers
Embrace the supernatural and prepare to be enchanted by a bewitching recipe by Bindiya Ahuja, a spirited Philadelphia resident eagerly anticipating this year's Halloween celebrations. Begin your journey by crafting 'Spooky Stuffed Bell Peppers.' Slice the capsicum in a spine-tingling fashion and stuff them with a tantalizing mixture. For an Indian twist, fill them with a blend of ginger, garlic, potatoes, onions, green chilies, and dhaniya, seasoned with aromatic masalas. Top them off with a generous layer of cheese and bake until they're oozing with delicious spookiness.
Chilling Cocktails:
Now, let's talk about the perfect way to complement your spooky feast: with chilling cocktails. After indulging in these eerie delights, you'll want a drink that's equally enchanting. So, without further ado, here are cocktails that promise to add a spine-tingling touch to your Halloween celebration.
Vampire's Blood Cocktail
First on the list is the 'Vampire's Blood Cocktail.' This chilling concoction combines Johnnie Walker Black Label, orange liqueur, lychee juice, lime juice, and a dash of simple syrup. But what sends shivers down your spine is the red wine float on top, creating a blood-curdling effect. It's the perfect elixir to kick off your supernatural soirée.
Ghostini
Next up is the 'Ghostini,' a hauntingly delightful cocktail. Combining Black & White Scotch with Baileys and a scoop of chocolate ice cream, this potion is pure indulgence. A hint of rose syrup adds a layer of mystery, making it the perfect accompaniment to your Halloween feast. Be sure to rim the glass with rose syrup for an added touch of allure.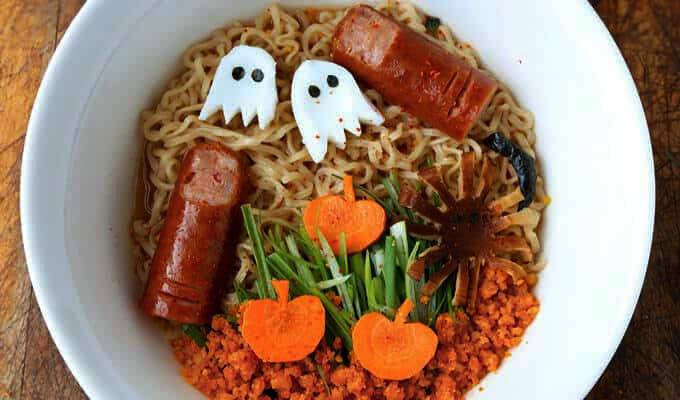 White Witch Cocktail
Craft the 'White Witch Cocktail' by combining Black Dog Scotch, white wine, orange marmalade, rosemary, and lime juice. Shake well with ice and double strain into a coupe glass for a bewitching blend that's perfect for your Halloween celebration.
Hellraiser Cocktail
Prepare a fiery 'Hellraiser Cocktail' by combining Black & White Scotch, Aperol or Campari, berry puree, pineapple juice, and lime juice in a shaker. Shake well with ice and double strain into a hurricane glass for a spellbinding concoction that adds a tropical twist to your Halloween festivities.
Devil's Potion: A Fiery Libation
When Halloween comes around, it's time for spirited drinks to take center stage, and the 'Devil's Potion' is here to cast its spell. This wickedly delicious concoction combines the unique Devil's potion masala, lime juice, and a dash of flavored soda. Crafted by the talented Chef at The Ashok, it's a drink that'll set your Halloween night ablaze.
With these additional chilling cocktails and eerie eats, your Halloween celebration at home is bound to be unforgettable. Each recipe has been crafted to perfection, ensuring that your spooky feast is both delicious and easy to prepare. So, gather your ingredients, don your apron, and get ready to create a Halloween night that will be the talk of the town.
Whether you're celebrating with family or hosting a virtual costume party, these recipes promise to elevate your Halloween night to new heights. So, embrace the spirit of the season, indulge in these eerie delights, and enjoy a Halloween like no other. Happy Haunting!
ALSO READ- Tailoring Sustainable Food Solutions with Technology
Advertisement