Advertisement

This extensive affair culminates in heavenly dessert options like the crunchy and warm Skillet Cookie or the fluffy pancakes or the Kahlua Panna Cotta, White Chocolate Crumb, and Basil Crackle, a dessert for the non-dessert eaters…reports Lothungbeni Humtsoe
Who doesn't enjoy discovering new things, whether it's clothing, skincare, or restaurants serving delectable cuisine? Allow the all-new restaurant to bring you into the heart of where the eateries were inspired this May.
The Burrow – BKC
Eat, Drink, Gather. In an upscale venue of BKC, The Burrow is a newly launched Modern European Bar & Kitchen. The restaurant sets itself apart with a pre-plated single-portion menu that introduces an all-day dining concept. Conceptualised and Founded by Chef Yashasvi Modi, along with her father, Anil Modi as the Co-Founder, the doors open to a quaint restaurant, which represents the name with stone walls and wood elements. A burrow that breaks you away from the city noise and offers solitude for a good time over drinks and food.
With an array of modern European dishes, the menu includes but is not limited to old classics of artisanal pasta, gourmet-styled tacos, and sliders among others. Each dish is carefully crafted to make the accompanying sauce/dip the star ingredient. Dip such as in-house Hot Sauce is served with Mozarella Sticks or Chicken Popcorn, both crispy and perfectly seasoned to pair with the dip. Aji Pepper Sauce is served with Birria Pulled Lamb Taco with soft taco shells and slow-cooked lamb shoulder, mozzarella, and Birria Coloccasia Tacos with soft taco shells and crunchy colocasia chips. The mains include dishes such as Grilled Fish, Orange and chilli sauce, Pomme puree which is a signature dish perfected throughout the years consisting of Red Snapper fillets, herb-flavoured orange and chilli sauce, pickled chillies and potato puree or the Spinach and Feta Pierogis, which is a delectable dish inspired by the Pierogis. Chef Yashasvi envisions the Burrow to be a casual place with good, fresh food that, if one chooses, can be eaten every day. And hence to showcase the seasonality of the produce, a weekly Chef's Special Menu will be introduced that will shine a spotlight on the preparations made by individuals in the brigade.
This extensive affair culminates in heavenly dessert options like the crunchy and warm Skillet Cookie or the fluffy pancakes or the Kahlua Panna Cotta, White Chocolate Crumb, and Basil Crackle, a dessert for the non-dessert eaters.
Address: The Burrow, Adani Inspire, G Block BKC, Patthar Nagar, Bandra Kurla Complex, Bandra East, Mumbai, Maharashtra 400051
The Studs Sports Bar & Grill- Thane
Standing tall over 2000 sq feet area, this outlet is designed by renowned F&B and restaurant architect Kunal Mistry from Kunal and Associates. The outlet unveils a ground floor along with an added flair of the mezzanine. The interiors are a well-balanced melange of Victorian era moulding, live wedge wooden tables, pure camel leather semi chesterfield sofas at the entry along with the contemporary high stool bar chairs and tables. Taking on the spirit of sports, the 21 feet-bricked walls adorn TVs, jersey frames, and a sports merchandise shelf filled with EPL team scarfs, key chains, mugs, and football for sale on retail prices with well-balanced neon signage spread out that reflects the Charleston anecdote blue walls. The side walls also have an array of classic world-sporting iconic moment captures beautifully framed and collaged on the wall towards the mezzanine.
The menu co-curated by the dynamic duo – Chef Dhiraj Dalvi and Chef Talat Fatima is designed to cater to the diverse tastes of its clientele while being consistent with its overall theme. Whether you're looking for finger foods, shareable platters, or innovative "fun food" concepts, there's something for everyone. The menu draws inspiration from the world's street food, which is universally enjoyed during sporting events or casual conversations along with comforting, home-style dishes that are sure to satisfy. And, of course, the dessert selection is not to be missed.
The finger food options feature classics from Assorted Fries and Wedges to the crowd favourite #ChickenWings available in several options like Bhut Jolokiya, Honey Chilli, Sukka, or Cajun to the eccentric Yankee Platter, an ultra sporty combination of signature dishes, available in both vegetarian and non-vegetarian options. For Pizzas lovers, the menu features options like Chicken Fajita and Spicy Cilantro Chicken with Fire #Roasted and Kasundi as vegetarian options. The main course offers meals from Malvani Chicken to Thai Curry, there is something for every palate. If you are in the spirit to get innovative you can choose some of the Chef recommendations such as the Zaitooni Paneer Tikka or the Pav bhaji Fondue, Suran Akbari, and Kala Mutton Thali. End your meal on a sweet note with the innovative Tea-tiramisu, a desi twist to the traditional tiramisu, or indulge in a Skillet Cookie topped with homemade ice cream!
Address: Unit No. 2, Ground Floor, Centrum IT Park, SG Barve Rd, opposite TMC Office, Wagle Industrial Estate, Thane West, Thane, Maharashtra 400604
Contact: +91 8282823064 | +91 9602299696 | www.thestuds.in
Nksha- Churchgate
forged with the vision of mapping the diverse Indian tastes worldwide, The North Indian culinary indulgence promises to deliver an unparalleled experience with a masterful menu that unites the flavours of the Indian subcontinent under a single roof. Offering a niche dining experience, the exquisite menu features signature dishes such as Truffle Essence, Cheese Kulcha, Roasted Sweet Potato Tikki Chaat, Kacchi Mirchi ka Paneer, Nksha Lobster Curry, and more. To complement the menu, the restaurant also offers a fine selection of wines and cocktails, featuring classic and innovative drinks that pair perfectly with the bold flavours of the food menu, curated by mixologist Varun Sudakar.
Borrowing Art Deco influences from the vintage era of Bombay, the restaurant reflects the city's arresting sensing of glamour designed by NSA Architects Shruti Jalan and Neesha Alwani. Boasting an elegant and sophisticated atmosphere, the space exudes a warm aura with contemporary seating and tasteful decor.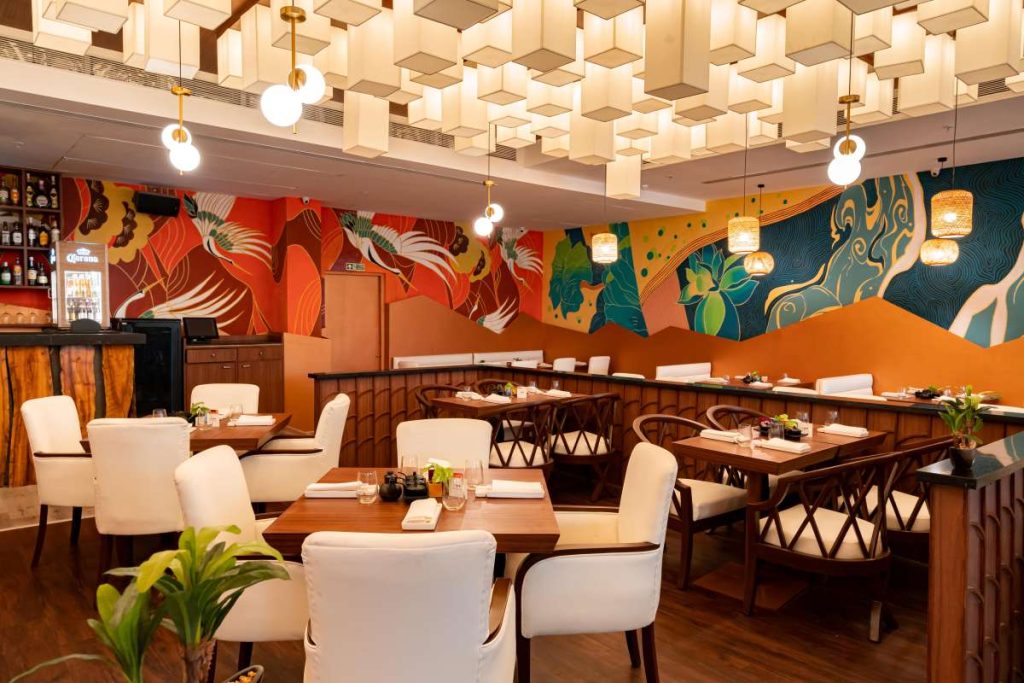 Address :ADCB Rehmat Manzil, 1A / 1B, Veer Nariman Rd, Churchgate
Babylonia – Global Food & Cocktails
At Babylonia, culinary art is elevated to a higher plane. With over 140 dishes on offer, the menu is a rich tapestry of flavours, ranging from classic mezze platters inspired by the Middle East to scrumptious flame-grilled meats, hand-rolled sourdough pizzas, and pasta, and wok preparations from across the oriental spectrum, each dish a masterpiece in its own right.
The cocktail menu takes inspiration from the legends of Babylonia, showcasing the bartenders' impressive creativity and skill, with a bold and eclectic mix of flavours.
Signature cocktails like the Babylonian Fizz are both refreshing and impressive, featuring a mix of gin, fresh mango ginger juice, mango juice, and egg white, creating a creamy texture. The bar also features an extensive range of wines, draught beers, and spirits to cater to every palate.
Address: 7th Block, 9, 20th Main Rd, KHB Colony, 7th Block, Koramangala, Bengaluru, Karnataka 560034
Jade & Ginger, Bandra West
Nestled in a quiet by-lane in Bandra, Jade & Ginger is a deli serving flavourful Asian-inspired food. Created by the makers of The Tanjore Tiffin Room, Bombay Taco Company, and more, this deli has a cosy outdoor seating area filled with plants to create a calm, vibrant, and soothing atmosphere. Whether you're here to catch up with friends, or just to grab a quick bite, you can be assured of a quiet moment before getting back to the hustle and bustle of Bombay.
The bold pink and green colours evoke the freshness and richness of Asia. Jade is a cool and soothing stone. Ginger is filled with multiple benefits and is used in sweet and savoury food, and drinks throughout Asia. The Spicy Bangkok Mushroom is made with Water Chestnut, Holy Basil, and Pickled Veg and the Bang Bang Shrimp is made with Thai Chili Jam, Creamy Coleslaw, and Pickled Veg. The Taco offerings come in a set of three soft shell tacos; their flavours playing on your palate in a way you haven't experienced before. Try the Spicy Chicken Karaage made with Lime mayo, kimchi slaw, and pickled mooli or the Babycorn and Mushroom Tempura made with Sriracha mayo, togarashi dust, sesame carrot slaw. Jade & Ginger also offers refreshing smoothies like Gold Coast, a tropical favourite made with pineapple, banana, and coconut juice; Green Goblin a drink that looks like the Hulk, made with avocado, mint, and honey; Refuel, as the name suggests is an energising smoothie made with berries, yogurt, and banana; and Roots is a fun smoothie made with chia seeds, pomegranate, green apple, and beetroot.
Address: Shop no 7, Rafi Mansion, 28th Rd, Gurunanak Park, Bandra West, Mumbai, Maharashtra 400050
Pa Pa Ya Malad
Strategically situated in Inorbit Mall, Pa Pa Ya is one of the many phenomenal brands from the house of Massive Restaurants. Spearheaded by Zorawar Kalra, Massive proudly tells the tale of a brand that operates trendsetting and critically acclaimed brands including Masala Library by Jiggs Kalra, Farzi Café, Swan, Bo-Tai, and Made In Punjab among others.
The brand's design philosophy is a harmonious union of Asian style with Indian elements, delivering a dynamic & "high energy" dining experience. This extends to the new outlet interiors, designed by Sidharth Ninan. The guests are greeted by a sleek and modern space that seamlessly amalgamates traditional Asian elements with contemporary design. The décor is ingeniously nuanced and furnished using wood, lending a creative flair to the space. The walls have been meticulously hand-painted with attention to detail and a beautifully sculpted atmosphere, perfectly blending into each other and offering a unique and exquisite experience to diners.
The menu is devised by Chef De Cuisine – Rajesh Thakur, and developed over several months of research, with painstaking attention to detail, creating unique flavour profiles for each dish served. Staying true to the "Chic, Modern, and Radical" version of Asian cuisine the menu features dishes that are curated by fusing together a variety of culinary methods and cultures from all across the Asian continent. Every bite of ramen packs a wallop on the palate, thanks to the unique umami flavour that each bowl holds. Pa Pa Ya offers 21 different types of sushis' including a section dedicated to modern sushi with the likes of a poached vegetable pickled roll and the chef-recommended layered sushi pizza. The Tapas style of food presents a unique ability for diners to enjoy a vast range of dishes in the right portion size, creating a truly sensory dining experience.
Jhelum, Bandra West
Situated in the bustling streets of Pali Hill, Bandra, Jhelum is a new addition to the restaurant scene that promises to serve authentic, fresh, and delicious North Indian cuisine. The restaurant is conceptualized and founded by Abhay Chhabra, who is also the founder of B52. Abhay's culinary proficiency and extensive knowledge have enabled him to create an exceptional dining experience that tantalizes your taste buds with each dish.
With an intimate capacity of 30 seats, the restaurant exudes a cozy, modern, and classy ambiance. The interior design of Jhelum draws inspiration from the river's elements, incorporating hues of pink, brown, and blue.
Taking inspiration from the Jhelum River that originates in the Himalayas and runs through Kashmir to North Punjab and Pakistan, the restaurant's menu offers a wide range of dishes. Start off with the popular Dahi Kabab, which tantalizes your taste buds and serves as an excellent appetizer. For a smoky flavor, indulge in the perfectly grilled Paneer Sofiyani Tikka. Those who crave something spicy will enjoy the Chatpate Tandoori Aloo. Non-vegetarians can relish the creamy Malai Kabab and bold flavors of Kastoori Kabab. Mutton enthusiasts can savor the Galouti Kebab, while seafood lovers can delight in the Bhatinda Machli Tikka, a delectable fish dish.
Address: Pali Naka, Pali Hill, Bandra opposite Daniel Patissier
ALSO READ-Restaurant-style experience at home