Advertisement

Jammu & Kashmir's lost glory restored and tourism revived. The enhanced tourist arrivals in the Union Territory since 2019 have generated the greatest employment in various regions, highlighting its overall development through a constructive approach, transformative initiatives, and inevitable reforms to empower J&K for its people, culture, and society … A special feature by Suhail Mir
Known for its snow-topped Himalayan mountains, fast-flowing rivers, Alpine meadows and houseboats around a beautiful Dal lake, Jammu and Kashmir Union Territory (UT) has got a boost after the abrogation of Article 370 on August 05, 2019.
The enhanced tourist arrivals in the Union Territory since 2019 have generated the greatest employment in various regions, highlighting its overall development through a constructive approach, transformative initiatives, and inevitable reforms to empower J&K for its people, culture, and society.
The government has initiated several steps to boost adventure tourism activities across Jammu and Kashmir and already several steps are afoot to tap that potential by exploring new virgin places. Thrilled by the inflow of tourists, various tourism activities have picked up in the valley resulting in the creation of more jobs and business opportunities for the locals.
In a bid to explore and promote tourism in hitherto unexplored tourist destinations, snow festivals are celebrated as part of the winter carnival in various parts of Kashmir Valley.
The carnival is evoking tremendous response and triggering a wave of enthusiasm among youth and adventure lovers to visit unexplored tourist destinations.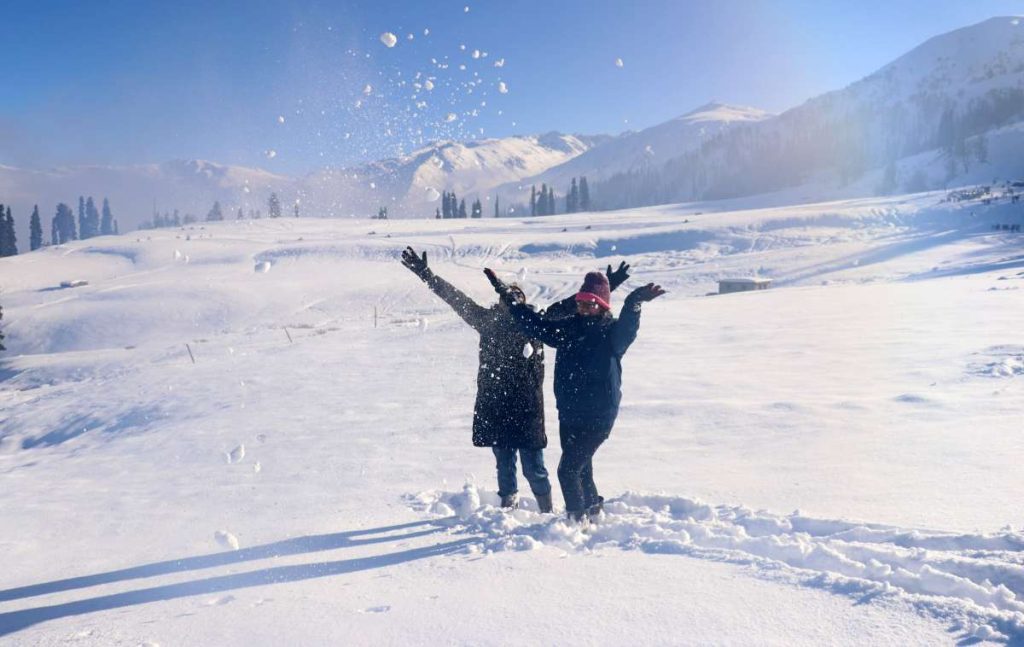 Recently, the event in Mund Daji area of north Kashmir's Baramulla witnessed a huge gathering of youth with the enthusiastic participation of athletes and other stakeholders from across district. The locals were jubilant and lauded the Administration for organizing a first-of-its-kind snow festival in Mund Daji.
The event witnessed colorful cultural performances, snow sports activities like snow trekking, camping, sledge photography and display of local cuisine were the main highlights of the day.
A tourist said, "Kashmir is really a paradise and we are very lucky to visit here and enjoy the mesmerizing beauty of the valley. So people don't need to go to Switzerland or any other place in Europe."
Speaking on the occasion, DC Baramulla, Dr. Syed Sehrish Asgar said that MundDaji and adjoining locations will be promoted as tourist destinations which will create opportunities of employment for local youth.
The festival evoked tremendous response from not only the locals of the area but from adventure lovers as well.
To provide a unique experience to tourists and increase their footfall, the J&K government has prepared a comprehensive plan for promoting tourism sector in the UT and identifying new abundant natural beauty and breathtaking landscapes at unexplored tourist spots.
The tourism department has developed various tourist circuits across J&K, laying special focus on adventure tourism, trekking activities, pilgrimage sites, water sports and other popular ventures. The UT administration has also taken several measures to attract tourists and get a mesmerizing experience of visiting the Kashmir valley.
At Ganderbal's Manasbal lake, the Jammu and Kashmir Tourism department organised a festival to promote local art and culture, food and water sports activities.
Rural tourism is the next big thing! The government is taking cognisance of heritage sites and exploring Rural Tourism – one of the areas in which India can excel easily. In the same line, the first tourist village 'Zoogu-Khairan' in Central Kashmir's Budgam was inaugurated. The Village has been brought on a tourism map and will lead to shaping the future of the village by opening various prospects in varied fields. Locals believe that tourism not only aids in boosting the local economy but it will also set out to provide employment and additional income to local communities while enhancing India's bouquet of tourist attractions.
"Rural Tourism is not only beneficial for our village and the local community but this also serves tourists who get to explore local culture, customs, traditions, local means of transport, Kashmiri music, etc," said Naveed Ul Haq, a local resident of Budgam.
In north Kashmir's Bandipora, winters have remained vibrant due to the winter carnival organised by the Administration. The carnival warmed up the atmosphere and youth were seen actively participating in winter festivals at select unexplored tourist resorts of the district.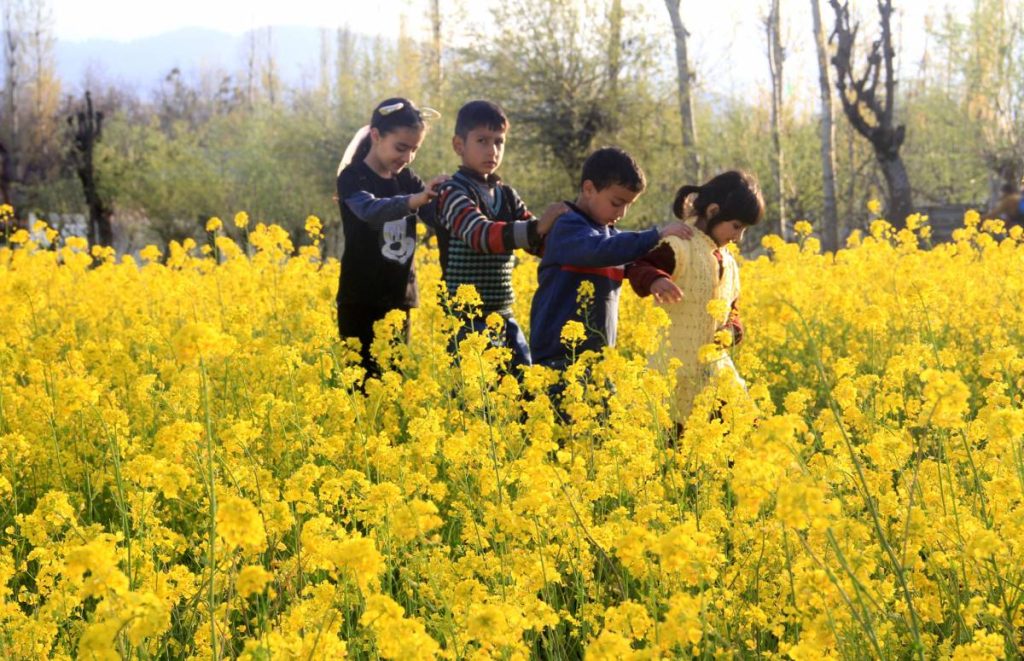 As part of the ongoing Winter Carnival, the Administration organized first of its kind Snow festival at Authwatto village. The festival evoked tremendous response from not only the locals of the area but from adventure lovers from other districts as well.
The locals were jubilant and lauded the Administration for conducting the first-ever winter festival at Authwatto.
"People from other villages would start coming to this place from May when snow melts but this year it is unusual to see huge rush of people in village despite huge snow accumulation," said Mohd Shafi, a resident.
The festival witnessed range of activities including colorful local Gojri cultural performances, Snow sports activities like Sheen Jung (Snow fight), Snow Kabaddi, Snow Rugby, trekking, camping and photography of the scenic natural beauty covered in white blanket of Snow. The stalls erected by different departments attracted a large gathering of people too.
"Today we felt warmth despite sub-zero temperature, the positive energy in youth forced us to come out of our homes as we usually stay indoors in such cold temperature," said another senior citizen Ali Mohammad.
Gurez, an ethnically distinct region in the same district (Bandipora), possesses out-of-the-ordinary beauty. Gurez is a slender valley with heart-throbbing scenes of hills, roaring rivulets, snowy mountain tops, lush landscapes, murmuring streams, and thick cloud curtains.
The picturesque valley in August (last year) bagged the best offbeat destination award at an award function organised by 'OTM' in Delhi.
With the constant efforts of the civil administration as well as the Indian Army, around millions of tourists have visited the Gurez valley since the summer of 2021.
Mufeed Ahmad, a local resident, said that efforts of the Indian Army played a significant role in drawing tourists to this destination.
He said that the army played a major role in the promotion of tourism in the region.
The picturesque valley has now emerged as a favourite tourist destination, attracting scores of visitors from the country and abroad.
The average temperature of Gurez valley remains lower than the rest of parts of Valley. In summer, the weather is pleasant and the maximum temperature is around 25-degree Celsius, while it gets quite cold at night. However, in winters, the temperature drops to as low as -10-degree Celsius.
Tourists from all parts of the country have been visiting J&K this year. Hoteliers, houseboat owners, taxi and shikara operators are pleased to see this since it has boosted their revenues.
Gujrat-based lecturer Savan Kalpesh, who recently traveled with 7 other family members for a leisure trip to Kashmir, said they had bought flight tickets in advance and booked hotels several months ago. Hordes of tourists from parts of the country and other states are also traveling to the Valley.
Famous for its gurgling waterfall and spell-casting mountains, Aharbal, some 27 kms from Kulgam town is fast emerging as one of the entrancing winter tourist destinations in south Kashmir.
With this, the Administration of Kulgam in South Kashmir in collaboration with the Department of Tourism recently organised Aharbal Mela to promote Kashmir tourism, especially at the tourist destination Aharbal waterfall. The area reverberated with the beats of drums and the songs belted out by the students.
Deputy Commissioner (DC) of Kulgam Dr. Bilal Mohi-ud-din Bhat said, "on the directions of Lieutenant Governor (LG), the district administration is making concerted and coordinated efforts to promote potential tourism destinations like Aharbal which is an offbeat tourist destination. The festival or mela is part of the Government's initiative to promote this offbeat destination across Jammu & Kashmir." Winter in Kashmir valley shows a positive sign for all the tourism players to keep doors open of all the hotels and restaurants all across the valley be it in Gulmarg, Pahalgam or Sonamarg as all the three tourist destinations are receiving huge snowfall in harsh winter period in Kashmir valley, thus making a merry for tourists to enjoy snowfalls round the winter season.