Advertisement

It is also called semiya payasam in the southern part of India. Ahead of Eid, let's have a look at some of the easiest recipes of Seviyan Kheer…reports Asian Lite News
A traditional festival recipe, sewai or seviyan"seviyan is made in almost every household during festivals. It is a go-to and lip-smacking dessert for many Indian households, made quickly and easily with just a few ingredients. Seviyan (Sevai, Semiya) is Urdu for vermicelli noodles, which are widely used for preparing culinary delicacies all over the world. These are thin noodles made up of a variety of flour like rice, wheat, and other gluten-free grains like ragi, jowar, etc. Some people also make vermicelli using moong beans, sweet potatoes, etc.
Seviyan Kheer is known by many names as Vermicelli Kheer, Sevai Kheer, Semiya Kheer. It is a pudding made using milk but unlike western-style puddings which are thick and custardy, kheer is flowy in its consistency. It is also called semiya payasam in the southern part of India. Ahead of Eid, let's have a look at some of the easiest recipes of Seviyan Kheer.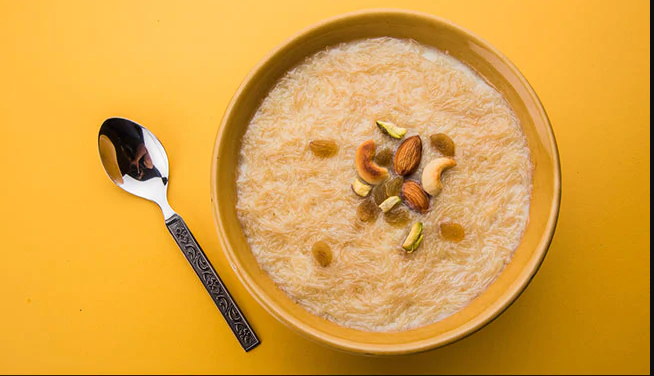 Meethi Seviyan
First, keep all the ingredients ready for the seviyan.
Break the seviyan and keep them aside. Then chop the dry fruits and place them aside. You can add dry fruits of your choice.
Heat a pan and then add 1 tablespoon of ghee.
Let the ghee melt and then add 1 cup of the broken seviyan">seviyan. 5. On a low to medium heat, with frequent stirrings, roast the seviyan">seviyan till they become golden.
Then add all the chopped dry fruits and raisins.
Stir them nicely.
Lower the heat and pour 2 cups of milk. Instead of milk, you can also add water.
Stir and mix very well. Then continue to stir for 2 to 3 minutes.
Now add 1/4 cup of sugar. Keep stirring the mixture.
Add 1/4 cup of milk powder. If you do not have milk powder, then just skip it.
Mix again.
Sprinkle 1/2 tsp cardamom powder and stir well.
The mixture will start thickening and the seviyan">seviyan will also begin to absorb milk. When all the milk has been absorbed, switch off the gas. And serve the seviyan">seviyan with some garnishing.
Vegan Seviyan
Ingredients: 2 teaspoons vegan butter or oil, 2 tablespoons raw cashew pieces or other nuts like raw pistachios or almond slivers, 2 tablespoons golden raisins or other dried fruit seeds from 1 green cardamom, 1 clove a pinch of salt, 1/2 cup (30 g) vermicelli noodles broken into 4 to 5 inch pieces, use Thai Rice vermicelli for gf, 2 cups (500 ml) almond milk or other non dairy milk, 2 to 3 tablespoons sugar or to taste, a drop of vanilla extract, 1 to 2 tablespoon (1 or 2 tablespoons) ground raw cashew optional, For variation: use 6 saffron strands or 1/2 tsp rose water instead of vanilla.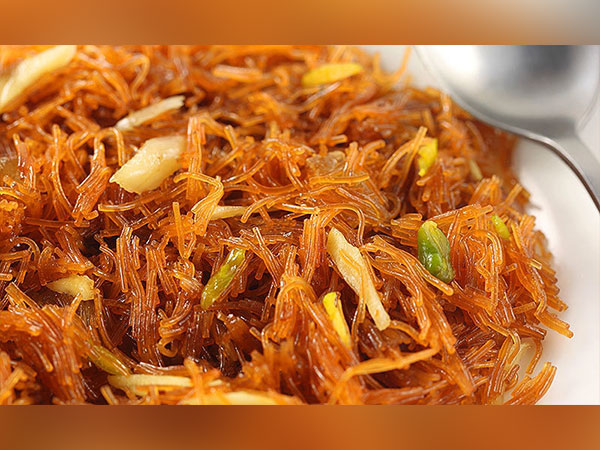 Method
Heat oil in a pan over medium heat. When hot, add cashews and cook until lightly golden on some edges. 1 to 2 minutes. Add raisins and cook until they puff up. Remove the cashews and raisins and keep aside.
In the same pan, add cardamom, cloves, salt and vermicelli noodles and cook over medium heat until the noodles turn golden. 4 to 7 minutes depending on the noodles used. Rice vermicelli takes longer to roast. Stir occasionally to avoid burning.
Add almond milk and bring to a boil.
Add sugar, vanilla and mix in. Reduce heat to low-medium and continue to cook until the noodles are cooked through. 5 to 7 minutes. Taste and adjust sweet.
Fold in half of the cashews and raisins. If the pudding is not thick, add ground cashew and mix in. Continue to cook for another 3 to 4 minutes or until desired consistency. The Pudding will thicken more once cool.
Garnish with the remaining cashews and raisins. Chill, discard the clove and serve.
There's another kind of Seviyan kheer which is popular in the sub-continent. It's called Colourful seviyan seviyan eid special pakistani.
Ingredients 1 cup Seviyan (Vermicelli), 2 glasses Milk, 3 tbsp Powdered Sugar, Small Cardamon, Dates, 3 tbsp Fresh Cream, Chopped Almonds, 2 tbsp Custard Powder (Vanilla)
Method
First, take a pot and add milk in it.
Add small cardamon, sugar and bring to boil it.
After boiling milk then add Seviyan (Vermicelli) in this milk.
Cook for 5 minutes on the medium heat.
Add Dates cutting into two pieces.
Take two tbsp of custard powder to add milk and dissolves in this milk.
Add this custard mixture in the Seviyan but add very gradually.
Add fresh cream and mix well and turn off the flame.
Pour it into a serving bowl and garnish it with chopped almonds.
Wish everyone a delicious Eid this year with these mouth-watering seviyan" seviyans. (ANI)
ALSO READ-Eid Ul-Fitr with a luxurious meal