Advertisement

Cashing in on the trend, many offline and online agencies based in COOs and having branches in the UAE are luring potential job seekers with fake job postings and then charging them exorbitant fees for visa processing and other services… writes Rejimon Kuttappan
Jancy Janet, a 35-year-old government hospital nurse in one of the Emirates in the United Arab Emirates (UAE) is all set to fly to the United Kingdom (UK). In a week, in mid-August, she will be flying out from UAE with her two young boys and her husband.
She has secured a job in the UK's National Health Service (NHS). The recruitment was done by the NHS team who visited the UAE recently to hold walk-in interviews.
Her husband, Saji Chacko, an Indian automobile mechanic in the same Emirate, has resigned from the job and is helping Jancy in readying the family for travel.
Talking over the phone from the Emirate, Saji said, the UAE experience is valued globally and that has helped his wife secure a job in the UK.
Jancy is a skilled third-generation Indian migrant in the UAE. She has benefited from gaining global hands-on work experience in the UAE as a nurse.
Her monthly salary offered in the NHS is approximately 3000 USD, which is not that high when compared to the Emirate salary. But the other benefits have lured her to take up the offer.
When asked whether the UAE experience had helped his wife to get a job in NHS, he said yes, and continued that norms to migrate to developed countries from UAE are preferred.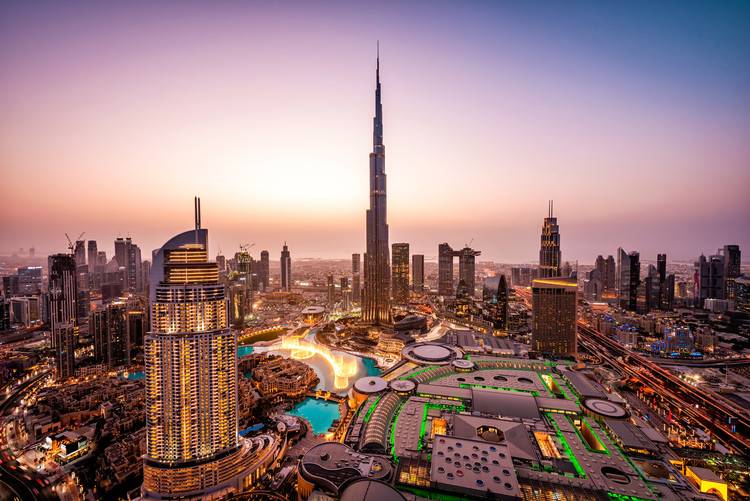 Since the 1960s, Indians have been migrating to the UAE as migrant workers, much before the UAE itself was formed.
Manikantan, a worker from the south Indian state of Kerala, who migrated to the UAE in 1960 says that his life was secured only after migrating to the UAE, even though he had to travel on a dhow heading to Iran.
In those days, thousands of Indians used such dhows to return to Iran from Bombay, India, via Dubai.
"I was part of a labour team that built Dubai Creek in 1961. I stayed in Dubai for 25 years, grew with the city, and returned home with the savings I made," Manikantan said. "In those days, the UAE never turned away migrant workers who landed on its shores with great hope, even if they didn't have travel documents."
In those days, the UAE never turned away migrant workers who landed on its shores with great hope, even if they didn't have travel documents.
Manikantan added, "Before the 1960s, Indians, especially Keralites, used to migrate to Southeast Asian countries. But after oil was discovered and the rulers decided to build cities and countries in the Gulf, we moved there. We started the Gulf rush, and it's still there. The third and fourth generations who are migrating or growing up there are making a good and safe future for themselves."
Manikantan's children and grandchildren are now living in Dubai and Abu Dhabi as skilled migrants.
A July 2022 government of India document placed in the parliament reveals that there are 35,00,000 Indians working and residing in the UAE on different kinds of visas. This is 3.5 million is 30 per cent of the total UAE population.
While there are Indian construction workers on short-term visas, there are also Indian investors and businessmen who hold a Golden Visa, a long-term, renewable residence visa valid for 5 or 10 years.
While migrants like Manikantan, built Dubai Creek and secured their families with decent savings, many Indian migrant businessmen, holding Golden Visas, are running a successful businesses from oil trade to hypermarkets in the UAE and challenging global players.
MA Yusuff Ali, the retail king from India who presides over $8 billion revenue from LuLu Group International, made his fortune in the UAE. He had migrated to UAE in 1973 to join his uncle's small distribution business, which now is the largest retail group in the world with shopping malls in the Gulf and elsewhere.
Another successful businessman who made a fortune in Dubai is Joy Alukkas, the jewellery man. He opened his first shop in Dubai is 1985. He faced a few hiccups in the early days, but now is worth $3.1 billion and has gold outlets all over the world.
According to official data, as a government, India is UAE's second-largest trading partner accounting for 9% of its total foreign trade and 14% of non-oil exports. Also, the UAE is India's third biggest trade partner. India-UAE trade increased from US$ 180 million per year in the 1970s to US$ 72.8 billion in FY21. It is expected that the value of UAE's non-oil trade with India will increase from the current US$ 60 billion to over US$ 100 billion over the next five years. India and UAE are projected to surpass bilateral trade worth US$ 88 billion this year (2023).
UAE is the 7th largest investor in India with cumulative FDI inflows of US$ 15,179 million from April 2000 – September 2022.
Bilateral trade between India and the UAE stood at US$ 43.3 billion in FY2020-21. India exported goods worth US$ 16.7 billion to the Gulf state, while imports aggregated at US$ 26.7 billion during the fiscal.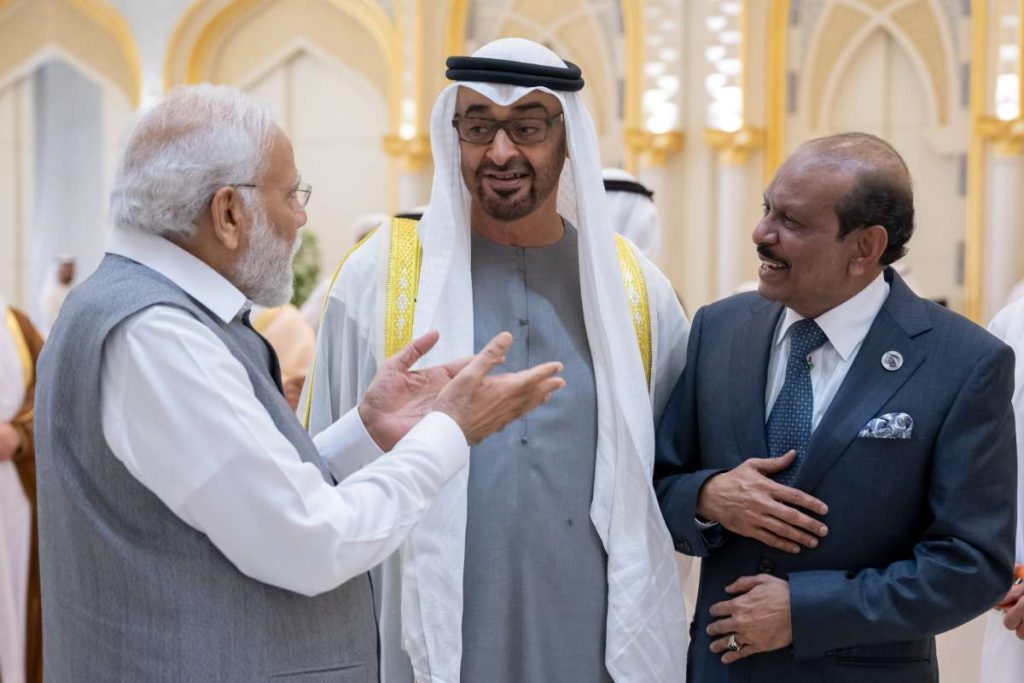 As Indians are the largest expatriate community in the UAE, their remittances are a significant source of foreign earnings for India.
India received $90bn in remittances in 2022, with UAE as second-biggest source. The total remittance flows during the 2021-22 fiscal year were the highest received by India in a single year, data from India's Ministry of Finance showed. India's fiscal year starts on April 1 and ends on March 31.
The US, the world's largest economy, was the biggest source of remittances to India, with a 23.4 per cent share in total remittance flows, followed by the UAE at 18 per cent. The UK was in third place with a 6.8 per cent share and Singapore was fourth with a 5.7 per cent share.
Moreover, the highest share of 5 major countries in inward remittances to India through Authorised Dealer (ADs) banks are from the United States (23.4%), followed by the United Arab Emirates (18%), United Kingdom (6.8%), Singapore (5.7%) and Saudi Arabia (5.1%).
Like neighbours, in 2022, the UAE had also updated its 1980 labour law, with more labour-friendly provisions to attract more migrants and boost economic growth.
According to news reports, the new law offers employers and employees various options for their contractual relations. Among other reforms, the law set out multiple work models, including full-time and part-time jobs; temporary work and flexible hours.
Additionally, the Ministry of Human Resources and Emiratisation (Mohre) started issuing 12 types of work permits, including those for students, Golden Visa holders, and freelancers. New types of leaves like those for bereavement and studies were implemented as well.
2022 witnessed an 11 per cent growth in the total number of private sector establishments, compared to 2021. More than 2.1 million work permits were issued last year — a whopping 38 per cent growth compared to the previous year's 1.5 million.
All the numbers prove that UAE is reforming, and growing and migrants still see the most sought work destination in the Gulf.
According to a UN document, in April 2022, the UAE Cabinet approved significant changes to strengthen the laws on entry and residence requirements and expand regular pathways to foreign citizens. They allow Golden Visa holders to sponsor children regardless of age.
Additionally, restrictions on the maximum duration of stay outside the UAE in order to maintain the validity of the visa have been removed and family members resident under the visa are granted rights to remain in the UAE in the event of the primary visa holder's death, until the expiry of the permit.
The UAE Golden Visa is made available for scientists and researchers holding a PhD or master's degree (from world-leading universities) in a broader range of categories. The government is expanding Golden Visa availability to highly skilled workers in professional categories, including medicine, sciences, engineering, information technology, business and administration, education, law, culture and social sciences.
Additionally, the reforms to the 5-year residency visa, to include a flexible grace period of up to six months stay in the UAE after the permit is cancelled or expired, in addition to facilitating and simplifying the requirements for all residency will be helpful for migrants.
The introduction of a 5-year residency visa for skilled employees, without the requirement for a sponsor or employer, for applicants holding a valid employment contract, as well as a bachelor's degree and minimum salary level, is also in place.
And, the introduction of a 5-year residency visa for freelancers and self-employed individuals, enabling self-sponsorship is also being activated.
Additionally, improvements to the visa-issuance system, offering flexible duration of stay, and making available both single and multiple entry visas that can renewed are also implemented.
However, recently, migrating to the UK, Canada, and Australia has become a new trend for migrants, especially Indians, who are working in the UAE. Jancy is one of them.
Many are weighing the options of migrating to the UK, Canada, Australia, or staying back in the UAE.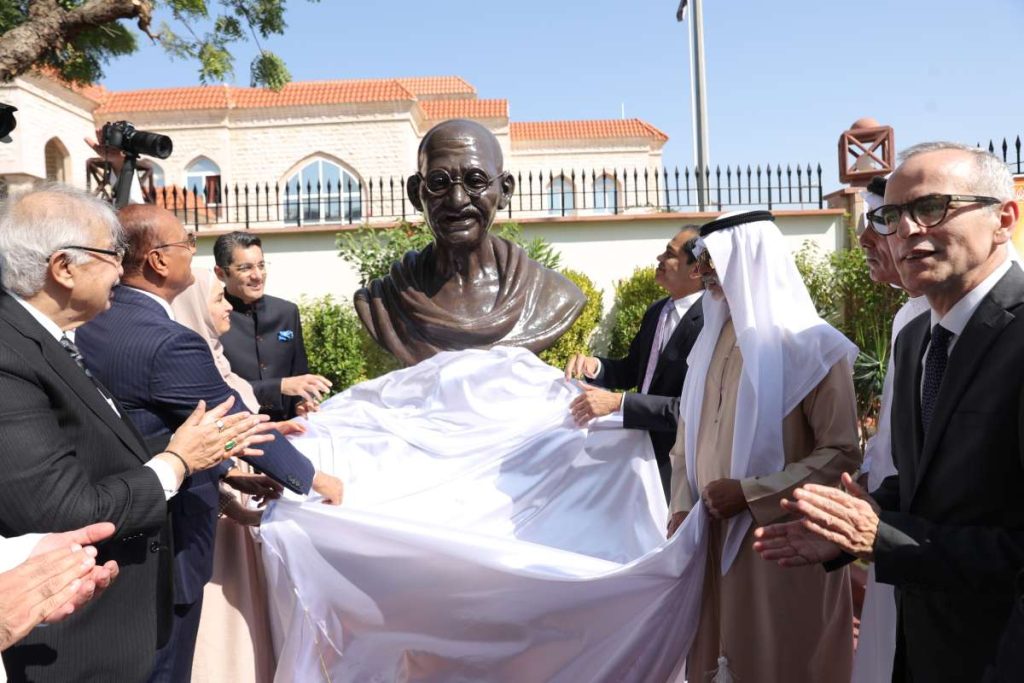 Biji Eapen, a gold businessman in the UAE, said that seven of his friends, all skilled migrants, have migrated to the UK, Canada, and Australia, in the last three months.
"The skills acquired in the UAE are helping many to get jobs easily. In Dubai, the number of recruitment agencies is increasing. And companies in developed countries are also coming here with walk-in interviews," Biji added.
However, Biji decided to stay back in the UAE.
"The travel time to my home town in the South Indian state of Kerala is just 3.5 hours. As I am running my own business, I can travel anytime I want and it's not a hassle," Biji added.
Sujit Joseph, an IT engineer in Abu Dhabi who got an offer from a Canadian company, said that he hasn't made a decision yet.
"The UAE feels like home for me. The pay offered is less than in Canada. My office is in the heart of the city. I studied and grew up here. I don't want to leave the UAE," Sujith said.
Meanwhile, Shine Jose, an engineer now in Australia, said that his work experience in the UAE helped him to get a job in Australia. Shine was a male nurse in the UAE for seven years.
"The work experience gives leverage as points while processing the migration papers. Those who worked in the UAE get a favourable response," Shine said. Shine has taken his wife and son to Australia.
According to Manoj P (name changed), who runs a recruitment agency in Dubai, said that UK, Canadian, and Australian counterparts are frequently sending inquiries and visiting the UAE for talent hunting.
"They have realized that if they can take in skilled migrants from the UAE, then they can benefit. Everybody needs skilled migrant workers. They need experienced workers. And they know that the UAE is a country which provides world-class training for skilled migrants and hands-on experience. So, the UAE is turning into a talent hunting ground for recruiters," Manoj added.
Meanwhile, a human resource manager in one of the oil companies in UAE said that even from government companies, skilled migrants are resigning and migrating to the UK, Canada, and Australia.
"At least a dozen technicians have migrated to Australia and Canada during the last three months. All had gained experience here, which has helped them to get the job smoothly. The work experience you get here in UAE is global, so it is valued everywhere," the manager said on condition of anonymity.
Cashing in on the trend, many offline and online agencies based in the UAE and COOs are luring potential job seekers with fake job postings and then charging them exorbitant fees for visa processing and other services. These agencies often target vulnerable job seekers who are desperate for work, and they use deceptive practices to trick them into handing over their money.
Christin Joseph, an Indian based in the UAE, lost the money he paid to one of the fraudulent agencies in the UAE to get a job for his wife in the UK. His wife is an experienced nurse who has worked in the UAE for the past eight years.
Christin found the agency's address online and trusted them. However, he later realized that he had been cheated. When he contacted the agency, they returned $1,000. The rest of the money, he had to give up.
Christin added that there is even a Facebook page created to cross-check the legitimacy of agencies. The page, "Fraud Immigration Consultant UAE," has 17.3K members. Scrolling down the page, you can see potential job seekers' queries and doubts. There are even posts detailing the names of fake agencies. Christin's is not an isolated case.
Akhila Udaykumar, a nurse, and her friends were cheated by a fraudulent online agency that had a physical office in the UAE. Akhila had approached the agency to migrate to Canada. She was told that she had to pay money in advance to start the process and that she should come to Dubai so that she could fly out from there.
Akhila's friends flew to Dubai, but Akhila didn't. Unfortunately, she and her friends were duped. The two friends who went to the UAE got stuck there. Akhila had paid USD 1,200 as an advance. Finally, a month ago, one year after waiting for the "processing," she filed a police case in India. One of the partners was from the south Indian state of Kerala. Akhila traced his house and filed the case. As she filed the case, she got back USD 500.
"The partner is in Dubai. However, I have filed the case. And I will get the rest of the money too," Akhila added.
Approximately, 5000 USD is the fee agencies demand in the UAE to facilitate the migration to the UK, Canada and Australia, the most sought destinations by skilled migrants.
Veena K, an Indian banker in UAE, said that if the government expands its social security packages, insurance schemes, and affordable housing options, regardless of the visa category, then migrants will stay back.
"Wages Protection System and the Taa-meen insurance system are there. But some don't help on the ground. The UAE should make the labour-friendly reforms workable on the ground to retain the talent here," Veena added.
With Permanent Resident status in the UK, migrants will have access to healthcare, pensions, and other social benefits that the UK is famous for. If the migrant worker has a family looking to join him or her, being a PR means that the family can make their journeys over to the UK. Finally, the migrant worker's permanent resident status will also benefit his or her child's British citizenship application.
Suju K Daniel, a long-time Indian resident in the UK, said, "Many Indians migrate to the UK to protect their children's future. Social security packages are helpful. The earnings won't be that high. But you get settled here, and your children get more opportunities," he added.
According to the March 2023 UK Immigration Statistics, the government had issued work visas (including dependants), up 211,285 (+76 per cent) to 487,771 and study visas (including dependants), up 161,771 (+34 per cent) to 632,006, including sponsored and short-term students.
The official statistics also add that there were 299,891 grants to main applicants on work visas, 61 per cent higher than in the year ending March 2022, largely due to increases in the 'Skilled Worker' visas.
The official statistics confirm that Indian nationals were the highest nationality granted on both these routes.
Like in the UK, skilled migrants who migrate to Australia and Canada also get social security packages, better education facilities for their children, and can buy property.
According to a news report, in 2022, Canada welcomed 437,180 immigrants into the country, reflecting Canada's high immigration targets.
Meanwhile, Australian government note says, in the year ending 30 June 2022, overseas migration contributed a net gain of 171,000 to Australia's population. This represents a very large increase in net overseas migration on the 2020-21 financial year – which saw a net loss of 85,000 people.
In short, the UK, Canada and Australia have kept their doors open to fill the skilled worker shortage in their countries.
While some like Sujith are doubtful about leaving the UAE, people like Biji prefer to continue in the UAE, despite agencies from the UK, Canada and Australia frequently visiting the UAE looking for talented migrants. Recruiters and skilled migrants in the UAE confirm the demand to recruit skilled migrants from the UAE is visible now.
(Rejimon Kuttappan is an independent journalist, ILO / Reuters / NFI fellow on labour migration and author of Undocumented-Penguin 2021)