Advertisement

The prestigious accolade, which recognizes creativity in many forms, salutes Sheikha Bodour's innovative thinking and leadership of a series of initiatives for the greater good, with a focus on literacy, reading, and culture…reports Asian Lite News
Her Excellency Sheikha Bodour Al Qasimi, who's the architect of a sprawling portfolio of pioneering initiatives to improve people's lives around the world, has been named one of Fast Company Middle East's Most Creative People in Business 2023 in the 'Bringing Good Things to More People' category.
As well being President of American University of Sharjah and leading her self-founded Kalimat Publishing Group, Sheikha Bodour's achievements include:
Becoming the second woman and first Arab/Muslim President of the International Publishers Association (IPA), in 2021–2022;
Starting PublisHer, a global initiative to empower women to penetrate the male-dominated senior ranks of international publishing;
Leading Sharjah's successful bid to become UNESCO World Book Capital City in 2019;
Creating the House of Wisdom, in Sharjah, a super-library that's a hub of social interaction and knowledge.
Establishing the Kalimat Foundation to give war-displaced and visually impaired children vital access to books and reading;
Accepting the award, Sheikha Bodour said: 'I'm very humbled and more than a little surprised by this recognition. For me, creativity is making something where before there was nothing, and if I have done that in a way that finds solutions to problems, I'm delighted. Steve Jobs said something like only people crazy enough to think they can change the world actually do so, and that's true. You need to think differently to make a difference, and that's something I believe all the award nominees have in common.'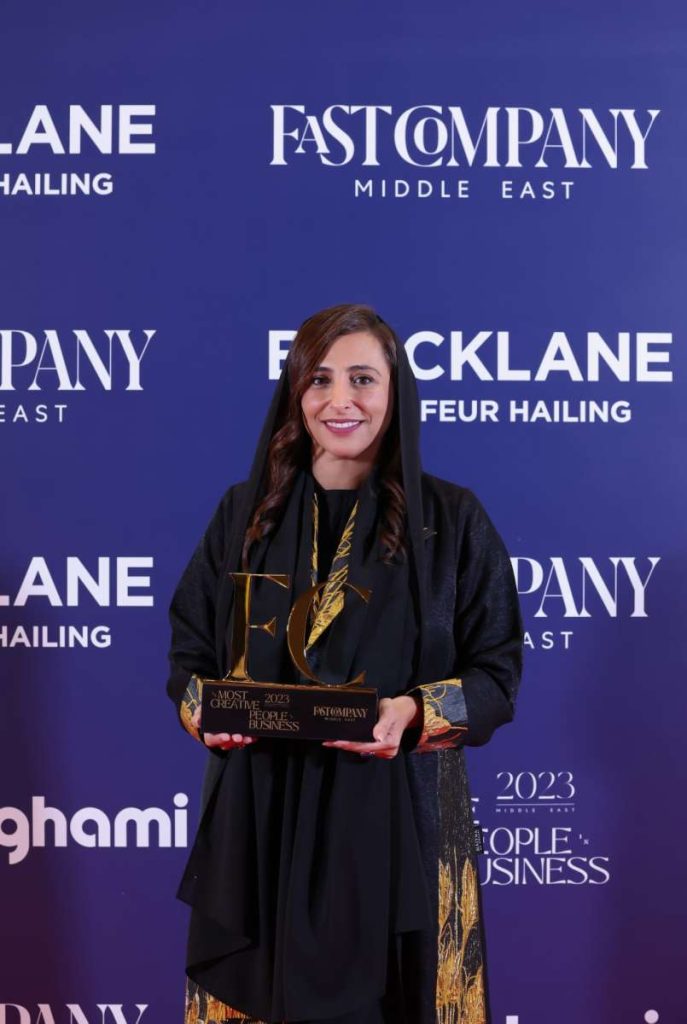 The prestigious accolade, which recognizes creativity in many forms, salutes Sheikha Bodour's innovative thinking and leadership of a series of initiatives for the greater good, with a focus on literacy, reading, and culture.
Uplifting publishing in the UAE and beyond
Sheikha Bodour established the Emirates Publishing Association in 2009, a non-profit trade association dedicated to developing and further professionalizing the UAE's publishing industry. As a committed internationalist, Sheikha Bodour earned the EPA its coveted membership of the International Publishers Association (IPA), in Geneva, which was founded in 1896, in France, and still majority-led by Western publishers. She piloted various IPA committees and initiatives before being elected vice-president (2019–2020).
In 2019, she forged a partnership between the IPA and UAE-based philanthropy entity Dubai Cares, called the Africa Publishing Innovation Fund (APIF). From 2020 to 2022, the fund invested US$ 800,000 in 18 projects to promote indigenous languages, literacy, education, library access, and accessible book publishing for visually impaired readers. It continues to benefit many thousands of people in 20 countries.
The first year of Sheikha Bodour's IPA presidency (2021–2022) was shaped by Covid-19, which took an immediate heavy toll on the book industry. She is widely credited with unifying the global publishing community during the pandemic by redefining it as a balanced ecosystem comprising interdependent actors.
Diversity, Equity, and Inclusion
An ardent women's advocate, Sheikha Bodour pressed hard for female representation throughout her tenure as president of the IPA, be it on committees, across discussion panels, or in meetings. An enduring expression of her legacy is that she was succeeded by a president and vice-president who are women. When the latter assumes the top role in 2025, she will become the third woman in a row to head the organization.
In 2019, Sheikha Bodour set up PublisHer in response to frustration among female publishers about an industry where women were more numerous than men at every level—except at the top. PublisHer has become a vibrant and participative platform that gives voice and practical support to help women make their way in the industry.
UNESCO World Book Capital City 2019
Sheikha Bodour had long been determined to win Sharjah the coveted World Book Capital City status, which she succeeded in doing in 2019 thanks to an innovative yearlong programme prioritizing inclusivity. In celebration of the honour and to create an enduring legacy, she conceived the stunning House of Wisdom, a cultural hub and library that focuses on people, interaction, and enlightenment.
Kalimat Foundation
Bodour Al Qasimi launched the Kalimat Foundation in 2016 to give book access to Middle Eastern children who have been displaced by conflict, or are visually impaired. The foundation seeks to equip and empower these vulnerable young people with knowledge and ideas by giving them books in accessible formats. So far, it has touched the lives of 162,000 disadvantaged children in 31 countries in Asia, Africa, Europe, and Latin America.