Advertisement

Amidst uncertainty across global markets and the fragmentation of global trade, sustaining foreign direct investment (FDI) has been a key challenge over the last three years…reports Asian Lite News
The afternoon sessions during day one of the Dubai Business Forum, a transformative global event powered by Dubai Chambers, highlighted the key role of small and medium-sized enterprises (SMEs) in accelerating economic growth, as well as Dubai's growing appeal in attracting foreign direct investments.
Addressing a panel discussion, H.E. Khalfan Belhoul, CEO of the Dubai Future Foundation, and Shamsa Al Falasi, CEO of Citibank, highlighted the vital contribution of small and medium-sized companies (SMEs) as the main drivers of Dubai's economy.
"Agility and the speed of innovation are the driving force of the UAE's success," said H.E. Belhoul. "The pace of innovation is changing by the minute, and Dubai keeps up with it – in turn, benefiting the business community. Today, new startups are matching the pace of innovation to drive the economy."
H.E. Belhoul stated: "The business and SME sectors in the UAE grow exponentially because His Highness Sheikh Mohammed bin Rashid Al Maktoum, Vice President and Prime Minister of the UAE and Ruler of Dubai, thinks like an entrepreneur."
Shamsa Al Falasi highlighted Citibank's strong emphasis on promoting SMEs operating across diverse sectors, stating: "Every day, there are numerous opportunities emerging in Dubai because it is a talent hub. With COP28 less than a month way, we see accelerators focused on sustainability."
"SMEs require a lot of skill building and it takes effort to build up the ecosystem. Further, with high internet penetration, it is easier to digitise startups and small businesses. The beauty of the UAE is its diversity, with almost 90% of the population being expatriates," she added.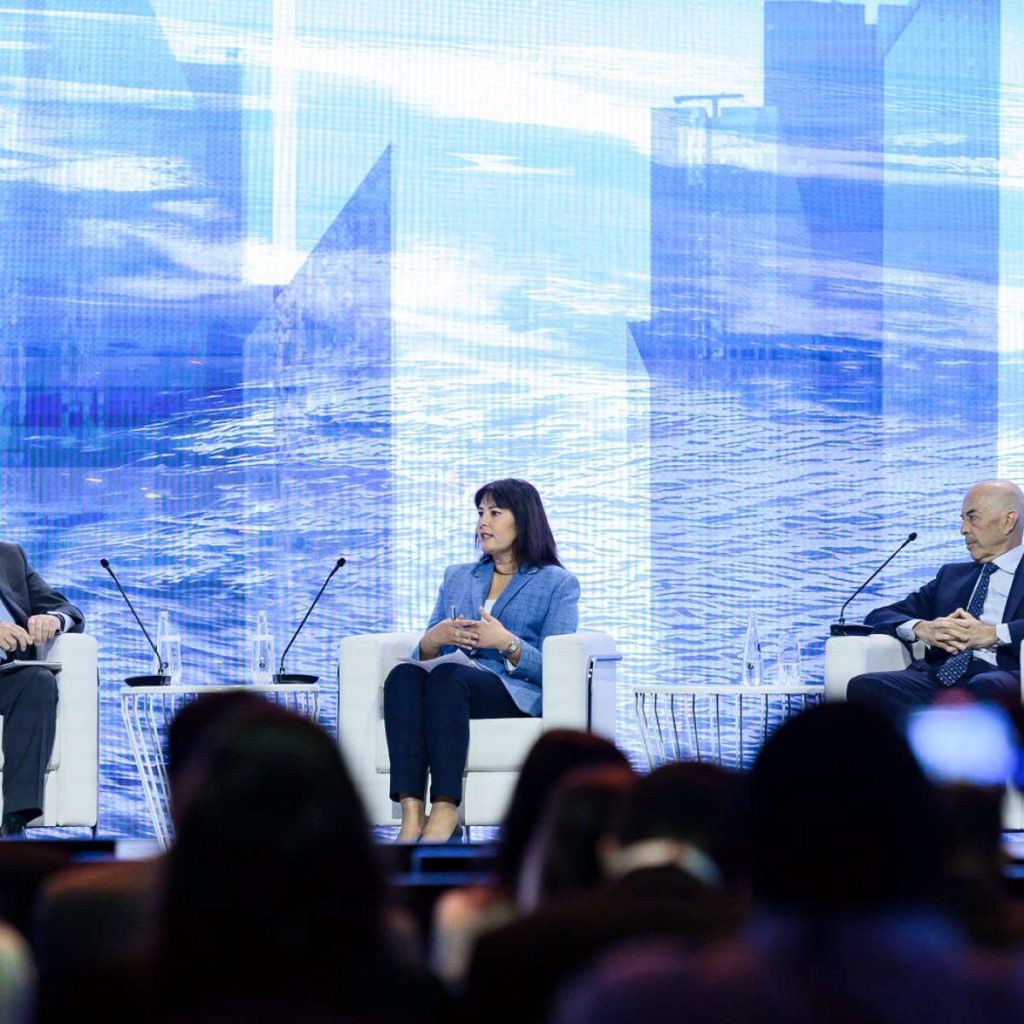 Regionalisation vs. globalisation
The global debate between regionalisation and globalisation was tackled during a discussion between Khatija Haque, Chief Economist and Head of Research at Emirates NBD, and Prof. Ian Goldin, Professor of Globalisation and Development at the University of Oxford.
Haque stated: "With increasing interest rates, the cost of capital has soared; being capital rich, the region has been investing in a range of industries to diversify its economies, with a special focus on new tech automation and robotics."
Prof. Goldin asserted that insulating economies, protectionism, and nationalism pose bigger dangers to countries than the risks associated with an open global system. "The world is facing major structural changes owing to the technological transformations that have led to redesigning of supply chains. As economies become richer, they buy fewer things and more services – this transformation has also contributed to the reshaping of supply chains."
Both agreed it is impossible for nations to exist in isolation and that regional and global cooperation is imperative for a thriving global economy. Khatija Haque emphasised that the GCC can benefit from intraregional trade and the sharing of resources, citing the example of electricity grid sharing between GCC states. Prof. Goldin added that the formation of trading blocs has been advantageous to growth, particularly in Europe – where these account for more than 70 – 75% of trade within the continent – and Asia, which recorded over 60% of interregional trade.
Dubai as the hub for FDI inflows
Amidst uncertainty across global markets and the fragmentation of global trade, sustaining foreign direct investment (FDI) has been a key challenge over the last three years. Despite these factors, Dubai's strategic location, major trade routes, favourable tax incentives, and forward-thinking policies have positioned the emirate as a leading market in FDI, setting an example for regional and global markets.
A panel discussion between H.E. Hadi Badri, CEO of the Dubai Economic Development Corporation, Salem Al Shamsi, Vice President of Global Markets at Dubai Chambers, and Deepak Bagla, President of the World Association of Investment Promotion Agencies (WAIPA), highlighted how Dubai will remain an attractive and promising market for FDI inflows and economic growth.
Highlighting Dubai's dynamic investment landscape, H.E. Badri said: "The number of projects we have received is among the highest in the world for FDI. With a strong growth agenda and vision, our leaders are competitive, caring, and consistent. We are pursuing a zero-carbon manufacturing approach and strengthening the financial services and tourism sectors to double our GDP. We have signed several agreements with countries such as India and are negotiating agreements with other nations."
Salem Al Shamsi stated that businesses are thriving under Dubai's visionary leadership. "Our leaders have built a strong business infrastructure and implemented policies that enhance the ease of doing business. We are optimistic of continuing to attract FDI, underpinned by our strong leadership, growth environment and the policies in place."
Commenting on the strong prospects offered by Dubai, Deepak Bagla said that the way the city handled the pandemic demonstrates its resilience. "The ease of doing business is tremendous, and the Dubai government is focused on enhancing the quality of life. Investors in the Indian subcontinent are looking to create a footprint in Dubai."
Hosted under the patronage of His Highness Sheikh Mohammed bin Rashid Al Maktoum, Vice President and Prime Minister of the UAE and Ruler of Dubai, the Dubai Business Forum brings together key stakeholders from the government and private sectors across the globe to explore strategic economic partnerships, develop international networks, and open new horizons for business, trade, and investments.
ALSO READ-New malware targeting Android users to steal sensitive data using OCR
Advertisement