Advertisement

Prominent British Parliamentarians including former Conservative leader Ian Duncan Smith rap China's dictators for the human rights violations and persecution of minorities. A special report by Tsering Passang, Founder & Chair, Global Alliance for Tibet & Persecuted Minorities
To coincide with the 74th founding anniversary of the People's Republic of China, a coalition of UK rights groups and community organisations staged a peaceful protest in central London on October 1 to highlight gross violations of human rights and atrocities committed by the Chinese State.
Under Mao Tsetung's dictatorship, the Communist Party of China (CCP) came to power and established the People's Republic of China, on 1st October 1949, after the then-ruling Kuomintang Government (The Nationalist – Republic of China – now Taiwan) was overthrown. Mao then ordered his PLA troops to invade East Turkestan and Tibet. Both these countries are still under the illegal occupation of the People's Republic of China.
 "Nothing to celebrate" was the central theme of the protest, organised by China's persecuted communities, including Hongkongers, Southern Mongolians, Tibetans and Uyghurs. At 3 pm, crowds of protesters gathered at St Martins-in-the-Fields, Trafalgar Square, where leading activists addressed the rally.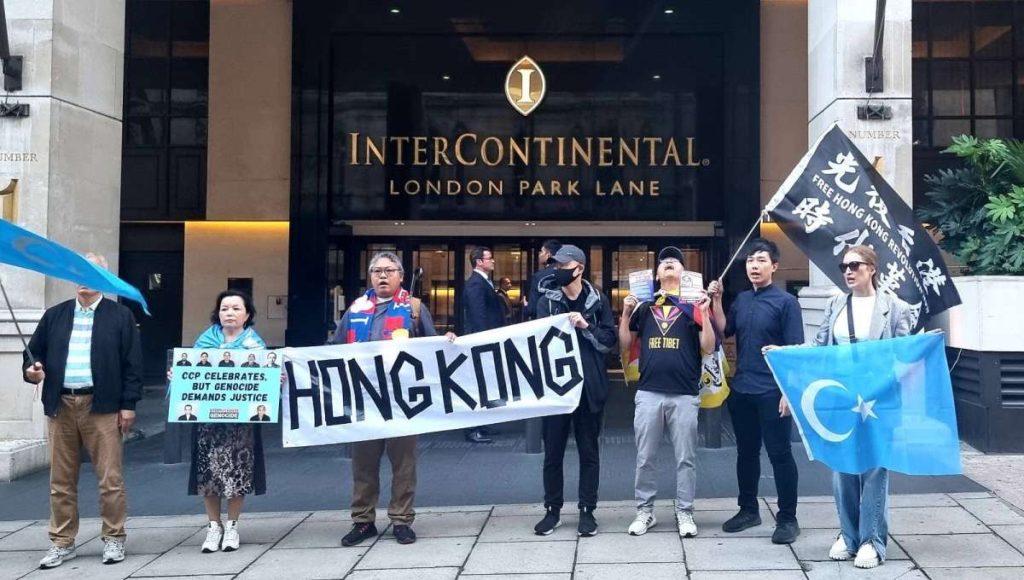 This year's protest was organised by Global Alliance for Tibet and Persecuted Minorities Free Tibet Hong Kong Aid Hongkongers in Britain Hong Kong Liberty Stop Uyghur Genocide Tibetan Community in Britain UK Uyghur Community Voice of Southern Mongolia World Uyghur Congress.
Tenzin Kunga, Chairman of the Tibetan Community in Britain, who is also the Advocacy Officer at Free Tibet, spoke on the purpose of organising the annual protest. Rahima Mahmut of the Stop Uyghur Genocide and Finn Lau of Hong Kong Liberty addressed the rally. Speakers highlighted how 74 years of Communist Party of China (CCP) rule have affected their nations and communities, from military invasions and occupations of their countries in 1950 to modern day human rights violations and crimes against humanity, including mass detentions, torture, religious repression, cultural eradication and violence from police and security forces.
A Statement issued by the All-Party Parliamentary Group (APPG) for Tibet was read at the rally. "Even after more than seven decades of international campaign and advocacy for freedom, Tibet continues to remain under a brutal Chinese occupation," the statement said. "Since 2009, over 155 Tibetans have made the ultimate sacrifice, giving their lives in self-immolation protests, a reflection of the pain Tibetans feel at the occupation of their country and the systematic eradication of their identity.
"Furthermore, the Chinese government operates a coercive residential school system in Tibet with the aim of cultural assimilation of Tibetan children into the majority Han culture. At the same time, it shuts Tibetan-language schools and marginalises the Tibetan language. The UN Committee on Economic, Social and Cultural Rights (CESCR) has strongly criticised the residential schools policy, calling for it to be immediately abolished.
 "Despite this despair, Tibetans inside Tibet have never stopped resisting. We salute their bravery and support their struggle for freedom. We need the UK government to hold China accountable for its actions in Tibet, as well as for its repressive policies against Uyghurs and Hongkongers. China's Universal Periodic Review at the UN Human Rights Council early next year is a prime opportunity to do this", the statement from the parliamentary group for Tibet concluded.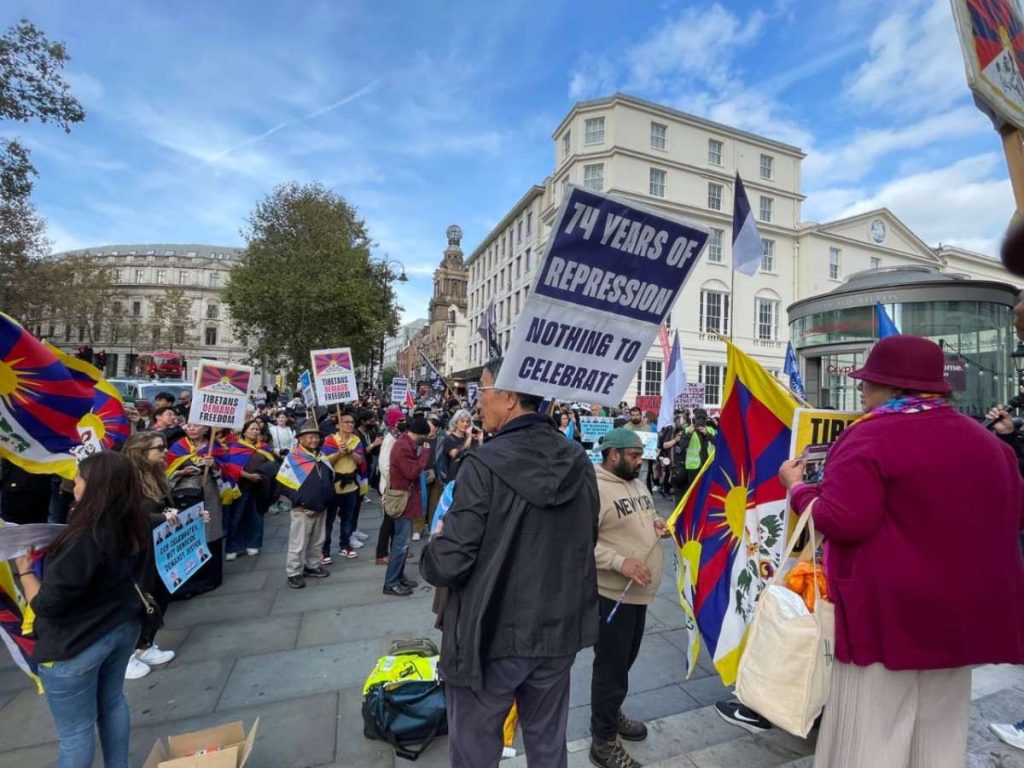 Protesters then marched to the Chinese Embassy, where a bigger rally was held. Whilst marching through Leicester Square, China Town, Regent Street and Oxford Circus, the protesters chanted loud slogans such as "Free Tibet", "Free East Turkestan", "Free Hong Kong", "Free Southern Mongolia" and "Stop Uyghur Genocide", "Down Down – CCP" "China lies – People die".
Outside the Chinese Embassy, Maira Aisa, Chair of the UK Uyghur Community and Engherjirgalang U, Founder and Chair of the Voice of Southern Mongolia (VOSM) spoke, who called for freedom and justice in their respective countries. National anthems from the respective community groups were sung.
Sir Iain Duncan Smith MP, former Leader of the Conservative Party, who is a Co-Chair of the Inter-Parliamentary Alliance on China (IPAC), condemn the Chinese leadership for the persecution of the minorities.
"It is of great regret that I am unable to join you in person today to show my support for the Uyghur, Tibetan, Hong Kong, and Southern Mongolia communities in light of the 74th founding anniversary of the People's Republic of China," said Sir Iain in a statement.
"I speak to you both as a Member of the British Parliament and as a founding Co-Chair of the Inter-Parliamentary Alliance on China (IPAC). Together our alliance spans over 250 legislators from 32 countries working to reform the approach of democracies towards China," he added.
IPAC was formed in 2020 out of a recognition that the Chinese government, under the leadership of the Chinese Communist Party represents a systemic threat to the free world. Under President Xi, the Chinese government has carried out a Genocide against the Uyghur people of Xinjiang, trashed the Sino/British treaty on Hong Kong, dismantled Hong Kong's democracy and made continuous threats and actions on Taiwan. Not least, it has continued the brutal persecution of the Tibetan people and other religious minorities in China.
"China poses a threat not just militarily but also to the human rights and freedoms upon which our democracy is based. This threat can only be dealt with by strength and by being clear to China that their behaviour is unacceptable and will have consequences.
"I, alongside other colleagues including our families, were sanctioned by the Chinese government for exposing Beijing's growing threat and the increased restrictions on Chinese people within China and on British soil. In Parliament, I will continue to speak out against the genocide of the Uyghurs and remind our Government that the nature of the CCP's regime has not changed, together with its appalling behaviour towards minorities and dissents. I will continue to call on our Government for tougher action to stand by and protect human rights defenders, pro-democracy activists and ethnic minorities who are targeted by the CCP. I pledge to stand up for the rights and freedom of all those now oppressed by this brutal Chinese Communist Government."
It is important to note that only last month, on 26th September, the UK Human Rights Ambassador, Rita French delivered a Statement under Item 4 General Debate. On China, the UK Ambassador said: "China continues to disregard human rights. Constraining civil society, denying freedom of expression, and of religion or belief. Systematic violations persist in Xinjiang and Tibet, where the UN reports a million Tibetan children have been separated from their families to assimilate them into Han culture. In Hong Kong politicised prosecutions against Jimmy Lai, the 'NSL 47', and journalists exemplify authorities' targeted campaign to repress criticism. We urge China to uphold its human rights obligations, and the rights of its own people enshrined in its own Constitution."
(Tsering Passang is a writer/activist based in London. He is the founder & Chairman, Global Alliance for Tibet & Persecuted Minorities; Former Chairman, Tibetan Community UK; Former Director, Tibet Foundation)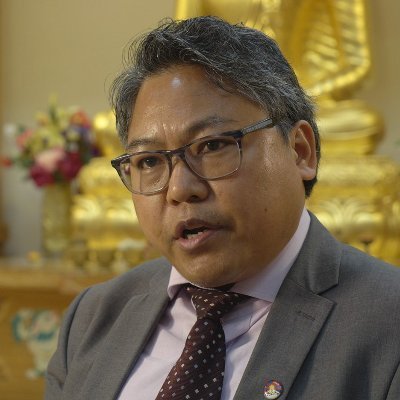 Advertisement