Advertisement

Goan cuisine is characterized by its unique blend of flavors, influenced by Portuguese, Hindu, and Muslim cultures. It is known for its spicy and tangy taste and the use of coconut, seafood, and kokum as key ingredients.
Chef Sombir Choudhary of Raahi and Jamming Goat comments, "Goan Food consists of warm and comforting dishes that consist of novel culinary styles due to its colonial history. Goan cuisine uses ingredients like tomatoes, chilies, potatoes, cashew nuts, pineapple, vinegar, and bread-like pao. It surely gives us so many emotions to add to our dishes and takes us down memory lane to where our mothers have been using these ingredients in every household across the country. The spices used in the cuisine are achieved by pounding spices with muscle power and patience. It is one of the few cuisines which has kept the age-old traditional style of cooking like the usage of Varn – a grinding stone to make pastes, Dantem – a hand mill to ground spice powders, and the usage of brass for making desserts. This traditional method imparts distinctive taste and aroma to the food."

He adds, "The cuisine has been developed out of a merger of various cultures that came in contact with Goa during their colonization such as Portuguese, British, Arab, Brazilian, African, French, Malaysian, Chinese, and even Indian cultures like Konkani, Malabari, Saraswat, and South Indian. This diversity in the cuisine is sure to be a delight to the mother's palate and offers a wide scope of spices and intense flavors in the dishes."
Here are some mouthwatering Goan meal recipes that you may make at home:
Goan Prawn Curry (10 portions) I By Chef Sombir Choudhary, Jamming Goat 3.0
For masala paste:
Freshly grated coconut – 4 nos.
Byadgi Mirchi – 125gms
Sankeshwari Mirchi – 75 gms
Coriander seeds – 150 gms
Jeera whole – 30 gms
Garlic cloves peeled – 20 nos.
Black Pepper – 4 nos.
For tempering
Refined Oil – 45 ml
Onion sliced – 300 gms
Turmeric – 5 gms
Ginger juliennes – 75 gms
Tomato juliennes deseeded – 100 gms
Kokum – 7 nos.
Fresh Coconut Milk – 750 ml
Prawns:
Prawns (deshelled with tail) – 1 kg
Turmeric – 4 gms
Onion sliced – 150 gms
Ginger – 30 gms
Tomato – 100 gms
For Garnishing:
Coriander leaves
Grated coconut
Method:
Blend coconut, both the type of chillies, coriander seeds, Jeera, peeled garlic cloves and black pepper into a fine paste
In a pan, add refined oil, add ginger, onion, turmeric powder, tomato along with salt. Let this masala cook for a few seconds, post which add the paste that was made earlier. Add some water, add more salt if required, and then add the kokum to this curry. If the kokum is added initially, it will burn and not give the required taste
Allow it to cook until the masala loses its raw flavor. Remove the kokum if the curry is sour as per your taste. Now finish with coconut milk to balance the sourness of the kokum
For the prawns, clean them and mix them in another pot with turmeric powder, onion, ginger, tomato and salt
Add just enough water for the prawns to cook,drain the water and then add them to thecurry made initially
Do not allow the gravy to boil once again else it will release its oil on top
Garnish with some coriander leaves and grated coconut
Finally, serve the curry hot with rice or pao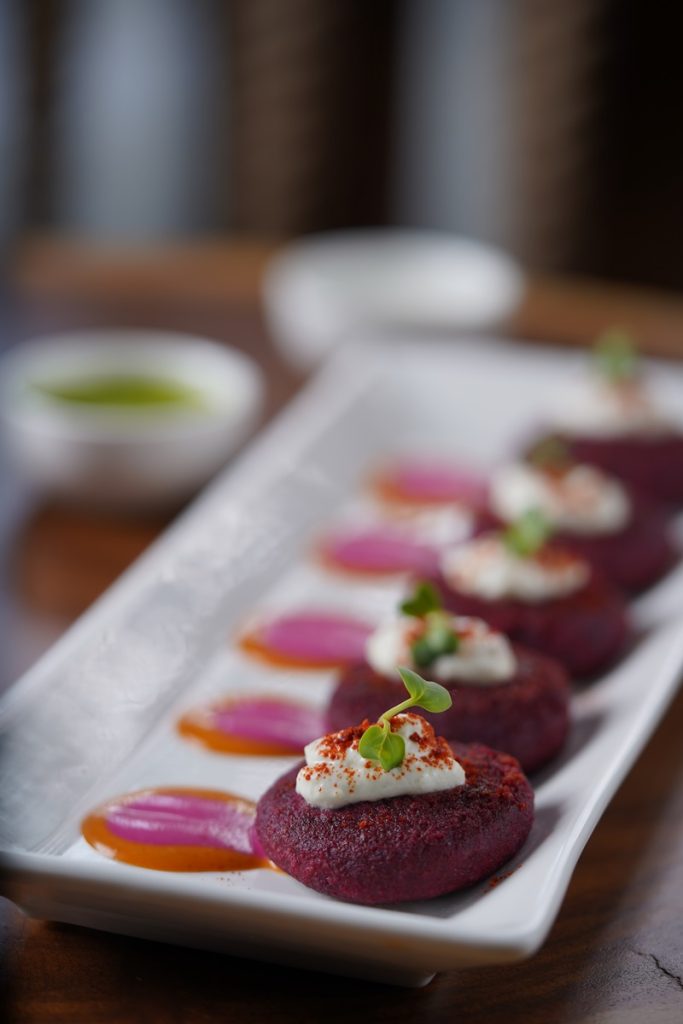 Cheesy Beetroot Tikki I By Chef Vishal Said, Magique
20 grams Oil
200 grams Beetroot
50 grams potatoes
10 grams garlic
10 gram ginger
5 grams green chilli
5 grams chilli powder
2 grams jeera powder
2 grams garam masala
30 grams Roasted Channa dal powder
20 grams cashew powder
30 grams ghee
8 grams salt
75 grams processed Cheese
For the dip:
50 grams Hung Curd
25 grams processed Cheese
5 grams garlic
1 gram back pepper powder
2 grams parsley
Method:
Add oil to a pan
Add garlic, ginger & green chillies into the oil and sauté for 2 minutes
Add boiled and grated beetroot & potatoes to the pan and cook them for 3-4 minutes
Add the chilly powder, jeera powder, garam masala and salt. Cook it till all the mixture comes together
Remove the pan from the fire and mix the roasted Channa dal powder, Cashew powder
Divide the mixture into 5 parts
Stuff cheese into the mixture & shape them into round tikki shape
Add ghee to the pan and grill it on both sides
Serve the tikkis hot with the dip
Mix all the ingredients together to form a creamy, tasty dip
ALSO READ-Tips to improve your nutrition