Advertisement

Organised by the National Indian Students and Alumni Union UK (NISAU UK) in partnership with the British Council in India, the India UK Achievers Honours recognise the achievements of young Indians who have undertaken a British programme of study and made significant contributions to their field and society. 75 Young Achievers and eight Outstanding Achievers were honoured through the programme, which also saw 2 Living Legends and a Lifetime Achievement honour being bestowed
Former Prime Minister of India Dr Manmohan Singh, Serum Institute CEO Adar Poonawalla were among the prominent Indians honoured at the 2023 edition of the prestigious India UK Achievers Honours in London.
The event was organised to mark the 74 Republic Day of India and India's 75 years of independence besides 10 years of NISAU UK and India-UK educational ties. The gala ceremony was organised to celebrate the achievements of Indians who have studied in the UK.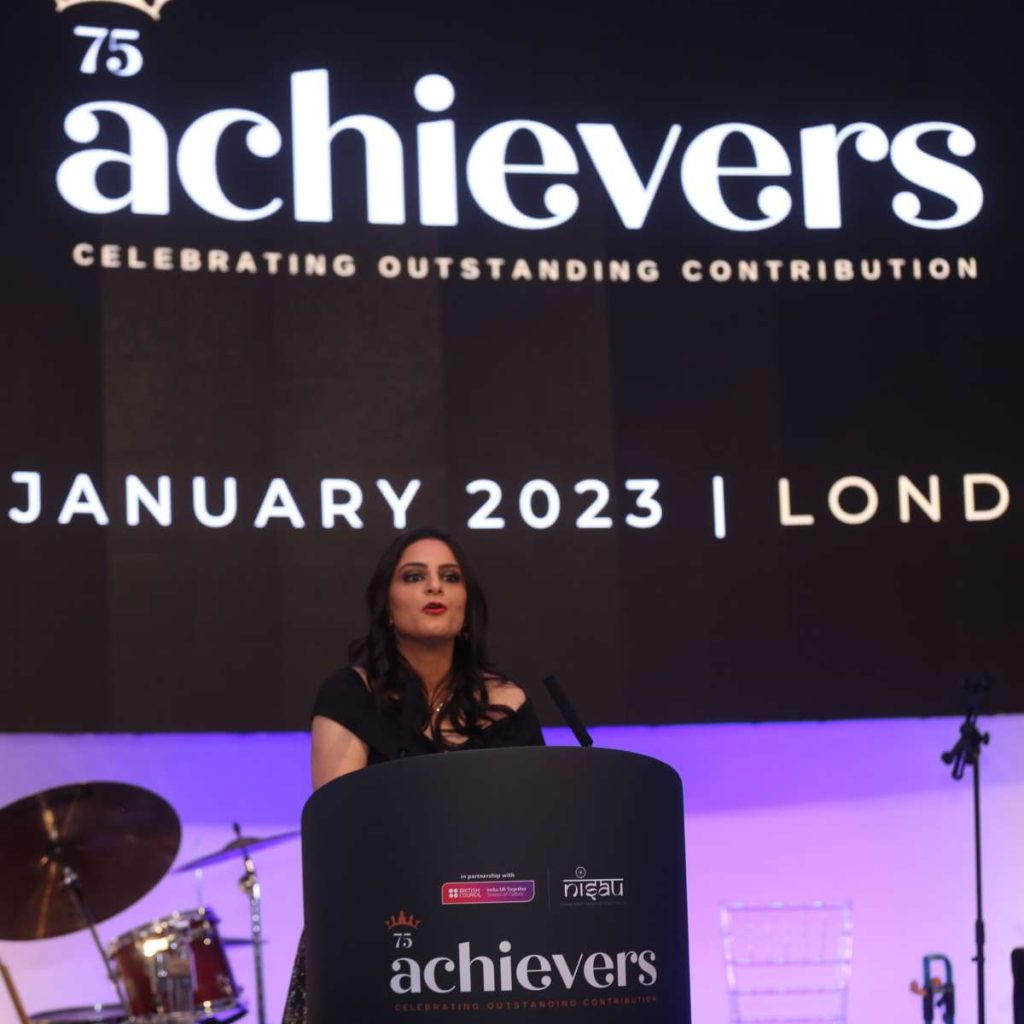 The former prime minister was bestowed with Lifetime Achievement Honour. Young achievers include renowned personalities such as actor Parineeti Chopra, Member of Indian Parliament Raghav Chadha, Senior Advocate Menaka Guruswamy, Observer Research Foundation President Samir Saran, Journalist Marya Shakil and Indian Football Team Goalkeeper Aditi Chauhan.Living Legends honours for Members of British Parliament Hon Virendra Sharma MP and Lord Karan Bilimoria CBE DL. All awardees are Indians who have studied in the United Kingdom.
Organised by the National Indian Students and Alumni Union UK (NISAU UK) in partnership with the British Council in India, the India UK Achievers Honours recognise the achievements of young Indians who have undertaken a British programme of study and made significant contributions to their field and society. 75 Young Achievers and eight Outstanding Achievers were honoured through the programme, which also saw 2 Living Legends and a Lifetime Achievement honour being bestowed. The India UK Achievers Honours is supported by the UK Government's Department for International Trade and the UK Higher Education sector.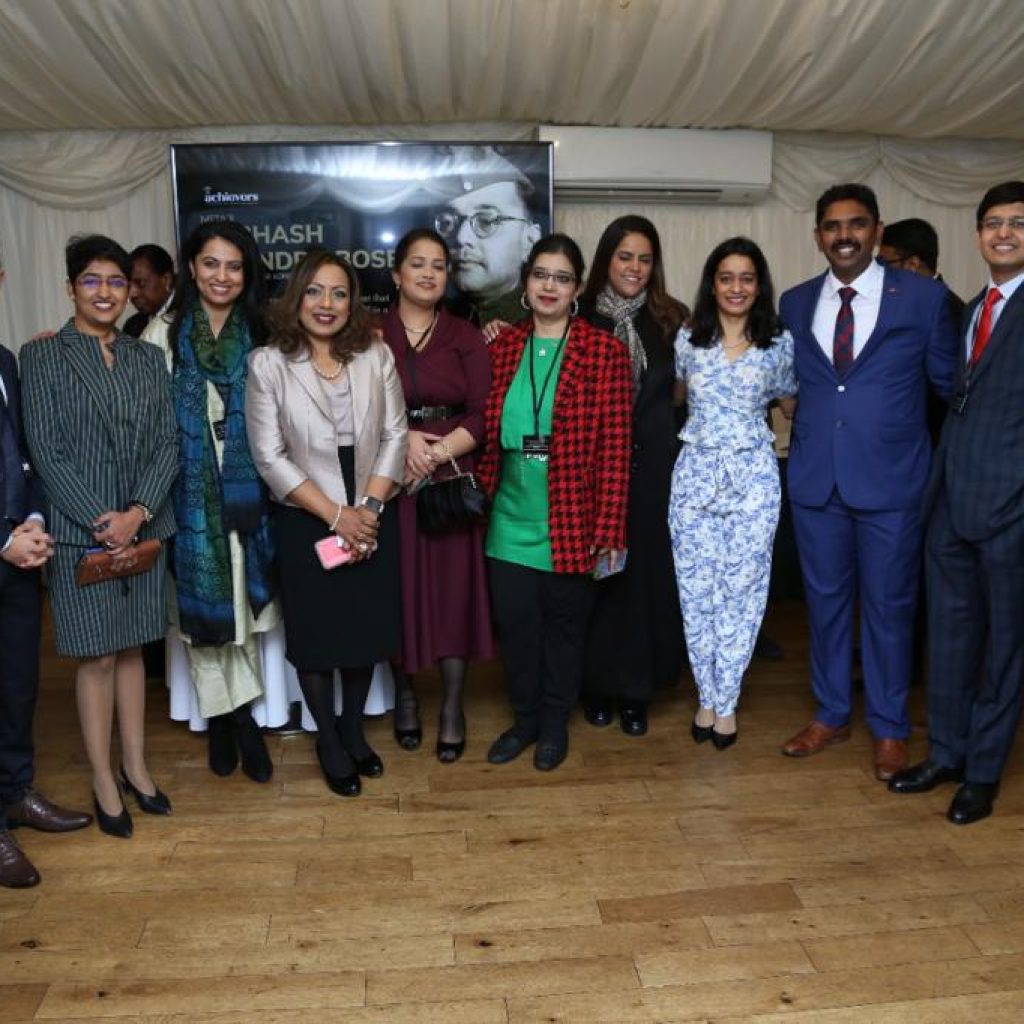 A galaxy of Members of Parliament and senior stakeholders in the India-UK corridor and the UK Higher Education sector joined the celebrations.
Sanam Arora, Chair of the NISAU UK, who has conceptualised and led the delivery of the Achievers Honours said: "As is demonstrated from our list of Achievers, the truly outstanding impact that young UK Indian alumni are having in India, the UK and globally can be seen in every field. Working on the Honours has been an unforgettable experience for the NISAU UK team. We have always known that the work of Indian graduates of British universities was extraordinary, but I don't think even we realised just how profoundly world-changing it is. We are delighted to have been able to shine a spotlight on some of these brilliant individuals. In doing so, we want to be able to take policy decisions around international students away from numbers & statistics to these human stories of success which demonstrate why international education must be cherished."
Maddalaine Ansell, Director of Education, British Council, said: "Tonight's remarkable award winners have all used their UK education to excel in their careers and shape the world around them. They are an inspiration. I am also delighted that through studying in the UK they are strengthening connections between India and the UK – connections which will help both countries prosper."
Accepting the Lifetime Achievement Honour, Dr Manmohan Singh, Former Prime Minister of India and MP (Rajya Sabha), who studied at the universities of Oxford and Cambridge and is credited with the transformation of the Indian economy, said: "I am very honoured that the NISAU UK in partnership with the British Council in India has decided to bestow upon me the Lifetime Achievement Honour on the occasion of the 75th anniversary of India's independence. I am very touched by this gesture, which is especially meaningful coming from young people who are the future of our country and of the ties between our two countries…the India-UK relationship is indeed especially defined by our educational partnership. The founding fathers of our nation, Mahatma Gandhi, Jawaharlal Nehru, Dr BR Ambedkar, Sardar Patel and many others studied in the UK and went on to become great leaders, leaving a legacy which continues to inspire India and the world. Over the years countless Indian students have had the opportunity to study in the UK. I am delighted that a number of exceptional alumni have been honoured as Achievers tonight. I congratulate them all. I urge all of you to work hard to excel in your fields and to strive towards building not only a good career but a better world."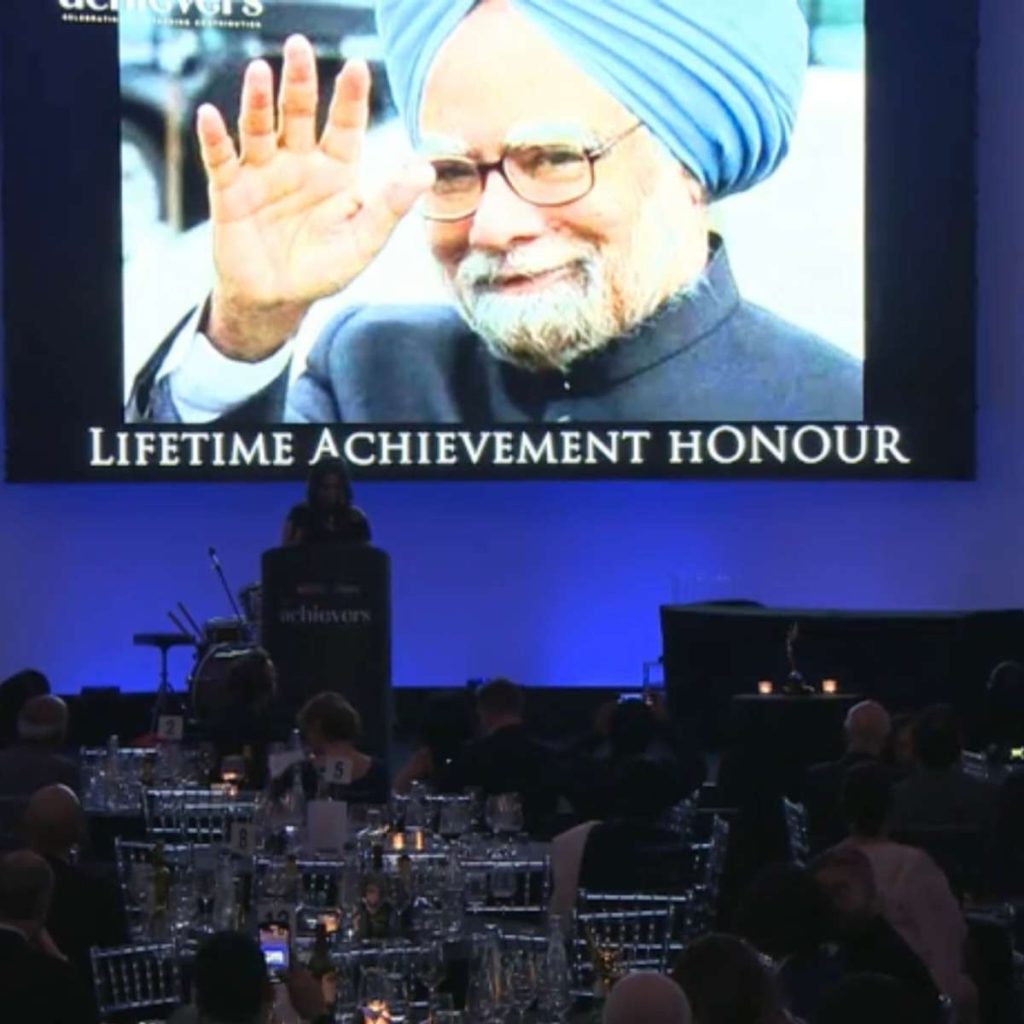 Prof. Luis Franceschi, Assistant Secretary General of the Commonwealth, said: "On 26 January 1950, India's Constitution came into effect. A new republic was born and, at the same time, a new Commonwealth. India's independence pushed the transformation of the British Commonwealth into the Commonwealth of Nations, which is today a beautiful family of 56 equal independent nations with shared values and aspirations. The awardees of tonight are the fruits of that past. A past which brought us together by the ambition of power; but today it makes us stay together through the ambition of knowledge and the power of love."
Congratulating the NISAU, a spokesperson for 10 Downing Street said "On the Prime Minister's [Rishi Sunak's] behalf, I would like to take this opportunity to extend my best wishes to the National Indian Students and Alumni Union UK, and I hope the ceremony is a success."
"I would like to congratulate the students and alumni who chose to study in the UK and have been recognised by the India UK Achievers Honours for their exceptional work and contributions to society," said the Mayor of London Sadiq Khan. "London's strength is diversity, and I will continue to ensure our city remains a welcoming place to students and alumni from India," he adds.
The achievers' list is made up of former or current Indian students in the UK who have gone on to excel in their fields while inspiring and encouraging many others to dream and achieve. From neuroscience to squash, from parliament to the big screen, from the boardroom to the courts, these achievers are innovators and changemakers and speak about the immense contribution their study in the UK has made towards their growth and success.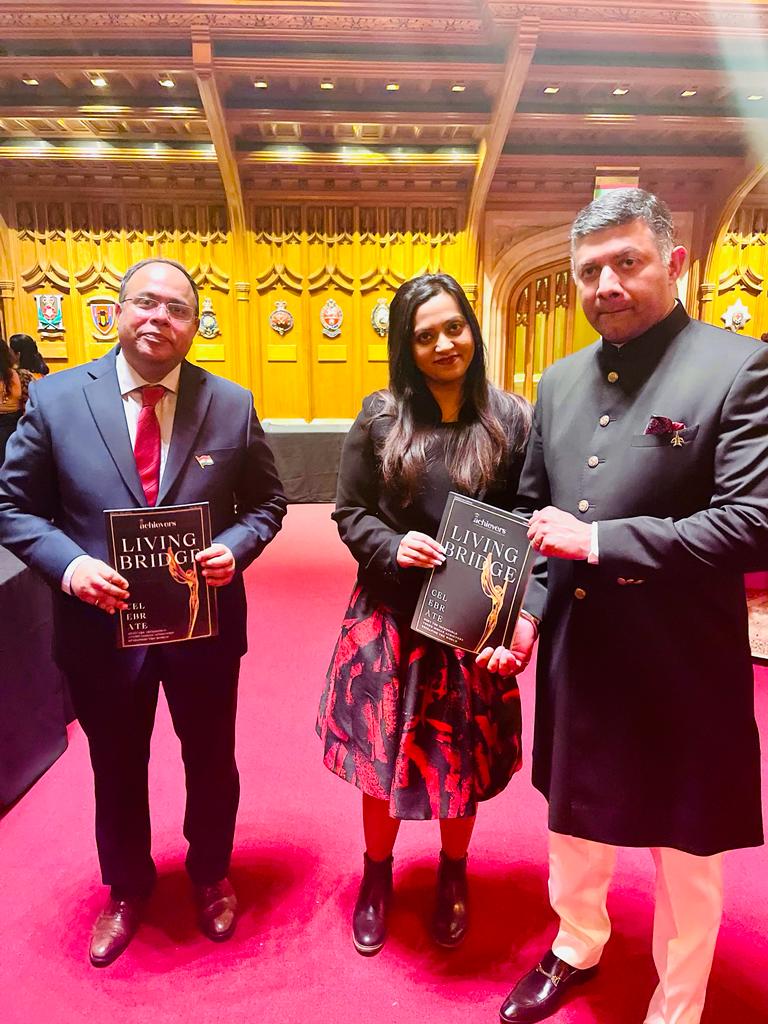 "The partnership between India and UK is reciprocal meaning that there are new opportunities for thousands of people to live, work and experience the culture in our two countries and this will benefit us all. I congratulate the Achievers on receiving their awards and know that they will serve as an inspiration to others," says Rt. Hon. Priti Patel, Member of Parliament for Witham and Former Home Secretary of the UK.
Bestowed with the Living Legend Honour, the Lord Karan Bilimoria CBE DL said: "All of you here who have won awards are the living bridge that is spoken about by both countries. Your achievements create inspiration here in the UK and in India. That inspiration creates aspiration, that aspiration creates achievement; and this is a virtuous circle. NISAU has created this virtuous circle and none of us can leave here tonight without being utterly, utterly impressed."
While some achievers are based in the UK, many flew in from India and other parts of the world. The achievers were first honoured at the British Parliament where they had an opportunity to meet British members of parliament, policy makers and stakeholders in the education sector. These achievers are the ambassadors that strengthen the bond between India and the UK.
"India and the UK are natural collaborators, allies and friends. Where once was a relationship based on exploitation, now rests a partnership of equals, representing democracy, industry and technology," says Virendra Sharma MP from Ealing Southall, who chairs the Indo-British All Party Parliamentary Group, was bestowed with the Living Legend Honour and celebrates 50 years of being in British politics, making him the longest-serving Indian origin elected member of parliament outside India. Sharma hosted the Achievers in the morning at Parliament and is the first Patron of the NISAU.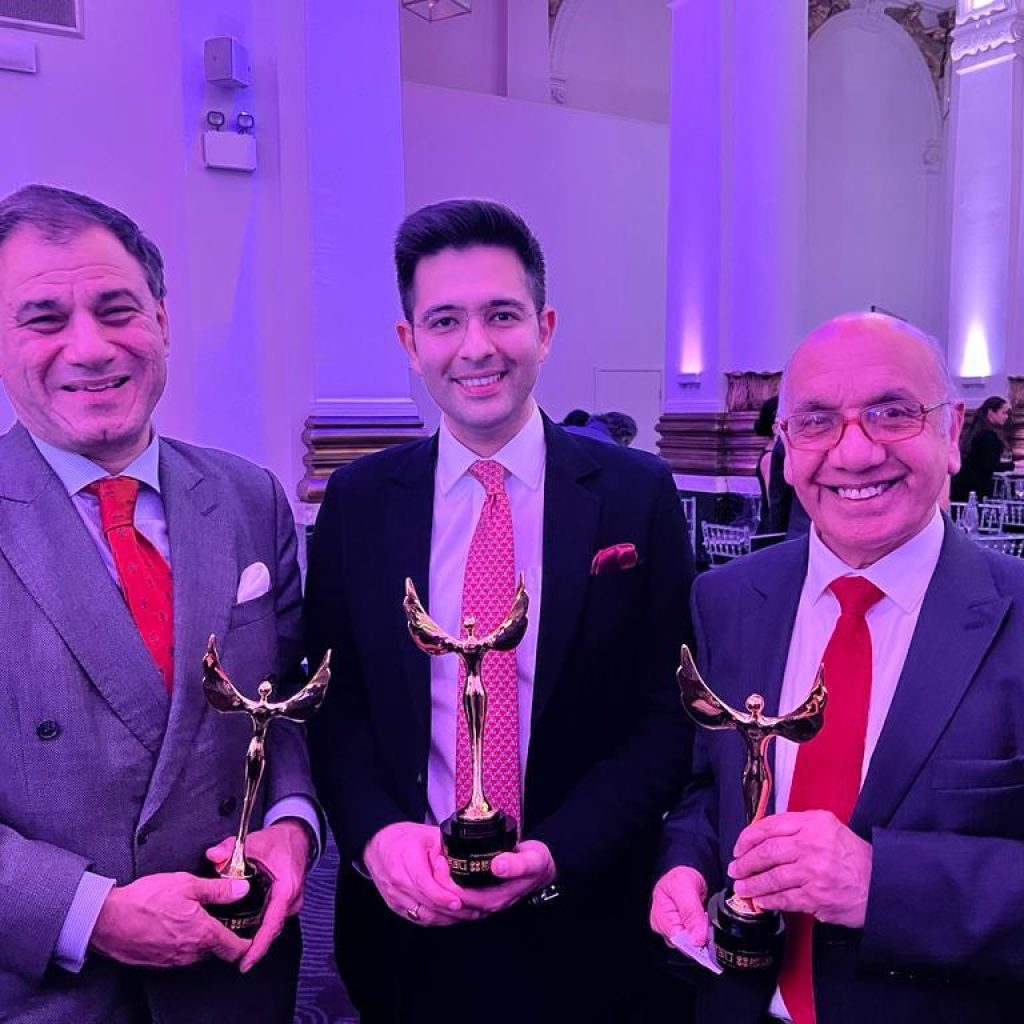 The plethora of nominations went through a rigorous selection process by an eminent jury, shortlisting India's 75 top achievers and 8 outstanding achievers. While the achievers come from diverse fields, one thread that binds them all is their contribution to society.
"A strong theme in the nominations was the evidence of people who were deeply conscious that it was a privilege to have an opportunity to study internationally, and were determined to give back as a result. Many provided ongoing support and mentoring to the next generation of students through alumni networks," says Vivienne Stern MBE, Chief Executive of Universities UK (UUK) that represents over 140 UK universities, and who was a member of the Judging Panel.
Achievers include:
Actor Parineeti Chopra, Outstanding Achiever for Arts, Entertainment & Culture – National Award Winning Actor
Serum Institute of India's CEO Adar Poonawalla, Outstanding Achiever for Business & Entrepreneurship – led the Astrazeneca Vaccine partnership with India
Raghav Chadha, Member of Parliament, Rajya Sabha, Outstanding Achiever for Government & Politics – youngest member of Indian Parliament
Menaka Guruswamy, Senior Advocate at the Supreme Court of India, Outstanding Achiever for Law – featured in Time 100 most influential people in the world for her work spearheading the successful, historic battle for LGBTQ rights in India
Samir Saran, President of Observer Research Foundation, Outstanding Achiever for Policy
Aditi Chauhan, Goalkeeper of the Indian Football Team, Outstanding Achiever for Sports
Prof Somdip Dey, AI researcher, Outstanding Achiever for Education, Science & Innovation
Bhavya Bishnoi, Member of Legislative Assembly Haryana, Achiever for Government & Politics
Barrister Chintan Chandrachud, Achiever for Law
Arjuna Award winner Saurav Ghosal, Achiever for Sports
Film Director Anu Menon, Achiever for Arts, Entertainment and Culture
Actor Parambrata Chatterji, Achiever for Arts, Entertainment and Culture
Actor Soha Ali Khan, Achiever for Arts, Entertainment and Culture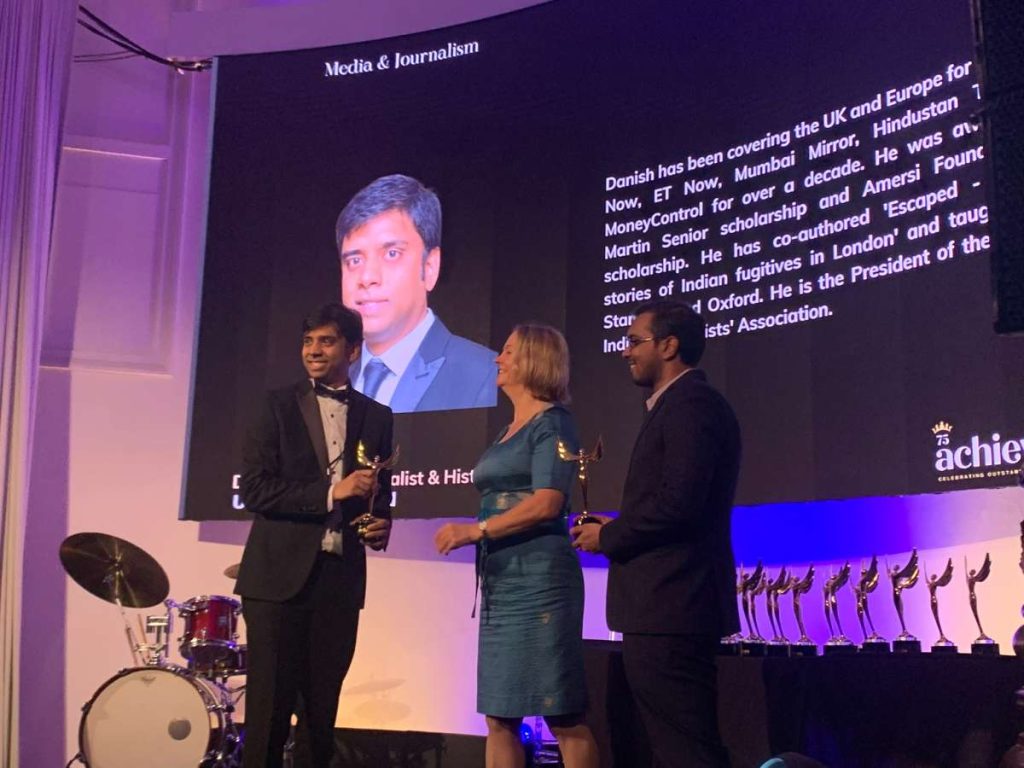 Danish Khan, Excellence in Media & Journalism
Author and Historian Manu Pillai, Achiever for Arts, Entertainment and Culture
Atishi Singh, Member of Legislative Assembly Delhi, Achiever for Government & Politics
Dr Megha Bhargava, Joint Commissioner, Indian Revenue Service, Achiever for Government & Politics
News Director of India Today Group Rahul Kanwal, Achiever for Media and Journalism
Disability Activist Pratishtha Deveshwar, Achiever for Policy and Society
Director of NITI Aayog, Urvashi Prasad, Achiever for Policy and Society
Policy Specialist Kaushal Vidyarthee, Achiever for Government, Politics, Policy and Society
Two-time Ramnath Goenka award-winner, journalist Chaitanya Marpakwar, Achiever for Media and Journalism
NHS Cardiologist and Ealing Hospital Covid Lead, Dr Harmandeep Singh, Achiever for Education, Science & Innovation