Advertisement

With an election expected next year, parties are setting out their solutions to key issues, including a spate of worker strikes, inflation and recession…reports Asian Lite News
Britain's opposition Labour leader Keir Starmer set out plans for five "national missions" on Thursday, including making the economy the fastest growing among the G7, in a challenge to the governing Conservatives ahead of a pivotal year for both parties.
If his party wins power, it should be judged on ensuring growth in every region after 13 years of Conservative governments which have left Britain's problems "deeper, longer lasting and more painful", Starmer said in a speech in Manchester, northern England.
"I will never accept that this country is destined for decline. That our best days belong to the past", Starmer said. "Success is all around us, it just needs direction".
With an election expected next year, Britain's main parties are setting out their solutions to key issues, including a spate of worker strikes, decades-high inflation, a healthcare crisis and a predicted long recession.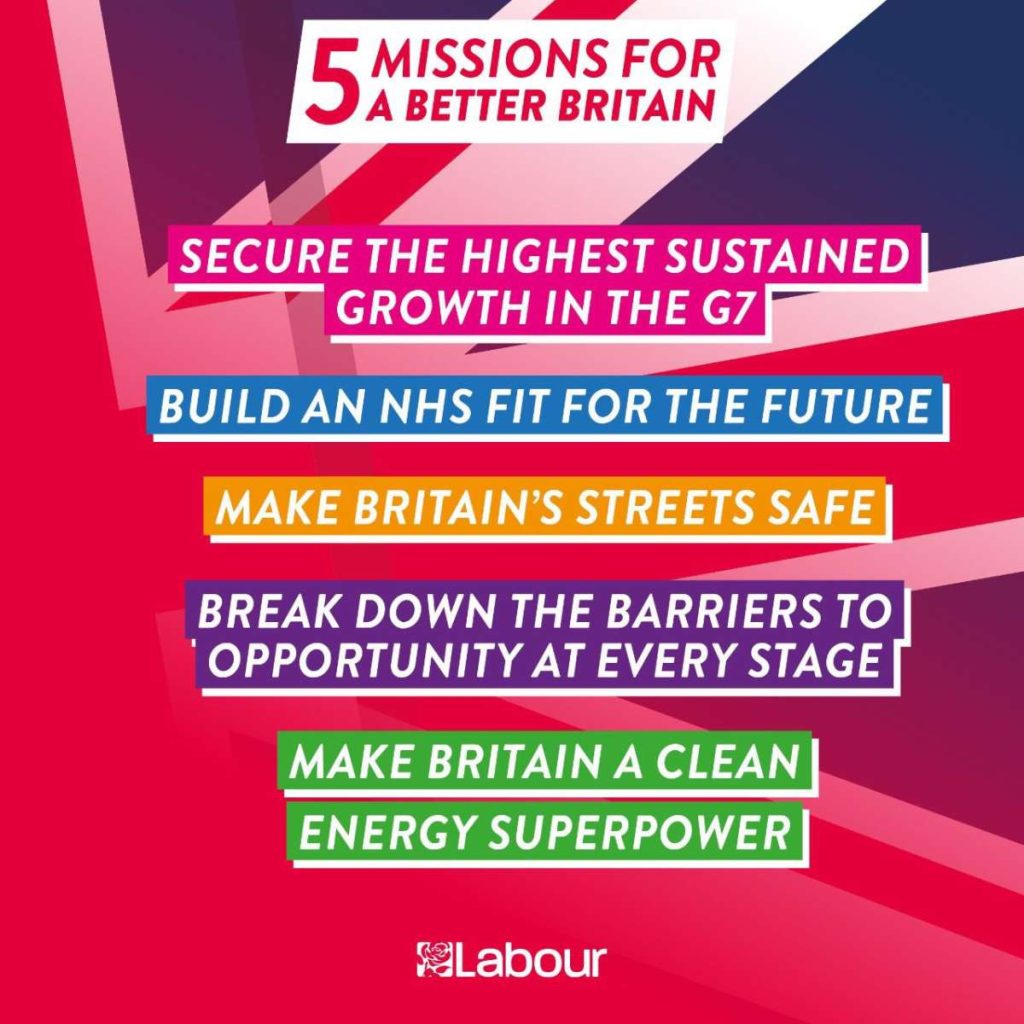 Economic growth
"By the end of Labour's first term, we will deliver the highest sustained growth in the G7. Our mission on growth comes with a second yardstick. It must be powered by good jobs and stronger productivity in every part of the country," he announced.
Healthcare
The leader of the opposition said his party would: "Build an NHS fit for the future by reforming health and care services to speed up treatment, harness life sciences and technology, reduce preventable illnesses and cut health inequalities."
Safe streets
"(We will) make Britain's street safe by reforming the police and criminal justice system, preventing crime early, tackling violence against women and girls and stopping criminals getting away without punishment," Starmer promised.
Removing barriers
The Labour Party chief said he would: "Break down the barriers to opportunity at every stage, for every child, by reforming childcare, reforming education, raising standards everywhere and preparing young people for work and for life."
Green energy
Keir Starmer said and his party would "turn Britain into a green growth superpower" by investing in clean hydrogen power and radically expanding offshore wind power.
Starmer's pledges follow Prime Minister Rishi Sunak's own five plans he set out last month vowing to halve inflation; grow the economy; reduce the national debt; drive down health waiting lists; and pass new laws to stop migrants arriving on small boats.
Labour said Sunak's promises were the "height of sticking-plaster politics", designed only to get the government through the next few months.
Speaking to Labour Party members at the headquarters of the Co-operative Group, which is owned by its members, leader Starmer instead pledged he would provide "a long-term plan to unlock Britain's pride and purpose".
While Labour enjoys an opinion poll lead of about 20 points over Sunak's Conservatives, it is still trying to cement its position as the most trusted by voters on the economy, having only recently overtaken the governing party on the issue.
Starmer said that he wanted a different approach to government – neither state control nor pure free markets – which would draw on investment and expertise from both the public and private sector.
History suggests that Starmer's goal to have the fastest sustained economic growth in the G7 will be a challenge. On a rolling five-year basis, US economic growth has outpaced Britain's almost constantly over the last 60 years.
Britain's economy in the fourth quarter was still 0.8 per cent smaller than its pre-pandemic level, in contrast to the rest of the Group of Seven advanced economies which are now above their pre-pandemic size.
Starmer challenged the prime minister to call a general election so that voters can deliver their verdict on their respective plans.
If anyone wants to know who the public prefers "then there is a very good way to find out", Starmer said. "I will put my five long-term missions for national renewal, a decade of national renewal, up against Rishi Sunak's five promises to clean up his own mess".
Sir Keir also vowed to fix the Brexit deal and "reset our relationship with the EU".
Taking aim at the Conservatives, in particular former prime minister Liz Truss and her supporters, he stressed the need for economic stability and said "they still don't understand that chaos has a cost".
"The noises you hear from them are a primal scream, the last gasp of a party caught between a rock of stagnation and the hard place of its economic recklessness."
Sir Keir's economic pledge would mean the UK outstripping the US, Germany, France, Italy, Canada and Japan in terms of growth, something he conceded "is going to be tough".
Over the coming months the party will set out a series of "measurable ambitions" for each mission at events around the country – much like the way Prime Minister Sunak has been talking about his priorities at his 'PM connect' gatherings.