Advertisement

The Theme of the 17th PBD, conducted during January 08-10 was "Diaspora: Reliable Partners for India's Progress in Amrit Kaal. The theme of the 16th PBD was contributing to Atmanirbhar Bharat. The PBD was also observed virtually on Jan 08 on the theme "Bringing together Young Achievers from India and India Diaspora", anchored by Ministry of Youth Affairs and Sports
Prime Minister Narendra Modi inaugurated the 17th Pravasi Bharatiya Divas (PBD) in Indore on January 09. He assured that India will "nurture and protect" its Diaspora spread across the world and urged members of the Diaspora to become representatives of "India's heritage".
He termed every overseas Indian "Bharatvanshi," and promised the government's support for their well-being- "Wherever you are, the country is for your interests and expectations."
India is aware and sincere about its role towards the Indian Diaspora as it has a big Diaspora due to historical and cultural connections with many countries with large populations of Indian descent. In many other countries, Indian Diaspora is contributing as skilled and semi-skilled human resources retaining its Indian citizenship.
According to a Ministry of External Affairs report, there are 32 million Non[1]resident Indians (NRIs) and Overseas Citizens of India (OCIs) residing outside India. Overseas Indians comprise the world's largest overseas Diaspora. Every year about 2.5 million Indians migrate overseas, which is the highest annual number of migrants in the world. Also, a large Indian Diaspora with historical connections lives in Asian, African and Latin American countries is described as Persons of Indian Origin (PIOs). PIOs are foreign nationals of Indian descent.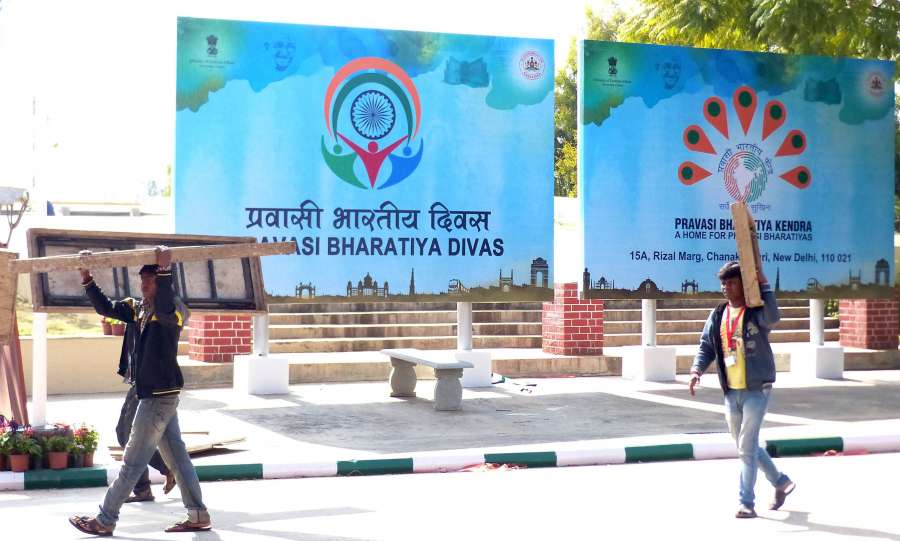 If a break up of Indian Diaspora country-wise is seen the top destinations include the United States, UAE, Malaysia, Saudi Arabia, Myanmar, United Kingdom, Canada, Sri Lanka, South Africa and Kuwait. There are many Indo-pacific countries such as Mauritius, Singapore, Fiji and Atlantic coast countries like Surinam and Guyana where a large population of Indian descent lives. Indian government values all the constituents of its Diaspora no matter whether they live in advanced and large countries but also in developing and small countries.
As a mark of respect and honour to Surinam and Guyana where a large chunk of the population has Indian descent, the 17th PBD invited their state heads as Chief Guest and Guest of Honour.
The heads of two Latin American countries, viz., Guyana and Surinam had attended PBD and had bilateral meetings with Narendra Modi, the Prime Minister of India on the sidelines of Pravasi Bharatiya Divas (PBD) at Indore on January 09. Surinamese President Chandrikapersad Santoshi and President of Guyana Mohammad Irfaan Ali had come to India to attend PBD as the Chief Guest and Special Guest of Honour.
According to the Ministry of External Affairs (MEA) the bilateral meeting of the heads of two Latin American countries with the Prime Minister of India was mainly focused on cooperation in areas of mutual interest including hydrocarbons, defence and maritime security. Both leaders appreciated India for its helping hand in times of difficulty. The two leaders also sought cooperation in digital initiatives and IeT capacity building.
Surinam's leader appreciated the restructuring by India of Surinam's debt arising from Lines of Credit availed by Surinam. President of Guyana, Dr. Irfan Ali landed the role played by India during the Pandemic by sending vaccines and medicines to various countries. He said, "when globalisation failed during the Pandemic, (Indian Prime Minister) Mr. Modi showed that it exists."
He also praised Mr. Modi's call of "Sabka Saath, Sabka Vikas, Sabka Vishwash," saying this would ensure good governance and progress of a country.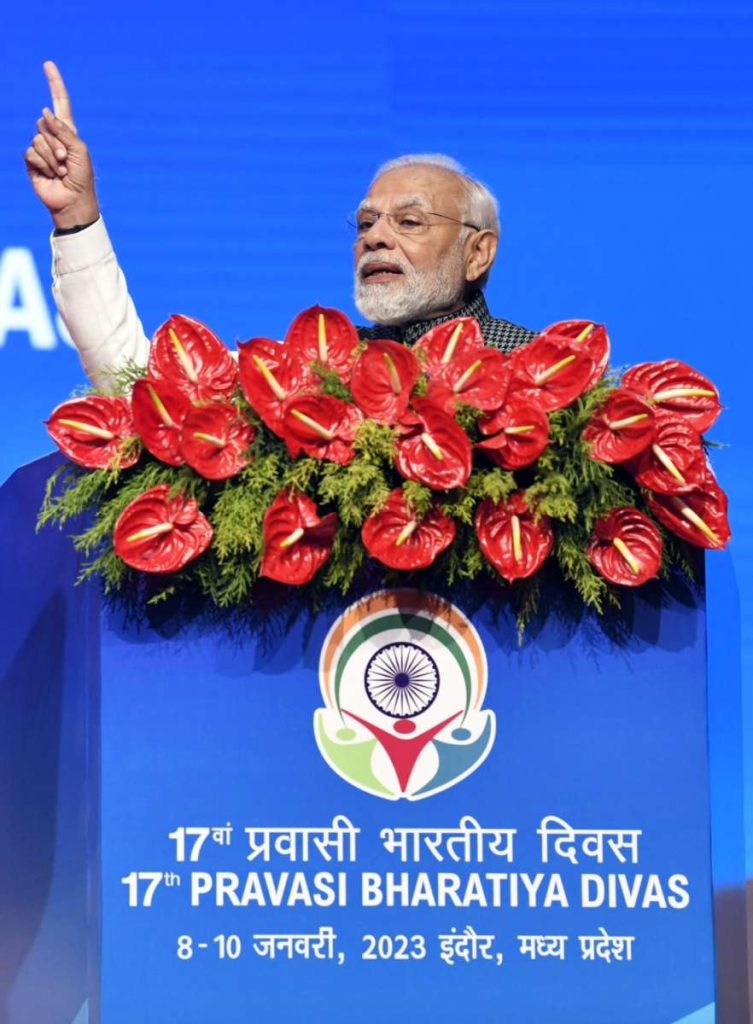 Going a step further President of Guyana Mr. Ali discussed cooperation in energy, infrastructure development, pharmaceuticals, healthcare and technology. India has a long historical and cultural connection with Surinam and Guyana.
Both the leaders recalled the 180 years old historical bonds of friendship between the people of the two countries and agreed to deepen them further. Indo-Surinamese are the largest ethnic group in Surinam, forming 27.4% of the total population. According to the Surinamese Census 2012, the number of Surinamese citizens of Indian origin is 148,443. Since 1992, India has extended several Lines of Credit (LOC) to Surinam, mainly for infrastructure development in power and water supply sectors, besides the supply of machines and equipment from time to time.
Guyana has also got historical and cultural connections with India. There are approximately 327,000 Guyanese citizens who are of Indian descent. India and Guyana have deep economic relations. India has offered credit facilities to Guyana in agriculture and information technology besides sharing development experiences, mainly routed through Indian Technical and Economic Cooperation (ITEC) under which forty scholarships are granted every year in various courses.
The aim to celebrate PBD is to increase the engagement of the overseas Indian community with the Government of India and also focus on reconnecting them with their roots. Since, 2003, PBD conventions are being held every year. Its format has been revised since 2015 to celebrate the PBD once every two years and to hold theme-based PBD conferences during the intervening period with participants from overseas Diaspora experts, policymakers and stakeholders.
The Theme of the 17th PBD, conducted during January 08-10 was "Diaspora: Reliable Partners for India's Progress in Amrit Kaal. The theme of the 16th PBD was contributing to Atmanirbhar Bharat. The PBD was also observed virtually on Jan 08 on the theme "Bringing together Young Achievers from India and India Diaspora", anchored by the Ministry of Youth Affairs and Sports.
The Special Guest for the event was Priyanka Radhakrishnan, Minister for the Community Voluntary Sector of New Zealand .
The outreach and appeal of PBD is increasing with each convention. The Diaspora is coming forward to come together to celebrate India's pride and glory and to contribute in India's great journey as a global leader.