Advertisement

Pakistan is facing intense political turmoil since former prime minister Imran Khan was ousted a year ago in a parliamentary vote of no-confidence…reports Asian Lite News
Speaking about Pakistan's increasing instability, the Chinese foreign minister told it to overcome political differences to pave the way for economic progress, Voice of America (VOA) news reported.
China's foreign minister, Qin Gang, was in Pakistan on Saturday for the fourth Pakistan-China Foreign Ministers' Strategic Dialogue held in Islamabad. It was Qin's maiden visit to the country since becoming Beijing's top diplomat. "We sincerely hope the political forces in Pakistan will build consensus, uphold stability and more effectively address domestic and external challenges so it can focus on growing the economy," Qin said, addressing a press briefing alongside his Pakistani counterpart, Bilawal Bhutto Zardari.
Pakistan is facing intense political turmoil since former prime minister Imran Khan was ousted a year ago in a parliamentary vote of no-confidence. A lack of consensus between Khan's party and the 13-party ruling alliance led by Prime Minister Shehbaz Sharif regarding the election schedule has plunged the country into a political and constitutional crisis.
The country also is mired in a crippling financial crisis. To help Pakistan revive a stalled bailout deal with the International Monetary Fund (IMF) and avoid default, China has provided relief by rolling over debt and parking funds there to boost dangerously low foreign exchange reserves.
Qin said, "China will continue to do its best to support Pakistan's foreign exchange and financial stability."
Pakistan's former envoy to the UK, US and UN, Maleeha Lodhi, told VOA her country would have defaulted without China coming to the rescue, VOA wrote.
"It was the Chinese decision to roll over even commercial loans to Pakistan that has helped keep Pakistan financially afloat. So, China's help has been extremely vital to help Pakistan, at least keep its [foreign exchange] reserves," said Lodhi.
China is also Pakistan's single biggest lender, though, with the South Asian nation owing one-third of its external debt to Beijing. That debt has skyrocketed since the launch of the China-Pakistan Economic Corridor 10 years ago.
Known as CPEC, the multi-billion-dollar infrastructure and development project is part of China's global Belt and Road Initiative (BRI).
By not providing large-scale debt forgiveness to Pakistan, Beijing is telling Pakistan to manage its affairs better.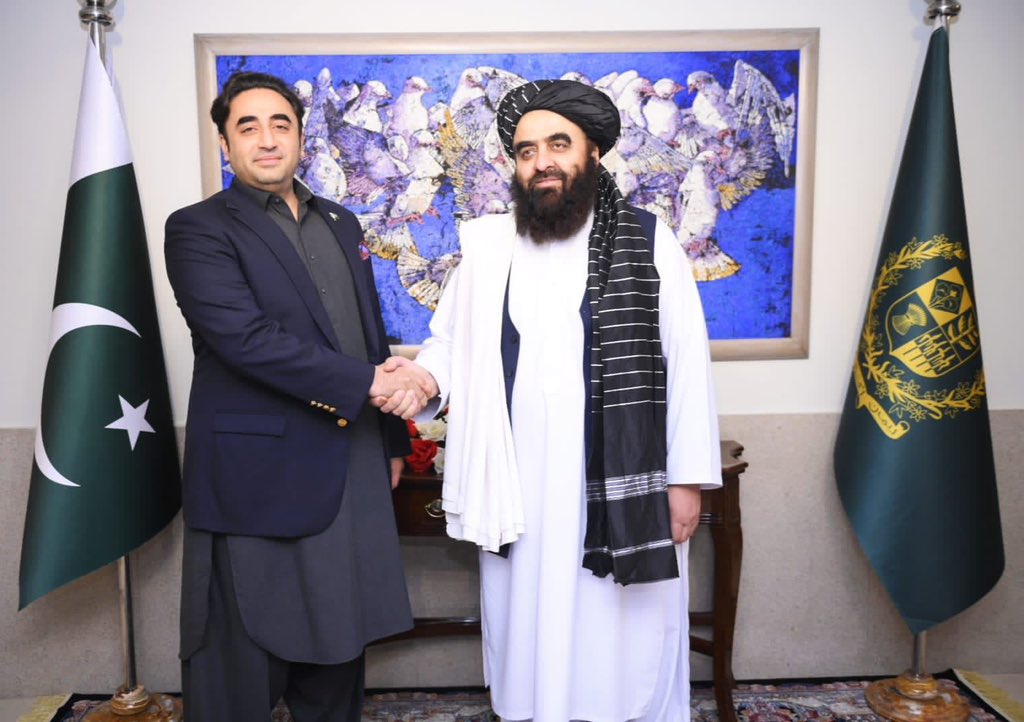 Both foreign ministers rejected the perception that Pakistan is a victim of "debt-trap diplomacy" and the assertions that China targets struggling economies through unsustainable loans to pursue its geo-strategic goals.
"There is no basis whatsoever in the so-called debt sustainability, debt trap … concerns that are propagated. Chinese investment and financial support … is in keeping with the traditions of our unique, time-tested friendship" Bilawal Bhutto Zardari told journalists.
Along with Pakistan's economic and political instability, the safety of its citizens is a major concern for China.
Despite multi-layered security guarding Chinese projects in Pakistan, including a special military unit, Chinese workers have faced lethal attacks from militant groups that oppose the Pakistani state or see Chinese projects as an extension of what they regard as the state's encroachment of their resources, VOA reported.
Qin said his Pakistani counterpart had shared "the meticulous arrangements by Pakistan to protect China's citizens, institutions and projects in Pakistan. Our two sides agreed to hunt down and bring to justice the perpetrators of terrorist attacks targeting Chinese."
Last November, a Pakistani counterterrorism court gave death sentences to two men accused of killing 13 people, including nine Chinese engineers working on a hydropower project, in a suicide attack in July 2021.
Qin's visit to Pakistan comes on the heels of the Pakistani army chief's visit to Beijing just over a week ago and a bilateral political consultation there in March. The two heads of state met in China last November.
A recent Washington Post report on US intelligence leaks revealed Pakistani officials sought to distance the country from the US on key issues to avoid hurting its relationship with China. (ANI)