Advertisement

During the first three months of this year, the Dubai Chamber of Digital Economy cooperated with relevant government entities to attract 30 startups…reports Asian Lite News
Dubai Chamber of Digital Economy, one of the three chambers operating under Dubai Chambers, has unveiled details of its key achievements during the first quarter of 2023. The announcement underlines the chamber's commitment to boosting the digital economy in the emirate and supporting the ambitious Dubai Economic Agenda D33.
During the first three months of this year, the Dubai Chamber of Digital Economy cooperated with relevant government entities to attract 30 startups with strong potential in the technology sector to develop the digital economy and enhance Dubai's appeal to tech investors.
The chamber has also launched a new initiative to enhance communication with key stakeholders in the digital business community and organised a series of 10 interactive workshops for the private sector focusing on specific areas of the digital economy.
The workshops explored the targeted sectors' challenges and helped develop appropriate solutions to support companies in improving their performance and competitiveness.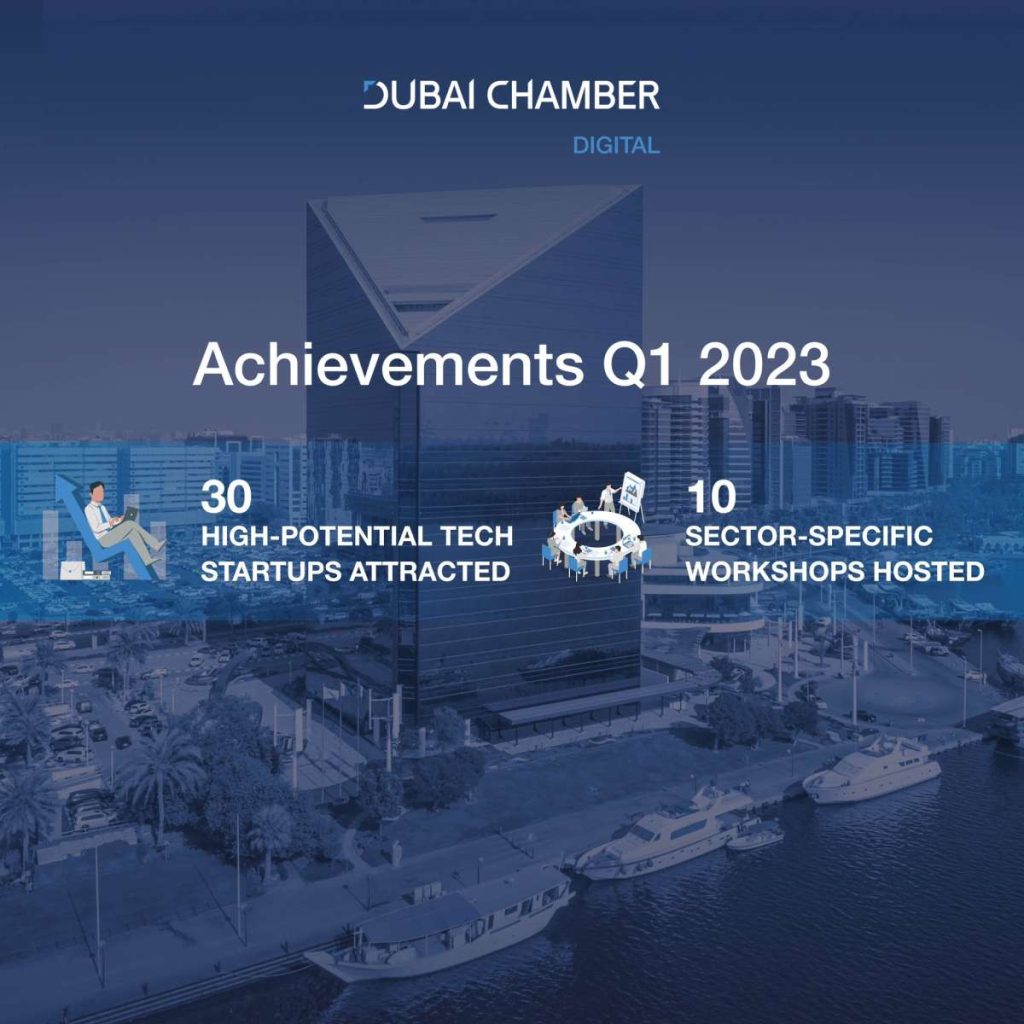 Omar Sultan Al Olama, Minister of State for Artificial Intelligence, Digital Economy, and Remote Work Applications and Chairman of Dubai Chamber of Digital Economy, confirmed that realising the vision of His Highness Sheikh Mohammed bin Rashid Al Maktoum, Vice President, Prime Minister and Ruler of Dubai, for the emirate to be a global capital of the digital economy remains a top priority for the chamber both now and in the future and that the private sector is a key player in achieving this objective.
"A main focus for the UAE is strengthening constructive dialogue with key segments of Dubai's digital business community to determine opportunities, challenges, and recommendations," Al Olama stated.
He added, "We aim to chart a roadmap for strengthening the emirate's digital infrastructure, develop legislation that supports the growth of tech companies, and enhance the digital economy's competitiveness and contribution to Dubai's overall economic growth."
The series of interactive workshops covered a wide range of digital economy sectors, including 3D printing, social media, venture capital and business incubators, e-commerce, video games, the gig economy, financial technology (FinTech), the metaverse, cryptocurrencies, health tech, artificial intelligence and software development.
Dubai Chamber of Digital Economy is committed to supporting Dubai's digital transformation and elevating the emirate's position as a global capital of the digital economy. The chamber's ambitious strategy aims to attract 300 new digital startups in the coming years. As part of these efforts, the chamber will host the Expand North Star Summit in October.
The event, the region's largest gathering of startups, will showcase growth opportunities emerging in Dubai's digital economy and serve as a strategic catalyst to expand the future of the digital economy.
Advertisement