Advertisement

The primary agenda of the 3rd ETWG meeting was the detailed discussions on the draft Ministerial Communique and entailed constructive discussions and deliberations on priority areas. Member countries presented their respective viewpoints. There has been consensus on the proposals in the areas of energy transitions under India's G20 Presidency … reports Anasudhin Azeez from New Delhi
Global leaders gave consensus on giving high priority to ensure universal access to modern and sustainable energy to all in the recently concluded 3rd Energy Transitions Working Group Meeting (ETWG) under India's G20 Presidency.
The primary agenda of the 3rd ETWG meeting was the detailed discussions on the draft Ministerial Communique and entailed constructive discussions and deliberations on priority areas. Member countries presented their respective viewpoints. There has been consensus on the proposals in the areas of energy transitions under India's G20 Presidency.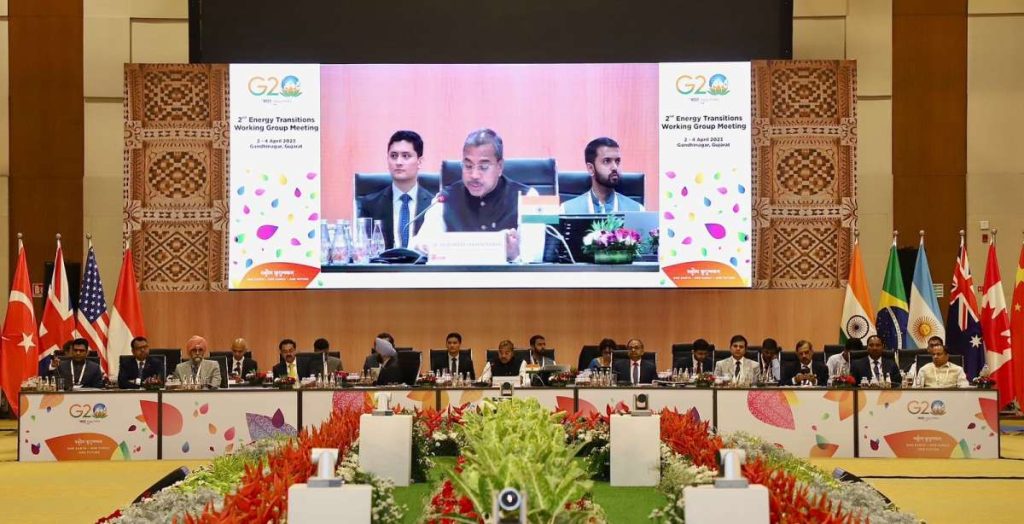 Most notable is the consensus on giving high priority to ensure universal access to modern and sustainable energy to all. There are six priority areas outlined under India's G20 Presidency. These priority areas reflect India's focus on various aspects of energy transition and building global cooperation towards sustainable and clean energy development.
The six priority areas are (i) Energy transition through addressing technology gaps (ii) Low-cost financing for energy transition (iii) Energy security and diversified supply chains (iv) Energy efficiency, industrial low carbon transitions and responsible consumption, (v) Fuels for Future (3F) and (vi) Universal access to clean energy and just, affordable, and inclusive energy transition pathway.
The discussions during the meeting include ensuring providing access to finance to countries that would enable the scale-up and implementation of critical and emerging technologies such as battery storage, green hydrogen, offshore wind, Bioenergy, and Carbon Capture Utilisation. The seminar deliberated upon challenges faced in Just Transition in the coal sector, primarily in coal-dependent economies.
The discussions covered lessons learnt from various countries in different aspects, namely, Institutional Governance, Repurposing land and infrastructural assets, enabling sharing of knowledge of successful initiatives taken worldwide and also for facilitating technological and financial assistance through collaborations.
It also focused on ways to accelerate development and deployment of biofuels, including new technologies through strengthening the alliance on collaboration and advancements in biofuel including creating a Global Biofuel Alliance. A seminar on SMRs (Small Module Reactors) for Clean Energy Transition brought together various stakeholders – industry, policymakers, public sector enterprises, private sector companies, regulatory bodies, and international agencies to deliberate upon the key issues with respect to SMRs development and deployment.
The three-days' meeting witnessed participation of over 100 delegates from G20 member countries, special invitee countries and International Organisations such as World Bank, Asian Development Bank (ADB), World Economic Forum, United Nations Development Program (UNDP), Clean Energy Ministerial (CEM), International Energy Agency (IEA), Organisation of the Petroleum Exporting Countries (OPEC), Economic Research Institute for ASEAN and East Asia (ERIA), International Solar Alliance (ISA), International Renewable Energy Agency (IRENA), Sustainable Energy for All (SEforALL), United Nations Economic and Social Commission for Asia and the Pacific (UNESCAP), United Nations International Development Organization (UNIDO), and United Nations Environment Program (UNEP).
The discussions and progress on draft Ministerial Communique will be taken forward in the 4th Energy Transitions Working Group Meeting, scheduled to take place in Goa from July 19-20, 2023.