Advertisement

The Global Media Congress this year witnesses a remarkable 33% surge, with 257 brands and companies exhibiting, a significant leap from the inaugural edition. Participation from 172 countries, a 22% increase, includes 31 nations making their debut….reports Asian Lite News
The second edition of the Global Media Congress starts today at the Abu Dhabi National Exhibition Centre – ADNEC.
Organised by the Emirates News Agency (WAM) and Capital Events of the ADNEC Group and taking place over three days, the first morning will open with a Keynote Speech from Sheikh Nahyan bin Mubarak Al Nahyan, Minister of Tolerance and Coexistence. In keeping with Day One's focus on environmental media in conjunction with COP28, a panel session with young influencers will discuss content creation to address climate challenges and an international media discussion on sensitising audiences to climate change. The important role of think tanks in climate action will be covered in a further panel discussion.
Mohammed Jalal Al Rayssi, Director-General of Emirates News Agency (WAM) and Chairman of the Higher Organising Committee for the Global Media Congress, stated, "We are very proud to welcome today decision makers, major corporations, thought leaders, and innovators to an event that is already an essential global forum for the media sector. The Global Media Congress is playing a decisive role in assembling media leaders to tackle the key issues faced by the industry. In pooling the drive and ability the diverse participants, the Congress is driving the sector's growth and evolution and highlighting its immense potential to create game-changing solutions and open up new business horizons."
Elsewhere at the Congress, the Create Stage will host a session on the evolving role of creators in digital marketing, while the Educate Stage features a series of interactive presentations on subjects ranging from content evaluation, format adoptions and media futures to key content delivery technologies, immersive technology, virtual production and co-productions. Workshops will delve into sustainability and climate media, the power of youth storytelling, subscription strategies and ChatGPT among other topics.
Humaid Matar Al Dhaheri, Managing Director and Group CEO of ADNEC Group, said, "This vibrant and productive opening day shows the power of the Global Media Congress to enable major global corporations and businesses to connect with thought leaders, explore the latest trends, and collaborate with the best of our emerging innovators and influencers to determine the global media sector's future. With the media being a key component of tomorrow's knowledge-based and sustainable economies, ADNOC Group is proud to play its part in positioning Abu Dhabi as a global nexus for media creativity and a supportive ecosystem for creatives and businesses seeking to realise their innovative potential."
The number of exhibiting companies and brands participating in this year's Global Media Congress has increased by 33 percent to reach 257 brands compared to the first edition of Congress last year. The number of countries participating in the event has also increased by 22 percent to reach 172 countries, with this year's edition seeing the participation of 31 countries for the first time. In addition, the total surface area covered by the exhibition has increased by 78 percent this year to amount to more than 32,000 square meters.
The current Congress will feature an event dedicated to the largest buyers in the media sector, with over 400 major buyers from all over the world expected to attend. Also, more than 77 speakers representing media industry leaders from 18 countries will participate in the conference sessions held over the next three days. 36 main sessions will address several key topics further topics in addition to environmental media and sustainability; these being innovation and the latest technologies in the media sector, youth participation in the future of the media, and media work training and development.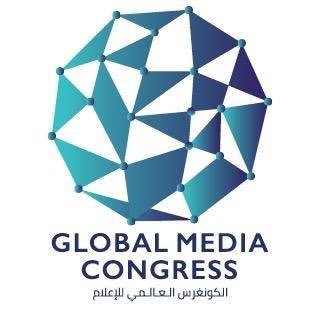 Five accompanying features – some being held for the first time – will also be hosted at the Congress, with the most prominent being the innovation and startups platform hosting more than 24 startups and with national companies constituting 36 percent of the companies attending. A second platform will be dedicated to training and education, with more than 30 training workshops including up to 40 global trainees in each meeting under the supervision of 25 experts and specialised global media institutions.
The third feature is the Future Media Labs, which will host elite-level discussions by sector executives, policymakers, and entrepreneurs from around the world in six closed sessions. A fourth feature will be dedicated to influencer innovation through a creative platform for content developers enabling them to communicate, collaborate, and share their experiences and goals with emerging influencers through 21 dialogue sessions involving 19 speakers. A fifth feature will involve 4 new media sessions and round table discussions being held with 32 experts and speakers to explore sector challenges and opportunities in the presence of a prominent panel of innovators and decision-makers from various global media entities.
Comprehensive and in-depth coverage of the Global Media Congress will be distributed worldwide by nearly 800 media professionals drawn from 58 countries, an increase of 8 percent compared to last year.
Advertisement