Advertisement

The Canadian foreign minister also warned China against supporting Russia
External Affairs Minister S Jaishankar on Saturday called on the Foreign minister of Canada, Melanie Joly, and held discussions on the G20 agenda and global developments.
"Wide-ranging conversation with FM @melaniejoly of Canada. Discussed the G20 agenda and global developments. Bilateral issues including trade, connectivity and people-to-people ties," tweeted Jaishankar. Earlier, at an event in Delhi, Joly took up the issue of the Russia-Ukraine war and called for the isolation of Moscow.
"The paralysis that is affecting particularly the UN Security Council is linked to the war in Ukraine. The more countries send a clear message to Russia, the more we will be able to isolate Russia politically and diplomatically," said Joly.
She also warned China against supporting Russia, saying, "We should create a movement to get Russia out of Ukraine ultimately and to send a message to China that it is important that ultimately it does not support Russia."
Meanwhile, the Quadrilateral Security Dialogue (Quad) on Friday reiterated its support for the UN Charter, including the expansion of permanent and non-permanent seats of the 15-member world body.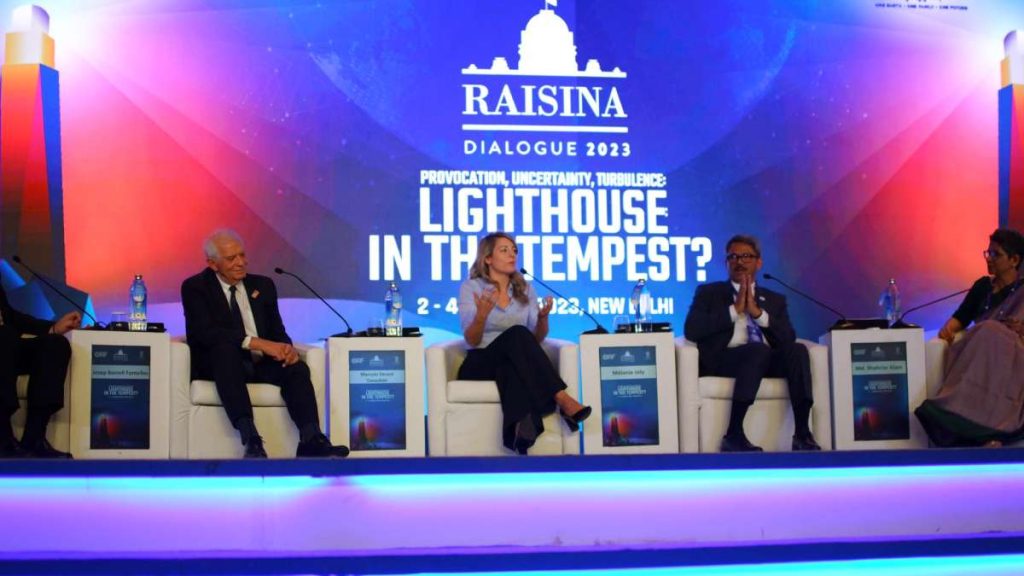 The Quad Foreign Ministers carried out a comprehensive review of various issues, ranging from Indo-Pacific to ASEAN in a meeting presided by External Affairs Minister S Jaishankar. Australian Foreign Minister Penny Wong, Japanese Yoshimasa Hayashi and US State Department Secretary Antony Blinken attended the meeting held on the sidelines of the Raisina Dialogue 2023.
Talking about the reforms in United Nations Security Council, the Quad foreign ministers said in a joint statement, "We concur that the rules-based international order is anchored in international law, including the UN Charter, and the principles of sovereignty, political independence, and territorial integrity of all states. We are committed to cooperating to address attempts to unilaterally subvert the UN and international system, in consultation with our partners and through multilateral and international platforms."
"We reiterate our unwavering support for the UN Charter, including its three pillars, and our steadfast commitment to strengthening the UN and international system through a comprehensive reform agenda, including through expansion in permanent and non-permanent seats of the UN Security Council. In this regard, we commit to active and constructive engagement in the Inter-Governmental Negotiations (IGN) process on Security Council Reforms with an overall objective of making the UN Security Council more effective, representative, and credible," it added.
In September last year, a joint statement was issued following a meeting of Quad foreign ministers in New York on the sidelines of the UN General Assembly committed to expanding the UNSC. (ANI)
ALSO READ: Abbott: China uses trade as a weapon