Advertisement

Macron arrived in Colombo on Friday following which he held talks with his Sri Lankan counterpart Ranil Wickremesinghe, reports Susitha Fernando
Emmanuel Macron, the first French President to visit Sri Lanka, has promised robust backing for the ongoing efforts of the island nation to restructure its debt, thereby aiding its recovery from the most severe economic downturn it has ever faced.
As part of his wider visit to the South Pacific Region, Macron arrived in Colombo on Friday following which he held talks with his Sri Lankan counterpart Ranil Wickremesinghe.
"President Macron reaffirmed France's willingness and commitment to supporting Sri Lanka in its economic recovery. As the fourth-largest creditor to Sri Lanka, France pledged its assistance in the debt restructuring process, aiming for a positive outcome for the country," the President's Media Division (PMD) said in a statement.
In a Twitter post following the discussions, the French leader said: "Sri Lanka and France are two nations in Indian Ocean sharing the same goal: an open, inclusive and prosper indo-pacific. In Colombo we confirmed it: strong as in our 75 years of diplomatic relations, we would open a new era to our partnership,".
During the discussion between the two leaders which lasted about an hour, Wickremesinghe expressed admiration for France's significant role in global affairs, particularly in areas such as climate mitigation, global debt restructuring, and matters related to the Indo-Pacific region.
The discussions focused on strengthening cooperation in various sectors, including politics, economics, tourism, climate change, sustainable development, and maritime activities.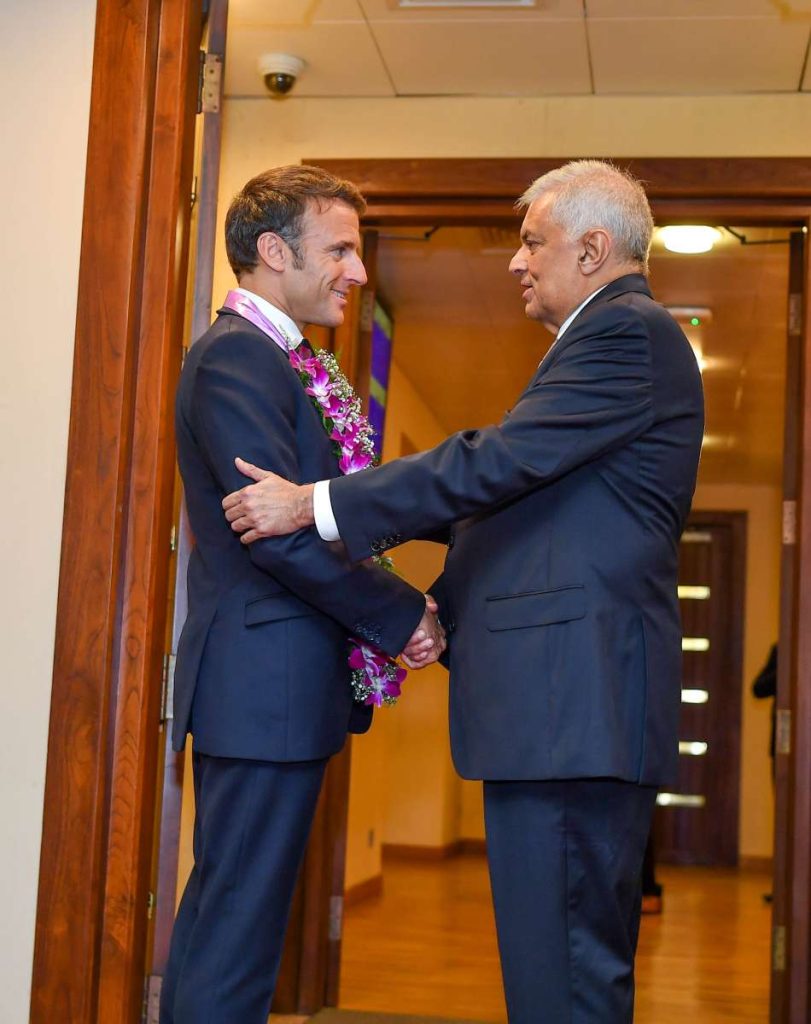 Marking the 75th anniversary of diplomatic relations between the two nations, several specific areas for further collaboration were identified which included the establishment of a school for maritime safety and security; opening of a permanent office for the French Agency for Development (AFD) in Sri Lanka; initiation of high-level diplomatic dialogues;cooperation in the education sector; and the enhancement of efforts to combat human trafficking in the maritime safety and security sector, the PMD added.
"Additionally, both leaders exchanged views on topics of regional and multilateral interest in the current global context. President Macron expressed keen interest in collaborating with Sri Lanka during its upcoming chairmanship of the Indian Ocean Rim Association (IORA), of which France is a member. In turn, President Wickremesinghe showed interest in the Indian Ocean Commission, where France actively participates," it added.
In April, France together with the two other creditors of Sri Lanka — India and Japan — took the initiative to launch the debt restructuring negotiation process.
In May 17, countries, including the Paris Club Creditors, co-chaired by India, Japan and France, formed an official creditor committee which included the to discuss Sri Lanka's request for a debt treatment.
The French delegation accompanying President Macron included the Minister for Europe and Foreign Affairs Catherine Colonna, Ambassador of France in Sri Lanka and Maldives Jean-Francoise Pactet and Head of Asia Department of the French Ministry of Foreign Affairs Benoit Guidee.
ALSO READ: Lankan envoy thanks Modi for financial aid during crisis
Advertisement