Advertisement

The issue had caused diplomatic tensions between the two nations, which have historically stood as strong allies against Russia since the invasion of Kyiv by Moscow last year….reports Asian Lite News
Poland's Prime Minister Mateusz Morawiecki has told Ukrainian President Volodymyr Zelenskyy to never "insult" Poles again, taking a measured approach to address the recent grain import dispute with Ukraine, Al Jazeera reported.
The issue had caused diplomatic tensions between the two nations, which have historically stood as strong allies against Russia since the invasion of Kyiv by Moscow last year.
The controversy began when Ukrainian President Zelenskyy, in his address to the United Nations General Assembly in New York, emphasised Ukraine's commitment to preserving land routes for grain exports in the face of a Russian-imposed Black Sea blockade. While advocating for Ukraine's grain exports, Zelenskyy expressed frustration with what he termed "political theatre" surrounding grain imports, suggesting that it was inadvertently aiding Moscow's agenda, according to Al Jazeera.
Poland's response was to unilaterally extend a ban on Ukrainian grain imports, a move that diverged from a European Union ruling. This decision escalated tensions between Warsaw and Kyiv.
Prime Minister Mateusz Morawiecki conveyed his concerns, stating at an election rally, "I … want to tell President Zelenskyy never to insult Poles again, as he did recently during his speech at the UN," Al Jazeera reported citing State-run news agency PAP.
In contrast, Poland's President Andrzej Duda attempted to defuse the situation, emphasising that the grain import dispute should not significantly impact their overall positive bilateral relations. He expressed confidence that the matter could be resolved through direct dialogue.
Nonetheless, tensions persisted, with PM Morawiecki even suggesting that Poland would suspend the shipment of weapons to Ukraine due to the grain dispute. He explained, "We are no longer transferring weapons to Ukraine because we are now arming Poland with more modern weapons," as reported by local media.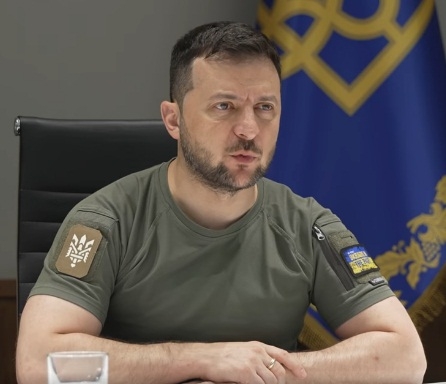 The timing of this dispute is sensitive for Poland, as parliamentary elections are slated for October 15. Morawiecki's ruling nationalist Law and Justice (PiS) party has faced criticism from the far-right for its perceived subservience to Kyiv, as reported by Al Jazeera.
Poland's Foreign Minister Zbigniew Rau underscored the country's desire to see a strong Ukrainian state emerge from the ongoing conflict, with a thriving economy. Poland also pledged continued support for Ukraine's aspirations to join NATO and the European Union. However, Rau acknowledged a shift in Polish public opinion regarding the bilateral relationship, suggesting that repairing the atmosphere would necessitate significant diplomatic efforts.
Slovakia, Poland, and Hungary have also imposed restrictions on Ukrainian grain imports, citing concerns that inexpensive Ukrainian agricultural products intended for transit and export were negatively impacting their own farmers.
President Zelenskyy, while speaking in Canada, did not directly address the tension with Poland but emphasized the importance of international support for Ukraine. He warned that weakening assistance to Ukraine would strengthen Russia, highlighting the need to defend freedom, democracy, and human rights.
The Kremlin has been closely monitoring the situation, predicting increased friction between Kyiv and Warsaw as the grain dispute escalates. Kremlin spokesman Dmitry Peskov referred to Kyiv and Warsaw as "the main" centers of Russophobia, Al Jazeera reported. (ANI)
Advertisement