Advertisement

Sharif, who is on a two-day official visit to the UAE from Thursday to Friday at the invitation of Rashid, stressed the importance of intensifying ties…reports Asian Lite News
Pakistani Prime Minister Shahbaz Sharif held talks on enhancing existing bilateral relations at all levels with Vice President and Prime Minister of the United Arab Emirates (UAE) Sheikh Mohammed bin Rashid Al Maktoum, the prime minister's office said in a statement here.
Sharif, who is on a two-day official visit to the UAE from Thursday to Friday at the invitation of Rashid, stressed the importance of intensifying and strengthening communication between the private sector of the two countries, Xinhua reported.
The United Arab Emirates (UAE) has agreed to provide a $3 billion lifeline to Pakistan in the shape of a rollover of the existing debt and new financing — helping Islamabad avoid defaulting on its loans for a couple of more months.
The development comes as Pakistan faces a daunting challenge to make $13 billion debt repayments in six months, The Express Tribune reported.
The Gulf state made the decision to defer the maturing $2 billion and hand over another $1 billion in additional loan to Pakistan during a meeting between Prime Minister Shehbaz Sharif and UAE President Sheikh Mohamed bin Zayed Al Nahyan.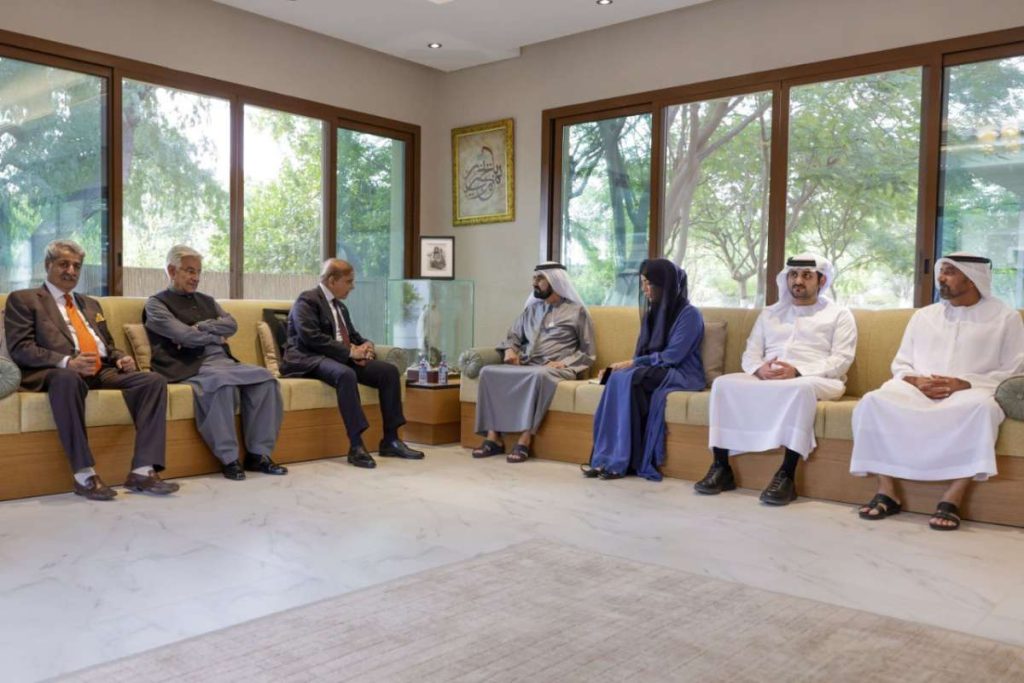 In a tweet late Thursday, Sharif said: "We express our profound gratitude to H.H. President Sheikh @MohamedBinZayed for his decision to roll over $2 billion & provide additional $1 billion. This support will help us tide over economic difficulties. We are deeply touched by kind gesture of our Emirati brothers & sisters."
The $3 billion lifeline has provided some breathing space to Pakistan, but it has not permanently ended the threat of sovereign default due to huge external debt repayments with less than $4.3 billion reserves in hand, The Express Tribune reported.
Pakistan is required to make over $13 billion external debt repayments from January to June 2023 and the UAE's decision will lower the needs by less than one-fourth of the total.
The government will have to strive hard for the revival of the International Monetary Fund (IMF) loan programme if it wants the default threat to abate permanently.
Sources told The Express Tribune that during a meeting between Finance Minister Ishaq Dar and IMF Mission Chief Nathan Porter, the global lender told Pakistan to fulfil all assurances given to it in the recent past.
Of the total $13 billion six-month need, Pakistan has so far repaid about $1.2 billion and after the UAE rollover, the total requirement will be down to nearly $10 billion.
The $3 billion Chinese deposits are also maturing between March and June in this fiscal year.
Pakistan has repeatedly requested China to rollover this debt but there has been no progress so far.
China has also not yet rolled over around $325 million guaranteed debt that is maturing this month, The Express Tribune reported.
In addition, two Chinese commercial loans, totalling $1.4 billion, are maturing in the last quarter of the current fiscal year.