Advertisement

Putin said European leaders had been browbeaten into losing their sense of sovereignty and independence…reports Asian Lite News
Russian President Vladimir Putin said Germany's response to the explosion on North Sea pipelines showed that the country remained "occupied" and unable to act independently decades after its surrender at the end of World War Two.
Putin, interviewed on Russian television, also said European leaders had been browbeaten into losing their sense of sovereignty and independence.
Western countries, including Germany, have reacted cautiously to investigations into the blasts which hit Russia's Nord Stream gas pipelines last year, saying they believe they were a deliberate act, but declining to say who they think was responsible.
"The matter is that European politicians have said themselves publicly that after World War Two, Germany was never a fully sovereign state," Russian news agencies quoted Putin as telling state Rossiya-1 TV channel.
"The Soviet Union at one point withdrew its forces and ended what amounted to an occupation of the country. But that, as is well known, was not the case with the Americans. They continue to occupy Germany."
Putin told the interviewer that the blasts were carried out on a "state level" and dismissed as "complete nonsense" suggestions that an autonomous pro-Ukraine group was responsible.
The pipelines were intended to bring Russian gas to Germany, though since Moscow's invasion of Ukraine a year ago Berlin has taken steps to reduce its reliance on Russian hydrocarbons.
Leaders in Berlin have been careful about apportioning blame for the explosions, with Defence Minister Boris Pistorius saying last week the blasts could have been a "false-flag operation to blame Ukraine".
Russia seeks to retrieve remains of US drone from Black Sea
Russia will try to retrieve the wreckage of a US surveillance drone that crashed into the Black Sea two days back, Russian Security Council Secretary Nikolai Patrushev said.
"I don't know if we will be able to get the remains or not, but it is a must to do it and we will do it. I hope, of course, it will be a success," Patrushev told a Russian TV programme on Wednesday.
There are technical possibilities for Russia to find and study the wreckage of the drone, Russian Foreign Intelligence Service Director Sergei Naryshkin said on the programme.
The US is conducting intelligence activities in the Black Sea "very actively, using all means" and Russia knows about the US goals in detail, Naryshkin added.
Russia-US relations are "at their lowest point, in a very deplorable state," Kremlin spokesman Dmitry Peskov said on Wednesday, commenting on the drone incident.
Russian President Vladimir Putin has been informed of the situation, and there were no Moscow-Washington contacts at the highest level over the incident, Peskov told a daily briefing.
Russian Ambassador to the US, Anatoly Antonov, on Tuesday called the incident "a provocation," stressing that "we must be very careful in our actions given the events that are taking place in Eastern Europe".
According to the Russian Defence Ministry on Tuesday, Russian fighter jets were scrambled to identify a US MQ-9 drone approaching the Russian state border, and the unmanned aerial vehicle crashed into the Black Sea due to its own sharp maneuvering.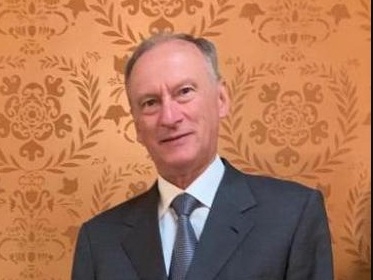 'Will respond to US provocations'
Russia will continue to react proportionately to any future US 'provocations,' Russian Defence Minister Sergey Shoigu said a day after the Russian Su-27 fighter jet downed an American military drone over the Black Sea, TASS reported.
Russia will continue to respond proportionately to all provocations similar to the flight of US drones near the Russian border, Shoigu said. According to TASS News Agency, Shoigu made this remark while holding a telephonic conversation with US Secretary of Defense Lloyd Austin on Wednesday (Local Time) where they exchanged opinions about the causes and consequences of the incident with the US unmanned aerial vehicle.
"The focus was made on an exchange of opinions about the causes and consequences of the incident with the US unmanned aerial vehicle that crashed into the Black Sea on March 14 of this year," the ministry said.
The ministry said Shoigu stated that the incident had been caused by US moves that disrespected the flight restrictions, which Russia established for a certain area due to the special operation, and by enhanced intelligence gathering directed against Russia.
During their telephonic conversation, Shoigu told Austin that the drone incident was caused by the US failure to respect flight restrictions that Russia set for certain areas, TASS reported citing Defence Ministry.
Shoigu stated flights by US drones near the Crimean coastline are provocative, creating conditions for the situation to escalate, the Russian ministry said.
Earlier, US Defence Secretary Lloyd Austin told Russia that their aircraft will continue to "fly and operate wherever international law allows," a day after the Russian Su-27 fighter jet downed an American military drone over the Black Sea, reported CNN.