Advertisement

Albanese said that it was still possible that PM Modi and his Japanese counterpart Fumio Kishida will visit Australia next week….reports Asian Lite News
Australian Prime Minister Anthony Albanese on Wednesday said that the Quad leaders meeting in Sydney next week will not go ahead after US President Joe Biden cancelled his visit to Australia while adding that Prime Minister Narendra Modi will visit Sydney next week.
Albanese said the leaders of Australia, the US, India and Japan -the Quad grouping- would now likely meet on the sidelines of the G7 in Japan this weekend Australian media network ABC News reported. Albanese said Biden had told him that he was "disappointed" as he was unable to visit Australia and that the Quad leaders would instead try to gather on the sidelines of the G7 leaders meeting in Hiroshima.
"All four leaders President Biden, Prime Minister Kishida, Prime Minister Modi and myself will be at the G7, held in Hiroshima on Saturday and Sunday. We are attempting to get together over that period of time [and] I'll have a bilateral discussion with President Biden," he said in a press conference.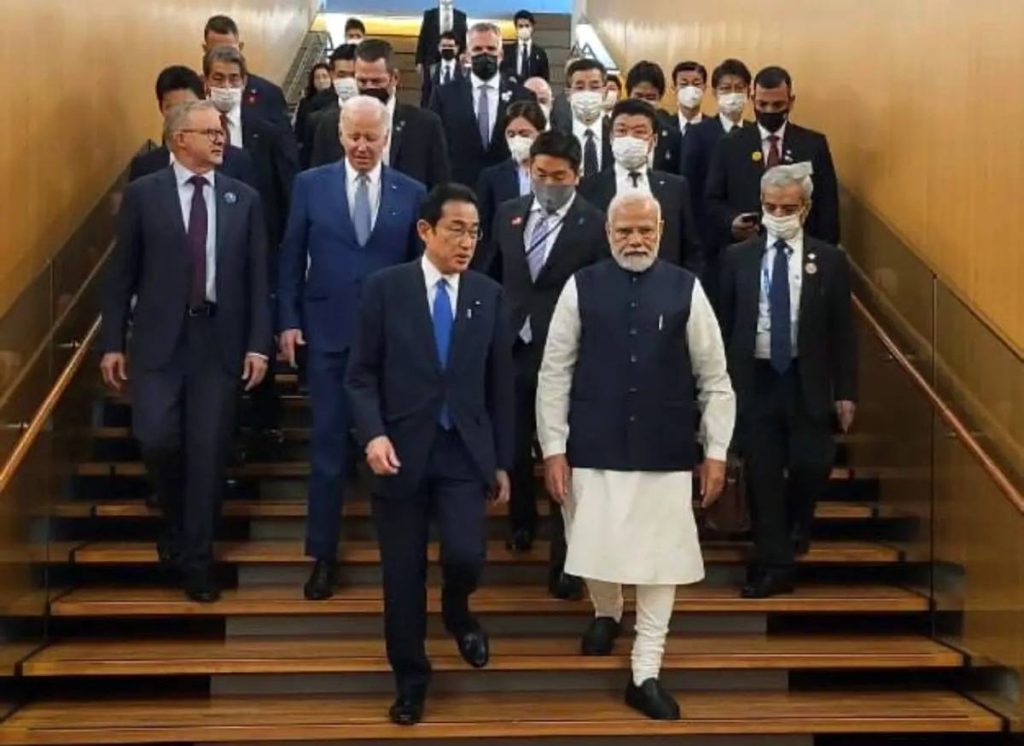 "At this stage, we haven't got a time locked in for that arrangement," he added.
Albanese said that it was still possible that PM Modi and his Japanese counterpart Fumio Kishida will visit Australia next week.
"We are in discussions with the Quad leaders over today. We'll make further announcements about that, but Prime Minister Modi would certainly be a very welcome guest here next week," he said.
"Prime Minister Kishida, of course, we had bilateral meetings at the end of last year, just a few months ago, in Perth that was very successful," he added.
Albanese termed the relationship with Japan "very important". He also recalled receiving the "warmest of welcomes by Prime Minister Modi in India in March."
Meanwhile, earlier in an interview with ABC News responding to a question regarding the Quad meeting Australian PM Albanese said, "No, just the US President's visit is postponed. So that will occur at some time in the future. We will be talking with our partners about the Quad meeting over the next day."
In the interview on ABC Sydney Breakfast with James Valentine, Albanese said that the meeting with a US representative at a senior level could take place. He said that Prime Minister Narendra Modi will travel to Australia and he has a bilateral program. Quad meeting is scheduled to take place on May 24.
Responding to the question whether the meeting could still occur in Sydney with India and Japan, Albanese said, "Yes that's right, and with a representative of the United States at a senior level, as well, could occur. Prime Minister Modi has a bilateral program that is organised so I'm certain that he will be here. And, of course, we have a very large growing diaspora here in Australia and there are events including a large event at Kudos Arena to be held next Tuesday night."
Asked about when he heard about Biden's postponing his visit to Australia, Albanese said that he spoke to Biden before 6 am this morning. He said that they have an issue regarding the potential hold-up of the budget in their parliamentary process that the US will have in the Congress and the Senate.
Albanese said that the deadline for resolving the impasse regarding the debt ceiling is June 1 and Biden told him that the week before June 1 will be "critical" and that he will be postponing his trip to Australia. He said that Biden has confirmed his invitation to the US for a state visit later this year. Australian PM said that he and Biden will have a bilateral meeting in Hiroshima.
White House earlier today announced that President Joe Biden had cancelled his planned trip to Australia and Papua New Guinea. However, Biden will attend the Group of Seven (G7) Summit in Hiroshima, Japan this week. (ANI)