Advertisement

Ghobash expressed his gratitude to Valentina Matviyenko, Chairwoman of the Federation Council, for inviting the FNC to visit Russia and speak at a session of the Federation Council….reports Asian Lite News
For the first time in history, the Emirati Parliamentary Division was represented by Saqr Ghobash, Speaker of the Federal National Council (FNC), at the 545th plenary session of the Federation Council of the Federal Assembly of Russia, reflecting the strong and long-standing partnership and cooperation between the two countries.
In his speech, Ghobash expressed his gratitude to Valentina Matviyenko, Chairwoman of the Federation Council, for inviting the FNC to visit Russia and speak at a session of the Federation Council. He also appreciated the warm welcome and hospitality he received, stressing that the visit highlighted the long-standing historical ties between the two friendly nations, which have lasted for more than 50 years.
He then praised the deep-rooted parliamentary relations between the UAE and Russia and their joint efforts to address common issues through Inter-Parliamentary Union (IPU) meetings and other parliamentary events.
The UAE's role and efforts in hosting COP28 at Expo City Dubai in November 2023 were discussed by Ghobash, who affirmed that the country aims to promote global climate action during the event and support the global efforts to tackle climate change through its leadership of COP28.
He also pointed out that the event will discuss climate commitments, international collaborations in this area to achieve concrete results, ways of finding solutions to major challenges and seizing opportunities to ensure a sustainable future for generations to come.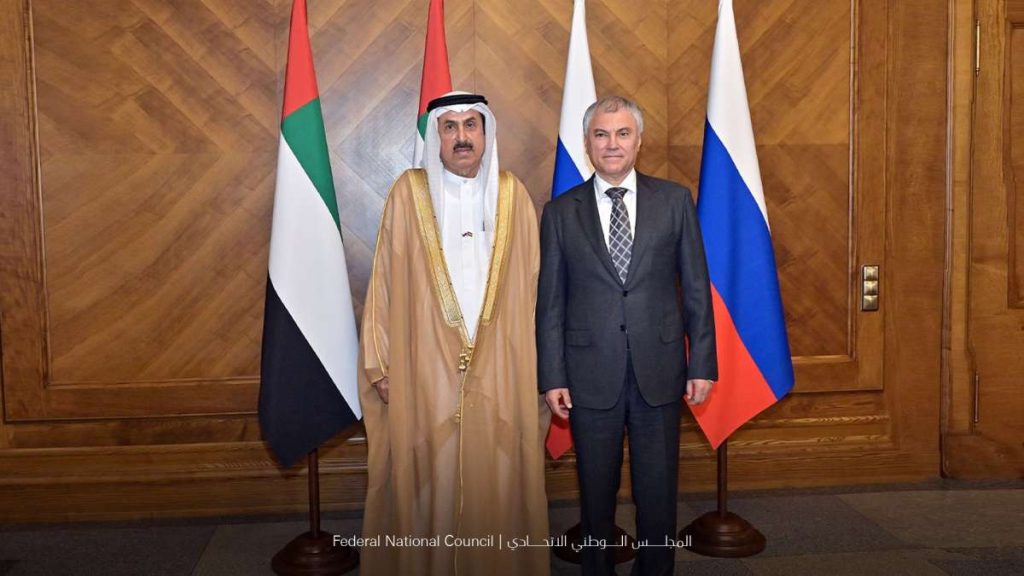 The visit of Ghobash and the FNC delegation was welcomed by Matviyenko, who underscored its importance in advancing the cooperation between the UAE and Russia in the area of parliamentary diplomacy.
At the headquarters of the Russian Duma in Moscow, Ghobash and Vyacheslav Volodin, Chairman of the State Duma of the Russian Federation, discussed ways to enhance their parliamentary cooperation, highlighted the strategic partnership between the two countries, and acknowledged their joint efforts to improve their relations.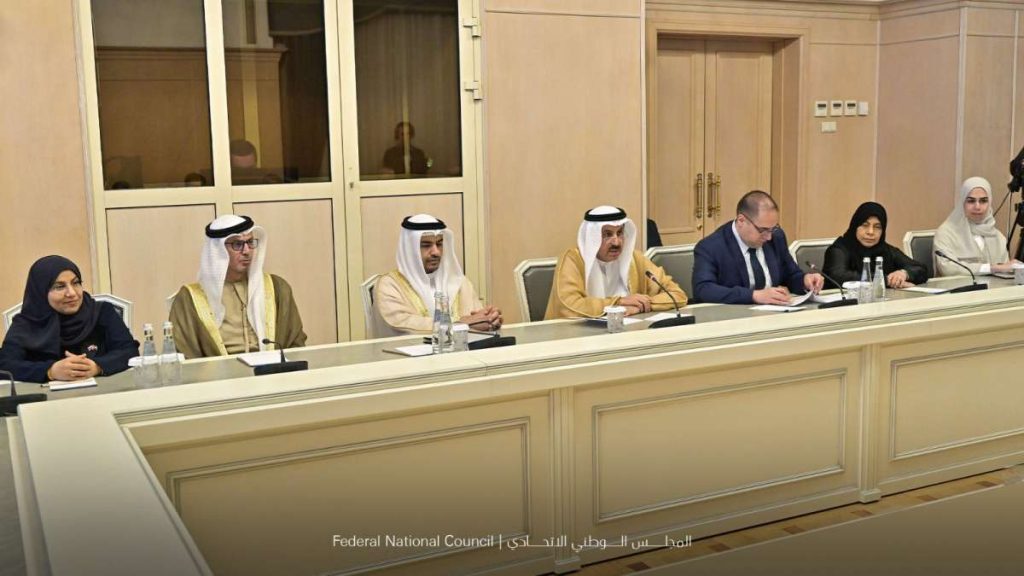 Ghobash noted the developing parliamentary ties between the two countries, which are based on their mutual keenness to enhance their cooperation and the progress made in their parliamentary relations based on their shared interest in advancing their collaboration.
Ghobash stressed that parliamentary diplomacy is crucial to solidifying ties and aligning perspectives on various national, regional and global issues.
Ghobash and the FNC delegation were warmly welcomed by Volodin, who affirmed the UAE and Russia's long-standing strategic ties and the Duma's keenness to strengthen their parliamentary relations.