Advertisement

The number of flights to Syria reached 134 cargo planes carrying foodstuffs and medical supplies weighing 4,413 tonnes….reports Asian Lite News
The United Arab Emirates continued for the 25th consecutive day to send relief aid to the earthquake-affected in Syria, as part of Operation "Gallant Knight / 2".
The number of flights to Syria reached 134 cargo planes carrying foodstuffs and medical supplies weighing 4,413 tonnes.
The Joint Operations Command of the Ministry of Defence, in coordination with the Ministry of Health and Prevention and the Emirates Red Crescent, has presented Syria with 10 state-of-the-art ambulances, as part of Operation "Gallant Knight / 2" and the UAE's ongoing efforts to aid the quake-hit Syrian people.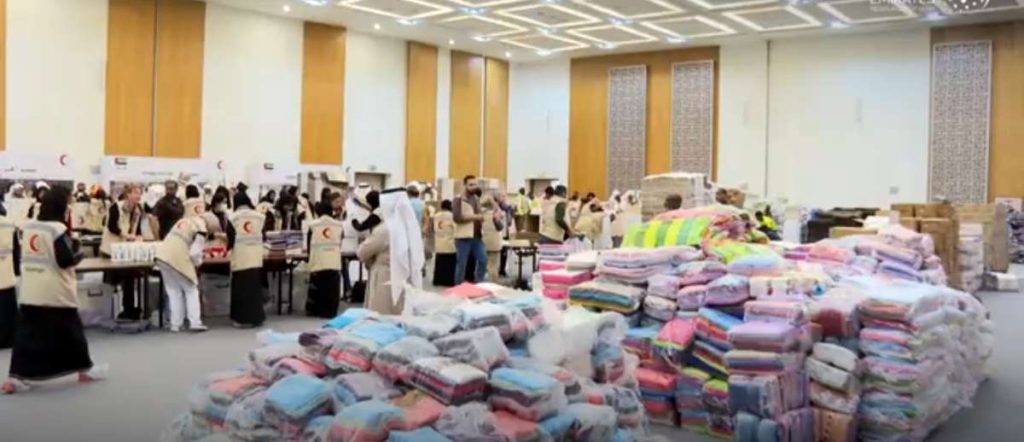 Dr. Salem Al Falasi, who is in charge of following up on the needs of the health sector in Syria, said, "Since our presence after the earthquake in Syria and until now, we have been monitoring the health situation closely, by visiting a number of hospitals, checking their conditions, and monitoring their needs for medical supplies and medicines, as part of the recovery and rehabilitation phase."
Al Falasi added that the basic needs of the medical sector in Latakia have been provided, guided by the support of the wise leadership which directed the provision of all basic needs for hospitals in order to enhance health services and provide the best care for patients.
Mohammed Khamis Al Kaabi, Head of the Emirates Red Crescent delegation in Syria, affirmed the continuation of providing full support to the earthquake-affected, noting that work is underway to prepare an integrated shelter camp for those whose homes were damaged by the earthquake.