Advertisement

The UAE and Japanese ministers have explored the hydrogen sector as a key component of a just energy transition, reports Asian Lite News
The UAE and Japan have signed several agreements and memoranda of understanding (MoU) to help accelerate the energy transition and the adoption of technology in industry.
Dr. Sultan bin Ahmed Al Jaber, Minister of Industry and Advanced Technology and UAE Special Envoy to Japan, met with Yasutoshi Nishimura, Japan's Minister of Economy, Trade and Industry, on the sidelines of Abu Dhabi Sustainability Week (ADSW) 2023, to discuss the countries' strong bilateral relations.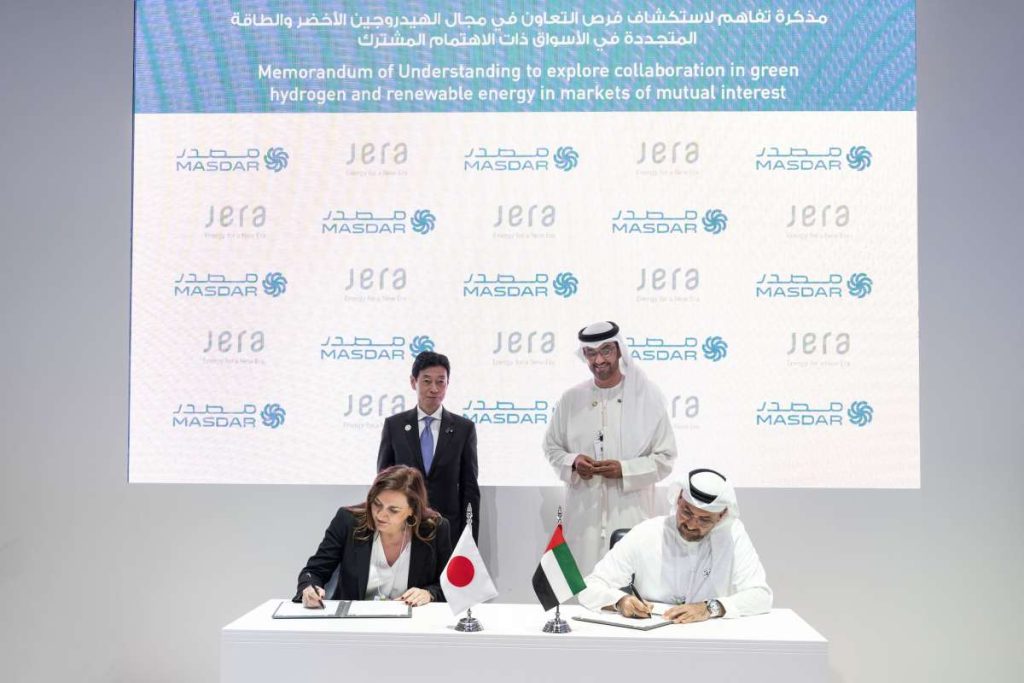 The ministers discussed ways to further strengthen the UAE's and Japan's relationship under the umbrella of their comprehensive economic partnership. They explored the hydrogen sector as a key component of a just energy transition. They also discussed the importance of accelerating progress towards carbon neutrality and opportunities for collaboration ahead of COP28, which will be held later this year.
Dr. Al Jaber said, "The UAE and Japan have a long-standing and strong relationship that has developed into a comprehensive economic partnership, underpinned by our leaderships' commitment to enhance cooperation with strategic partners. We seek to build on this long-term partnership by exploring new opportunities for cooperation and investment that contribute to mutually beneficial sustainable economic growth and diversification."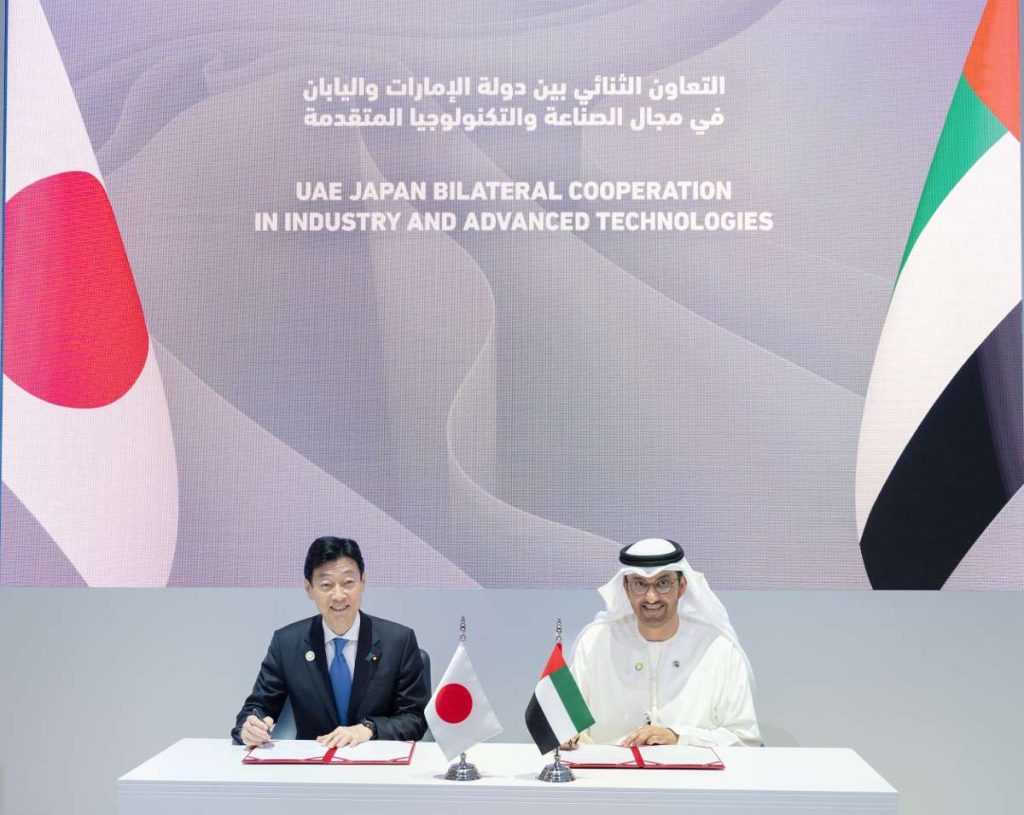 During the meeting, several agreements and MoUs were signed, which included a MoU between the Ministry of Industry and Advanced Technology and Japan's Ministry of Economy, Trade and Industry.
It concerns collaboration in the field of industry and advanced technology and aims to enhance partnerships between Emirati and Japanese companies as well as explore joint investment opportunities.
It also aims to boost collaboration to accelerate the adoption of advanced technologies in support of both countries' industrial goals and carbon reduction targets. The MoU was signed by Dr. Al Jaber and Yasutoshi Nishimura.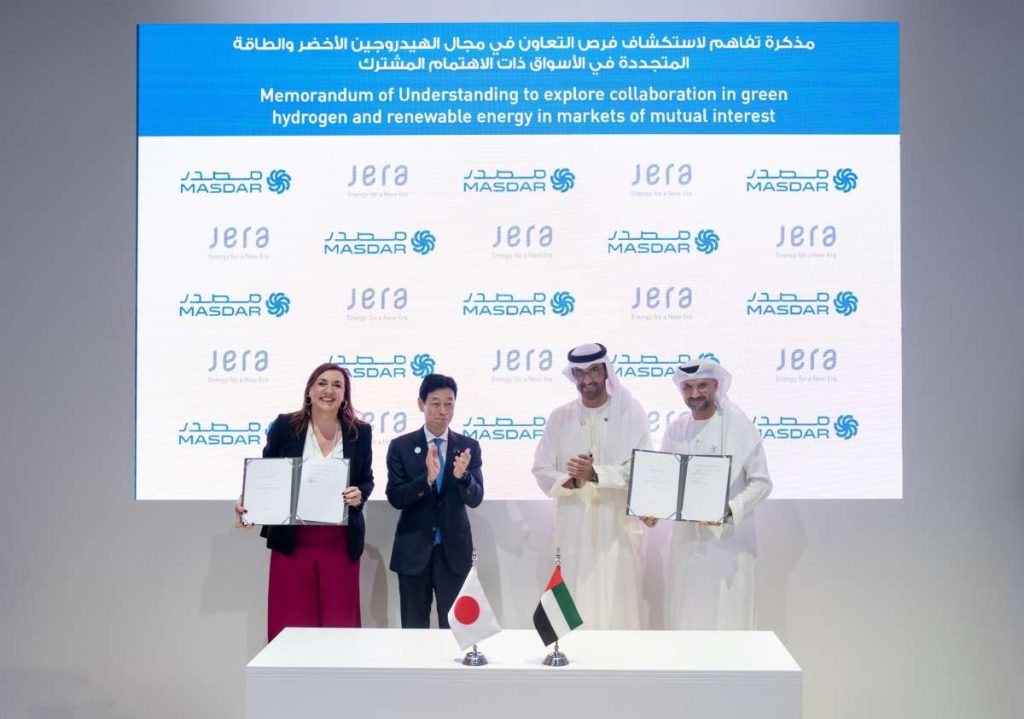 Dr. Al Jaber also witnessed the signing of a joint study agreement between ADNOC and Tsubame BHB. The agreement explores opportunities for cooperation in the field of research and development with the aim of finding new solutions for manufacturing ammonia. This agreement falls under the Japanese-Emirati partnership for advanced technology. This initiative supports Japanese technology startups and helps to connect them with Emirati investors to facilitate their expansion.
Dr. Al Jaber also witnessed the signing of an MoU between the Abu Dhabi Future Energy Company (Masdar) and the Japanese company JERA. This MoU covers the fields of green hydrogen and renewable energy.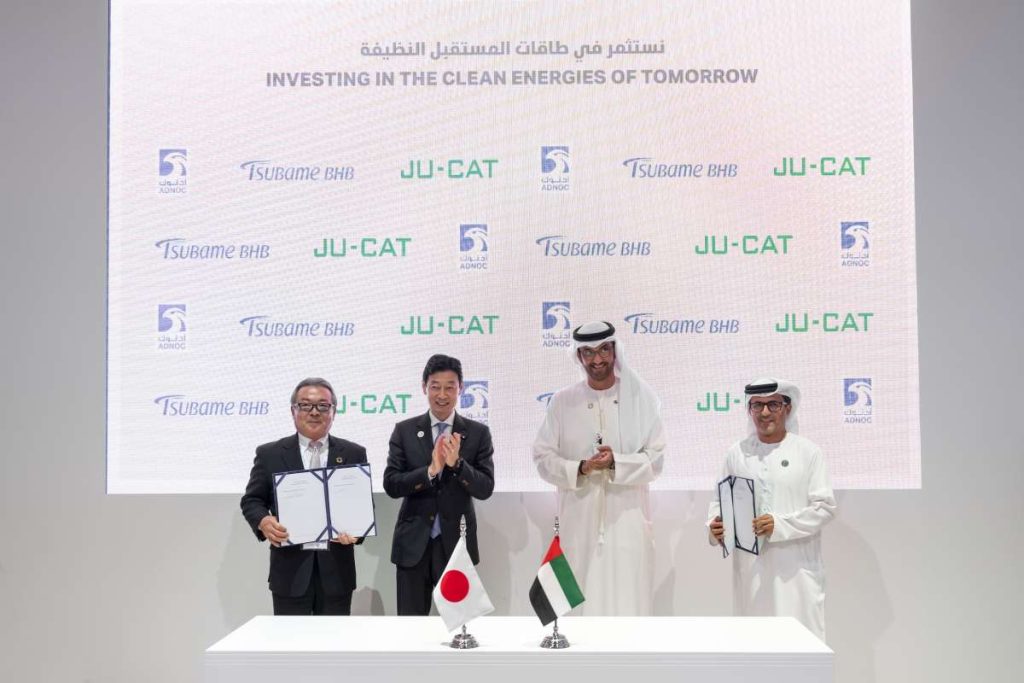 The signing of these agreements and MoUs falls within the framework of the comprehensive economic partnership signed by the two countries in September 2022.
The volume of non-oil trade exchange between the two countries in 2021 amounted to more than AED49 billion. Additionally, the volume of non-oil trade exchange between the two countries grew by 4.3 percent during the first nine months of 2022, year-on-year.
ALSO READ: COP28 logo reflects 'One World' concept