Advertisement

The new global program will select 100 youth delegates primarily from least developed countries (LDC) and small island developing states (SIDS), to participate in climate negotiations and other initiatives…reports Asian Lite News
The COP28 UAE Presidency has launched a new global program, the 'International Youth Climate Delegate Program' (International YCDP), at the 'Road to COP28' event held at Expo City Dubai.
Focused on themes including participation, action, voice, and education, 'Road to COP28' was a day-long event with a range of activities such as climate-focused workshops, youth circles, youth debates, intergenerational dialogue, and a climate leaders panel.
More than 3,000 members of the community attended, including the COP28 leadership team, UAE Ministers, students, youth in national service, youth climate advocates, senior citizens, people of determination, green business owners, farmers, entertainers, and volunteers.
The event was attended by Sheikh Zayed bin Hamdan bin Zayed Al Nahyan; Chairman of UAE Media Council, Dr. Sultan Ahmed Al Jaber, President-Designate of COP28 UAE.
Reem Al Hashemy, Minister of State for International Cooperation, Shamma Al Mazrui, Minister of Community Development and COP28 Youth Climate Champion; Mariam Almheiri, Minister of Climate Change and Environment; and Razan Al Mubarak, COP28 UAE UN Climate Change High-Level Champion were also present.
Elevating the voices, perspectives, and priorities of the global youth in the multilateral COP process, the International YCDP will select 100 youth delegates primarily from least developed countries (LDC) and small island developing states (SIDS), to participate in climate negotiations and related public-private partnership initiatives.
The program will also target indigenous peoples and minority groups and will provide financial support and capacity-building exercises for those selected to participate.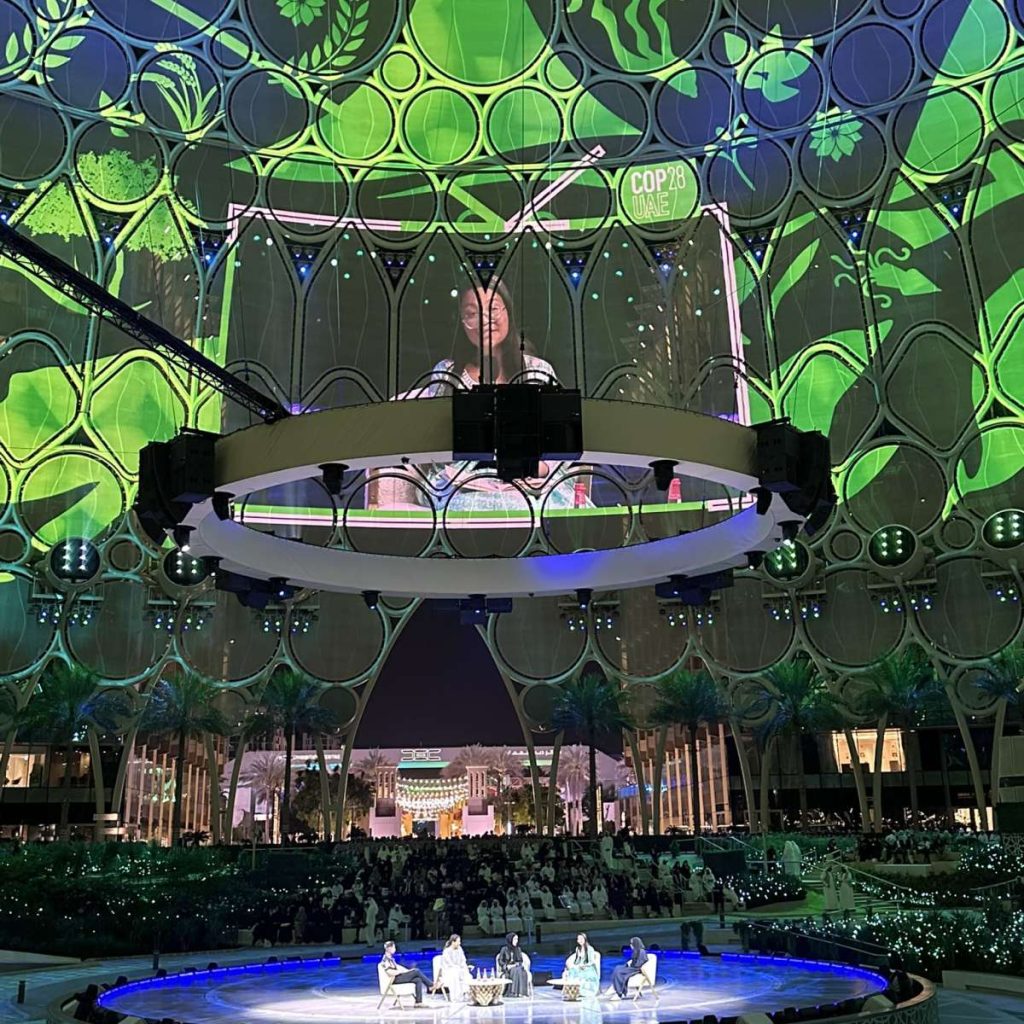 To ensure that youth views and proposals are integrated into global climate policymaking, the International YCDP will help to build skills, knowledge, and networks among youth, particularly those in the most vulnerable countries, to engage in the climate process. It will also provide a model for the COP process on youth inclusion, with a vision to construct a sustainable youth engagement structure for future generations.
Sponsored by the COP28 Youth Climate Champion team and the COP28 Presidency, the program will be jointly coordinated with all elements with youth-led organisations, including YOUNGO, the official Children and Youth Constituency of the UNFCCC. The program is designed to prominently highlight the needs and policy proposals of youth in global climate decision-making, build climate capacity, knowledge, and networks among youth, and establish a model for equitable youth inclusion in all future COPs.
Dr. Sultan Ahmed Al Jaber said young people are at the forefront of addressing the climate challenge.
"They are leading the way by sharing their perspectives, bringing their creativity and contributing to the positive impact that the world needs. As future leaders, future scientists, future entrepreneurs, and future climate activists, their energy and youth is what will make the difference."
He said the International Youth Climate Delegate Program – the largest initiative of its kind – will empower young people from around the world to fully participate in the COP process, and give a special focus to those from least developed countries and small island states.
Shamma Al Mazrui, UAE's Minister of Community Development and COP28 UAE Youth Climate Champion (YCC), will work with YOUNGO to deliver the largest initiative aimed at expanding youth participation from underrepresented countries in the climate process to date.
During and following the YCDP, the delegates will be able to conduct consultations with other young people based in their countries of origin, before the UNFCCC intersessional in June and COP28 at the end of November. They will also be involved in events such as youth circles to enable direct dialogue with policymakers.
The 100 International Youth Climate Delegates will closely follow the UNFCCC negotiation processes over the year, gathering inputs and shared goals from their home country to build a youth-focused strategic plan and policy vision for COP.
Prior to COP28, they will also participate in the Conference of Youth. In addition, a small number of delegates will also be invited to participate in other critical moments in the climate calendar including the SB58 UNFCCC Intersessional in June 2023 to be held in Bonn, Germany, the Pre-COP in October, and the UN Regional Climate Weeks.
Applications for the International YCDP are now open through the online portal and will close by 7 April. The review of applications and interviews will be facilitated by YOUNGO. The program will run from May through to December, with youth delegates participating and providing input into the negotiation process to set priorities for the climate agenda in the 18th UN Climate Change Conference of Youth (COY18) and COP28 from November 30 to December 12 at Expo City Dubai.