Advertisement

The visit included meetings between representatives of each nation's private sector, which aimed to establish and deepen bilateral partnerships. …reports Asian Lite News
Dr. Thani bin Ahmed Al Zeyoudi, Minister of State for Foreign Trade, has led a delegation of UAE government officials and business leaders to South Africa to enhance trade and investment opportunities between the two countries, and promote development in key sectors such as logistics, food production, tourism and energy.
During the visit, Dr. Al Zeyoudi held bilateral ministerial meetings with Ebrahim Patel, Minister of Trade, Industry and Competition, and Pravin Jamnadas Gordhan, Minister of Public Enterprises, during which they discussed ways to enhance cooperation, facilitate private-sector dialogue, establish new joint ventures and programs, and stimulate mutually beneficial economic growth.
Dr. Al Zeyoudi also met Barbara Creecy, Minister of Fisheries, Forestry and the Environment, to address climate mitigation challenges, private-sector engagement, and the UAE's hosting of COP28 in November and December, which is designed to build international consensus on these key issues.
Al Zeyoudi said the UAE is eager to build partnerships with like-minded nations that can catalyse growth, strengthen supply chains and create new pathways for investment.
He explained, "Amid global challenges, the UAE is taking bold steps to reimagine our economy, and trade is central to our ambitions to accelerate economic diversification, create long-term, sustainable growth and attract new forms of investment. We are also at the forefront of a new era of global trade, championing multilateralism and pioneering the use of technology to drive new efficiencies and enhance access to the global trading system.
"As the UAE's second-largest trade partner in Africa, responsible for 8% of the UAE's total non-oil trade with the continent, South Africa has the potential to become an important partner in these efforts. I have seen first-hand the dynamism of the private sector and recognise the government's desire to establish Sub-Saharan Africa's principal hub for industry, energy, logistics and services.
"Our investment community understands the scale of the opportunity in front of us, and we are ready to work in unison to support new industry sectors, strengthen south-south trade corridors and push our bilateral trade well beyond the US$6.5 billion we recorded in 2022."
The visit included meetings between representatives of each nation's private sector, which aimed to establish and deepen bilateral partnerships. Dr. Al Zeyoudi witnessed the signing of an agreement between the UAE power company AMEA, South African energy buyer Green Co, and Standard Bank to finance AMEA's strategic investments into South Africa, which will help meet the nation's growing demand for electricity.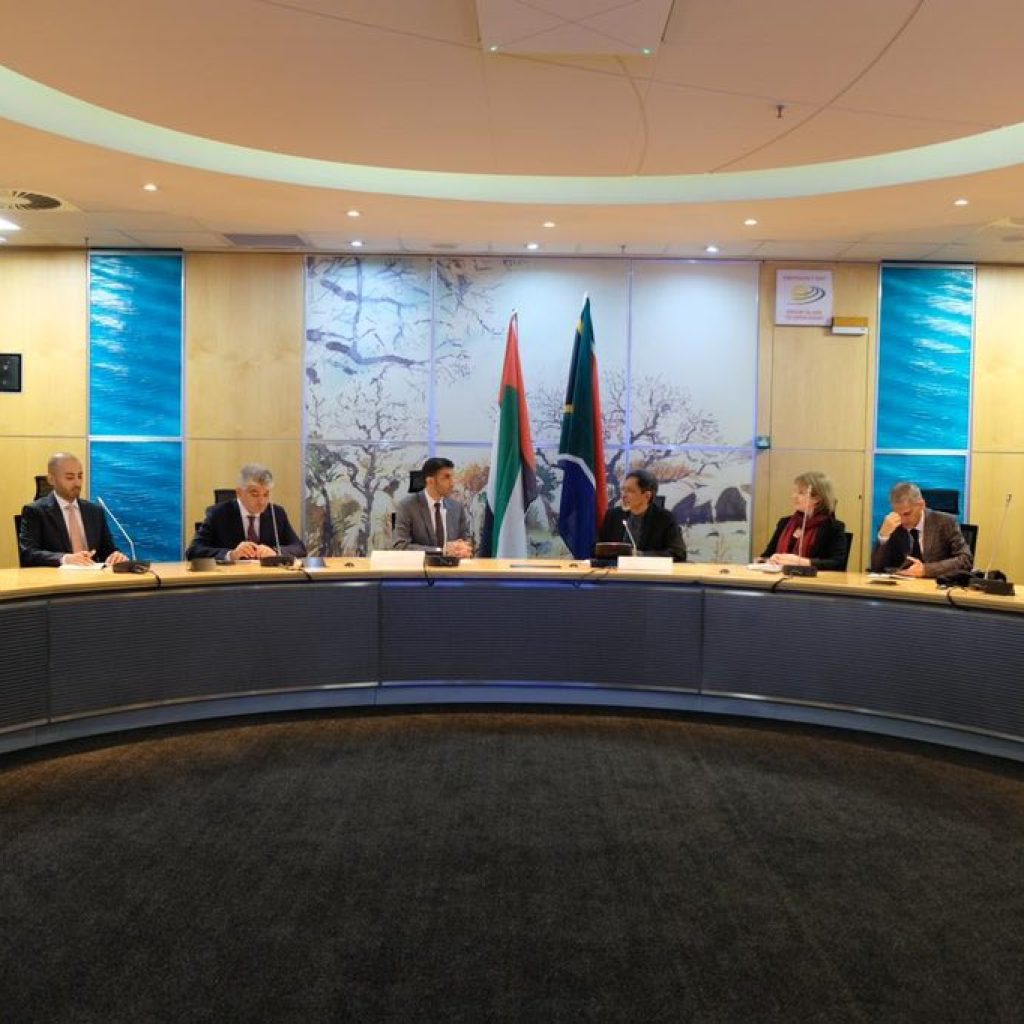 Dr. Al Zeyoudi also met with representatives of leading South African companies operating in renewable energy, agriculture, food security, medical equipment, artificial intelligence, IT, electricity, mining and infrastructure. He highlighted the UAE's unique business environment and the market-access incentives provided by the NextGenFDI initiative, including rapid incorporation and licensing, bulk visa issuance and ready access to banking facilities and real estate.
The UAE delegation then visited DP World's operational office in South Africa where they were briefed on the group's contribution to growing connectivity between Africa and the Gulf, which includes an extensive network of ports, dry ports, container terminals and economic zones.
In addition to Dr. Al Zeyoudi Al Zeyoudi, the UAE delegation included Mahash Saeed Al Hameli, UAE Ambassador to South Africa; Rashed Abdulkarim Al Blooshi, Under-Secretary of the Abu Dhabi Department of Economic Development (ADDED); Essa Abdulla Al Ghurair, Chairman of Essa Al Ghurair Investment Company; and representatives from leading UAE companies including Masdar, G42 Healthcare Group, Abu Dhabi National Oil Company (ADNOC), DP World, AMEA Power, Infinity Power and Kanoo Group, among others.