Advertisement

As the protests have erupted in various parts of Pakistan, the US, Canada and the UK have issued travel advisories for their citizens and diplomatic staff….reports Asian Lite News
The United States, United Kingdom and Canada have issued new travel advisories for their citizens citing political unrest following the arrest of former Pakistan Prime Minister Imran Khan, ARY News reported.
Pakistan Tehreek-e-Insaf (PTI) chairman Imran Khan was arrested by National Accountability Bureau (NAB) in the Al-Qadir Trust corruption case, ARY News reported. After his arrest, PTI workers across the country held protests and called for his release.
As the protests have erupted in various parts of Pakistan, the US, Canada and the UK have issued travel advisories for their citizens and diplomatic staff. The US Embassy has announced a travel alert for its citizens in Pakistan. The latest advisory issued by the US Embassy said, "The U.S. Embassy is monitoring earlier reports of clashes between demonstrators and police in Islamabad and also sporadic demonstrations underway or being planned elsewhere throughout Pakistan."
The US Embassy in Islamabad has cancelled consular appointments for May 10 due to "political traffic disruptions and restrictions." US citizens have been advised to exercise heightened vigilance and avoid locations with large crowds, as per the ARY News report.
The US Embassy asked people to review personal security plans, carry identification and follow requests from law enforcement and be aware of their surroundings and monitor local media for updates.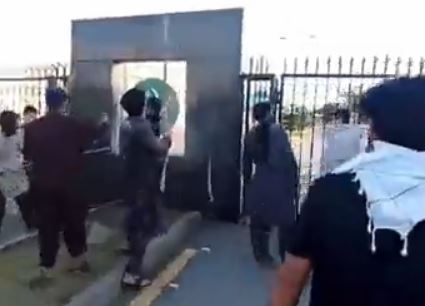 The UK Foreign Commonwealth and Development Office (FCDO) advised their citizens to avoid all political demonstrations, large crowds of people, and public events and be prepared to change plans as necessary. The UK FCDO urged people to keep track of local news.
UK Foreign Commonwealth and Development Office stated, "Public demonstrations are common in Pakistan. You should keep track of the local news. Protests can occur with little warning and while most remain peaceful, they can turn violent and escalate quickly," as per the ARY News report.
Meanwhile, the Canadian government asked its citizens and diplomatic staff to exercise a high degree of caution in Pakistan due to the "unpredictable security situation." It further said, "There is a threat of terrorism, civil unrest, sectarian violence and kidnapping."
Reacting to Imran Khan's arrest, White House Press Secretary Karine Jean-Pierre said that the United States does not have a stance on one political candidate or party and called for respect for democratic principles.
Karine Jean-Pierre in the press briefing said, "United States does not have a position on one political candidate or party versus the another. We call for respect for democratic principles and the rule of law around the world."
US Secretary of State Antony Blinken during a joint news conference said, "We just want to make sure that whatever happens in Pakistan is consistent with the rule of law, with the constitution."
Meanwhile, UK Foreign Secretary James Cleverly stressed "We want to see peaceful democracy in that country. We want to see the rule of law adhered to." (ANI)