Advertisement

Since 2017, Guru Nanak Darbar Gurudwara Dubai has been organizing Women's Day, a concept by Dr. Bubbles Kandhari Vice Chairperson of Guru Nanak Darbar Gurudwara Dubai where women from across the UAE get together to pray for the wellbeing of all mankind, cooked free food and distribute food to serve humanity.  The entire Sewa is done by women right from, 4 am to 9pm
Guru Nanak Darbar Gurudwara in Dubai celebrated Sikh & International Women's Day successfully for the 6th year on 6th March 2023.
Since 2017, Guru Nanak Darbar Gurudwara Dubai has been organising Women's Day, a concept by Dr. Bubbles Kandhari, Vice Chairperson of Guru Nanak Darbar Gurudwara Dubai where women from across the UAE get together to pray for the wellbeing of all mankind, cooked free food and distribute food to serve humanity. The entire Sewa is done by women right from, 4 am to 9pm.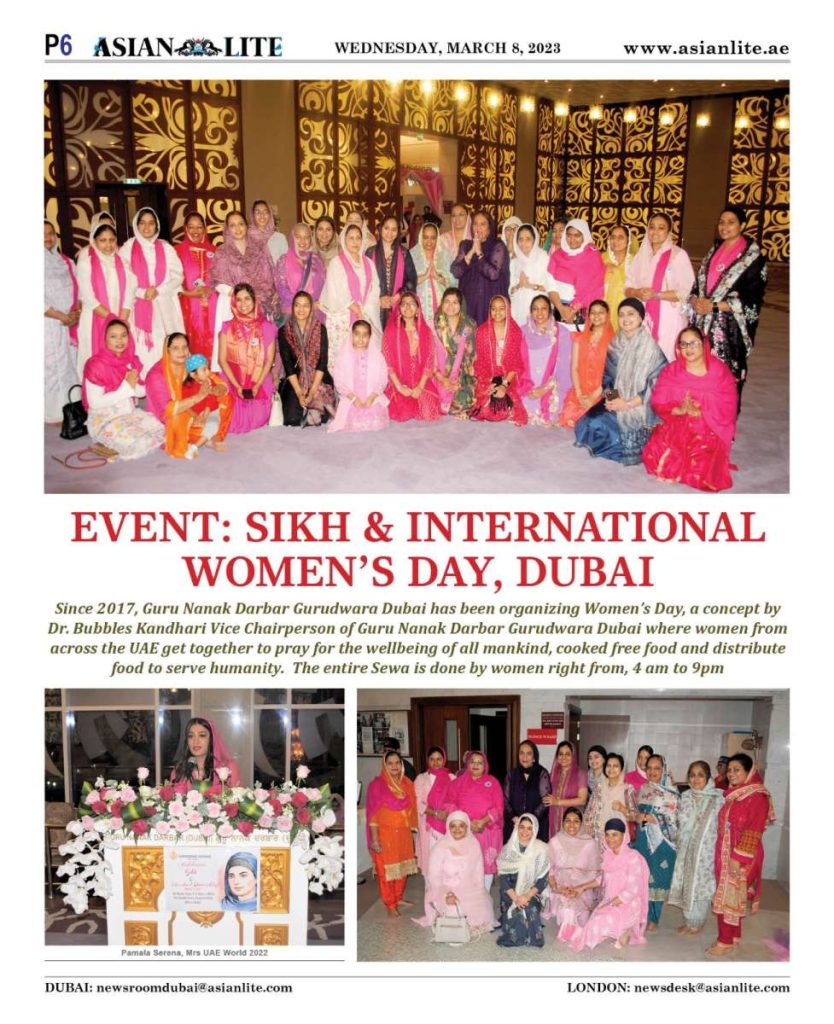 Mrs. Vandana Sudhir, wife of H.E. Mr. Sunjay Sudhir, Ambassador of India to UAE was present as the guest of honour during the occasion.
"Women need to take up AI initiatives, be tech savvy and work for gender equality. She also said that more Indian women should be part of the UAE forums where women are involved," said mrs Sudhir.
Mrs UAE World 2022 Pamala Serena who was the guest of honour during the evening session said: "We all have the power within us to achieve anything we set our mind to. The size of our goals don't matter, each one is an achievement to be proud of. We are living in the 21st century and the world is moving towards gender equality. This change is necessary and it is required around the world because we all are humans and equal opportunities and respect should be given to everyone. I want women across the globe to realize that no matter our current situation, there is always hope and faith at the end of the tunnel".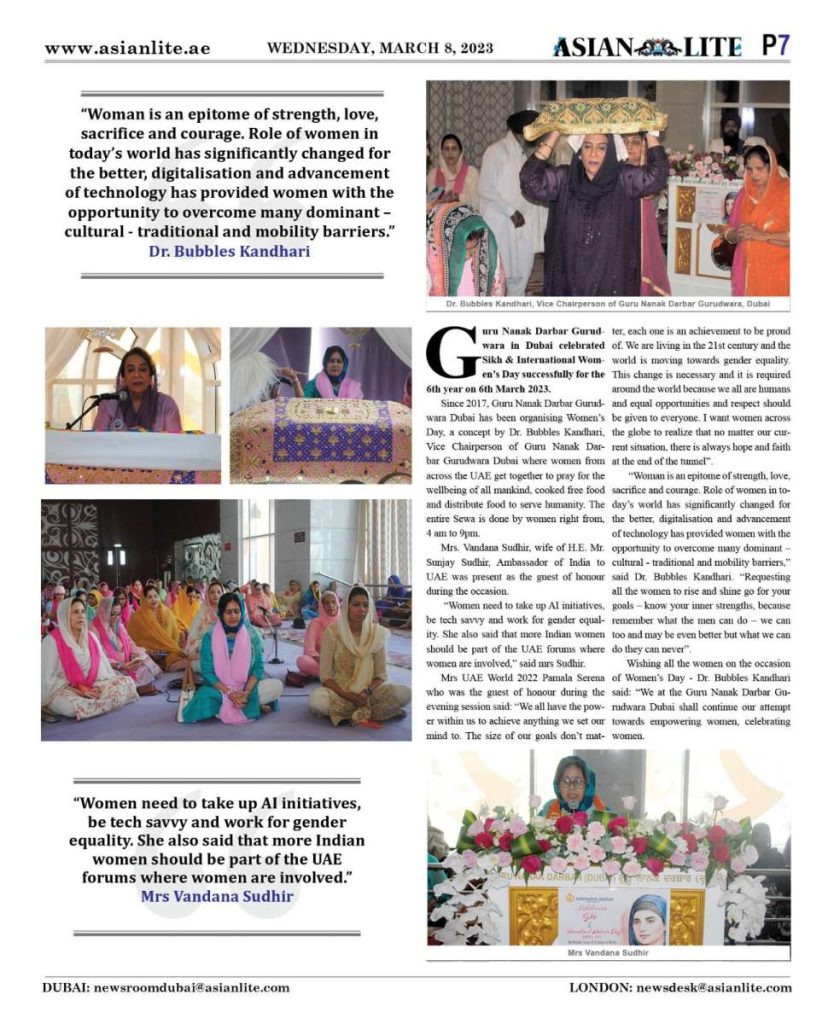 "Woman is an epitome of strength, love, sacrifice and courage. Role of women in today's world has significantly changed for the better, digitalisation and advancement of technology has provided women with the opportunity to overcome many dominant – cultural – traditional and mobility barriers," said Dr. Bubbles Kandhari. "Requesting all the women to rise and shine go for your goals – know your inner strengths, because remember what the men can do – we can too and may be even better but what we can do they can never".
Wishing all the women on the occasion of Women's Day – Dr. Bubbles Kandhari said: "We at the Guru Nanak Darbar Gurudwara Dubai shall continue our attempt towards empowering women, celebrating women.