Advertisement

The family is however making personal efforts by helping the Motorsport Federation in involving more women participants…writes Sukant Deepak
This 16-year-old girl, who participated in the FIA conducted three rounds of 'Girls on Track in India' in the first year of her competitive racing and emerged as the winner in all three rounds in karting slalom, besides achieving podium placements in sim racing, remembers that ever since the age of six, she has been fascinated by powerful cars.
NCR-based Muskaan Jubbal, a Grade 11 student at the Shiv Nadar School, Faridabad, who clinched the 'Best Woman Driver' title in the fiercely competitive MRF MMSC Indian National Car Racing Championship held in Chennai recently, and started karting at the age of nine along with her elder brother, tells, "These achievements in the first year greatly boosted our confidence in the sport, and there has been no looking back since then. For me, it is not just a sport, but a passion."
Wanting to make racing her full-time profession, Jubbal, who trained under Rohit Khanna laments that motorsports continue to get stepmotherly treatment in India despite being recognised as a sport, not to mention no support from Khelo India.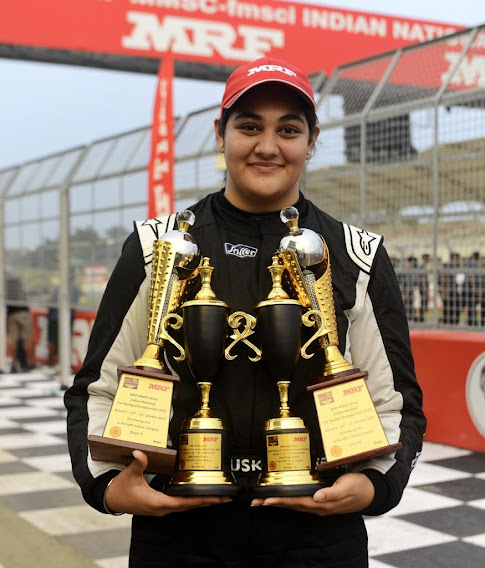 "Things would get better for young drivers if more support was forthcoming," she says.
The family is however making personal efforts by helping the Motorsport Federation in involving more women participants.
"Recently, my mother and I travelled to Kashmir to train more than 30 women in autocross. We are doing our best to contribute to the motorsport ecosystem in the country," she says.
Despite an impressive CV for her age, even Jubbal faces several problems when it comes to getting sponsorships. She is however thankful for the role her parents have played in supporting her passion.
"They have always encouraged my brother and I, who is also my mentor. My father has been instrumental in making me understand the mechanics of cars, and my mother has always stood by me."
From training on the track to strengthen her driving skills to exercising to increase her endurance levels, she admits that sometimes she has to compromise on her academics owing to her travelling for different motorsport events.
"Thankfully, my teachers are quite supportive and encouraging," she smiles.
For someone who likes baking and playing golf when she is not on the circuit, the ultimate aim is to race on Circuit de Monaco (Monaco), Baku City Circuit (Azerbaijan) and Yas Marina (Abu Dhabi).
"Of course, these are tall dreams, but I am willing to train hard and stay focussed in order to achieve them," she concludes.
ALSO READ-Two Billion Riders and Counting
Advertisement